FYI: We may earn a small commission if you make a purchase through a link on our site, at no additional cost to you. Please refer to our
Disclosure
for more details.
If you're planning to travel with just a carry-on, you'll need to be up to speed with your airline's carry-on policy.  Each airline's rules are different, so don't just assume that what works for one, will work for all airlines.  This is especially true if you're flying a low-cost airline, like Spirit.
Low-cost airlines may have lower base fares, but if you're not careful, you'll actually end up paying more because of all the "a la carte" fees they have.   These include fees for both checked and carry-on luggage, among other things.
If you are going to be flying Spirit, here are the carry-on rules you need to be aware of regarding size, weight, fees, liquids, etc.
Spirit Airlines Carry-On Size and Weight Restrictions
Spirit allows one personal item onboard at no charge, but they will charge you for both carry-on bags and any checked bags you have.
If there is one airline where you need to be aware of the size limits for your carry-on bag and personal items, it's Spirit.  They are notorious for being extremely strict about size restrictions and will charge you a fee if your bags don't fit within their guidelines. 
Because of this, you should always check the size and weight of all bags, both checked and carry-on, before leaving to board a Spirit flight!
Spirit Carry-On Size Restrictions and Fees
Spirit's size requirements for a carry-on bag are 22″ x 18″ x 10″.  The carry-on bag must be stowed in the overhead bin or it will have to be checked.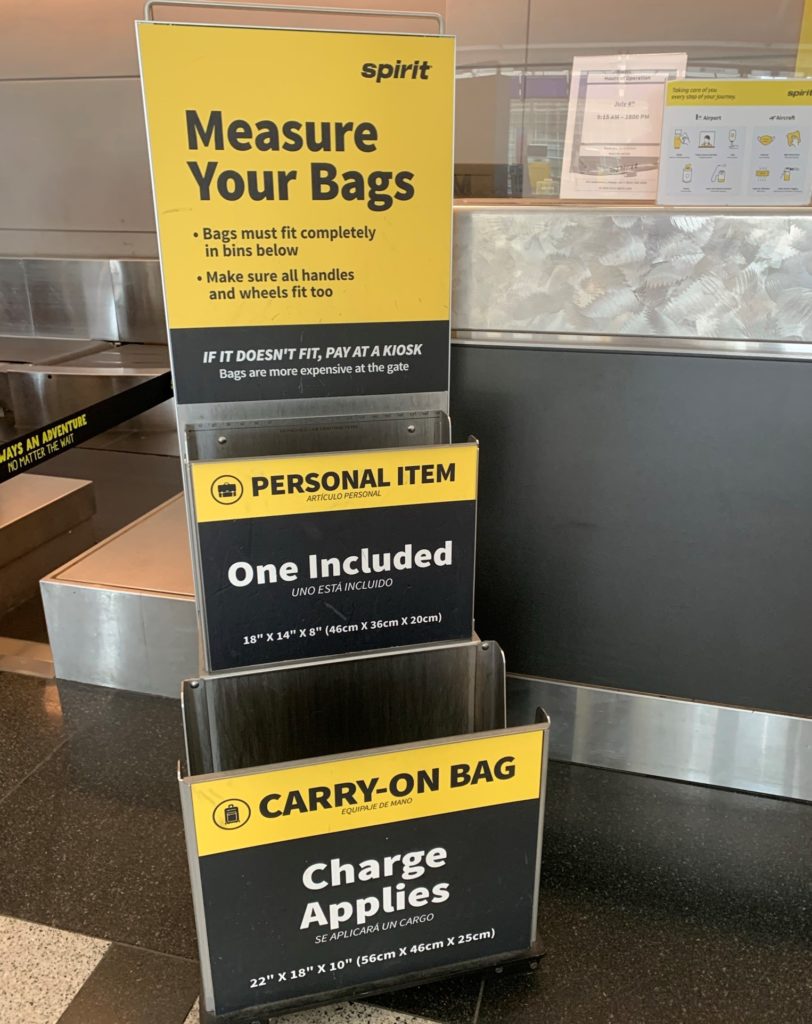 The fees for your carry-on will vary depending upon a variety of factors including when paying for it and if you are a member of their $9 fare club. 
Here are the fees you will pay at different points in the process:
Spirit Carry-on Fee During Booking:
$9 fare club members – $28.00 – $31.00
Standard – $37.00 – $40.00
Carry-on Fee Before & During Online Check-In:
$9 fare club members – $38.00 – $41.00
Standard – $47.00 – $50.00
Carry-on Fee at Airport Reservation Desk:
Carry-on Fee at the gate:
Double-check Spirit's current bag prices here for carry-on, checked bags, and sporting equipment.   They are always subject to change!
Spirit Airlines Personal Item Size & Fees
According to Spirit, personal items include a purse, briefcase, laptop, backpack, shopping bag, or a similar-sized item. 
They must fit under the seat in front of you and the dimensions cannot exceed 18 x 14 x 8 inches (45 x 35 x 20 cm) including handles and wheels.
Spirit does not charge a fee for a personal item, it is included in the price of your ticket.
Spirit Carry-On Weight Restrictions
Spirit does not impose weight restrictions on a carry-on bag. However, when checking a bag, the weight limit is 40 pounds per bag.
Carry-On Liquids (Spirit Airlines Liquid Policy)
The rules for carry-on liquids are set by the TSA (Transportation Security Administration), not by the airline.  Spirit Airlines doesn't have its own specific Liquids Policy, they just enforce the rules and policies of the TSA.
It's also important to note that the rules for bringing a "liquid" in your carry-on bag are different from the rules that govern what you can bring in your checked luggage. Liquids in a carry-on bag must be 3.4 ounces or smaller and fit in a 1 quart-sized container. Anything larger must be placed in your checked luggage.
The TSA 3-1-1 Rule
Each passenger may carry liquids, gels, and aerosols in travel-size containers that are 3.4 ounces or 100 milliliters and are enclosed in a sealed, one quart-size bag. Common travel items that must comply with the 3-1-1 liquids rule include toothpaste, shampoo, conditioner, mouthwash, and lotion.
Any liquid that does not meet the TSA 3-1-1 rule will either have to be checked with your luggage or will be thrown away at the security checkpoint.
Here is a little video to help illustrate:
Exceptions to this rule are certain medications and baby food/child nourishments.
Carry-On Food
If you are planning on bringing food onboard, the TSA sets the rules for what type of food you can bring on the plane. There are two different scenarios pertaining to food: 
Food you bring with you from home, and
Food you buy at the airport after you have gone through security.
When bringing food with you from home, an important thing to note is the classification of liquid vs. solid foods.    The general rule is "If you can spill it, spread it, spray it, pump it, or pour it, then it's considered a liquid or gel,".   
This means your food may be considered a liquid and will fall under the TSA 3-1-1 liquids rule, which mandates that any liquid, gel, cream, aerosol, or paste in a carry-on must be 3.4 ounces or less, and fit in one quart-size resealable bag (only one such bag is allowed per passenger).
Here's a link to the TSA website advising what food can be brought with you on your Spirit flight.  This applies to food you are bringing from home through security.  
Once you get through security, you can bring just about any food on the plane that you buy at the airport. One exception to this is alcohol, you cannot bring alcohol purchased in the airport with you on the plane.
Spirit Airlines Snack and Beverage Menu
As a low cost carrier, Spirit won't provide any drinks or snacks for free, but you can purchase them during your flight with a credit or debit card (no cash).
If you are curious what options you will have check out the Spirit Airlines food and beverage menu PDF, which is also available on their website. Spirit's beverage menu includes soft drinks, tea, coffee, beer, wine and liquor. The snack menu is fairly basic with pretzels, peanuts and some candy items.
Spirit Airlines Carry-On Pet Policy
Spirit Airlines allows small domesticated pets to travel on all domestic flights including Puerto Rico and St. Thomas, U.S.V.I.  Spirit will only allow the following pets on the aircraft:
Domestic dogs
Domestic cats
Small household birds (except to/from Puerto Rico and the U.S.V.I.)
Small domestic rabbits (except to/from Puerto Rico and U.S.V.I)
If you are going to bring a pet on board with you, it must be able to fit in a small, ventilated pet carrier that fits under the seat in front of you.  Your pet carrier cannot exceed 18″ x 14″ x 9″, and the combined weight of your pet and the carrier must not exceed 40 pounds.
Here are a couple of other guidelines when traveling with a pet:
A health certificate is not required for pets traveling with guests in the aircraft cabin, except for Guests traveling to U.S.V.I.
Spirit Airlines does require a rabies vaccination certificate for pets traveling with guests in the aircraft cabin to Puerto Rico.
Spirit only allows small domestic dogs, domestic cats, small household birds and small domestic rabbits on the aircraft.
Birds are not allowed to and from cities in Puerto Rico or the U.S.V.I.
Exotic pets such as snakes, spiders, rodents, etc. will not be accepted.
A maximum of 2 pets per container is permitted, but only one container per guest is allowed.
Animals must be able to stand upright and move about comfortably in the container.
The pet should be at least eight (8) weeks old and fully weaned.
The animal must be harmless, inoffensive, odorless, and require no attention during the flight.
If the animal becomes offensive or causes a disturbance prior to leaving the gate; it will be removed.
The pet cannot be ill, violent, or in physical distress.
Advance notice is recommended but not required.
You may choose to sit anywhere you wish with the exception of the first row and emergency exit rows.
Spirit Carry-On Pet Fees
Here is a chart showing the pet fees Spirit charges each way.   Double them for a round-trip flight.
| | |
| --- | --- |
| To/From Destination | Pet Fee Each Way |
| Any Spirit Airlines Flight |  $ 110.00 |
TSA Approved Pet Carrier for Spirit
If you do plan on bringing your pet with you, make sure you follow TSA's pet policy and have an approved Pet Carrier that conforms to Spirit's pet policy.
Prohibited and Restricted Items
There are certain items that are considered dangerous and classified as hazardous material. Dangerous goods are prohibited from both your carry-on and checked bag on all flights. These rules are not specific to any airline and are mandated by the Federal Aviation Administration.
Items considered "dangerous goods" are prohibited under Spirit's carry-on policy and include the following:
Any beverage with more than 70 percent alcohol (any alcohol container in your carry-on should meet TSA liquid restrictions and contain no more than 3.4 ounces or 100 milliliters).
Firearms and ammunition
Mace and pepper spray,
Poisonous, infectious, or radioactive substances
Sharp objects (knives, cutting instruments, razors, ice picks, carpet knives, metal scissors, box cutters, or similar items) 
Camping equipment containing flammable liquids or gasses 
Flammable liquids, including gasoline and kerosene
Hoverboards, including electric skateboards, balance boards, gravity boards, and self-balancing devices
Medical or liquid oxygen 
Marijuana 
Torch lighters, lighter fluid, strike-anywhere matches, and fire starters
Wet-cell batteries
Motor oil, hydraulic fluids, brake fluid, and transmission fluid
The following items are not considered "dangerous goods" and are allowed when packaged properly, in accordance with FAA regulations
Knitting/scissors
Hiking or trekking poles
Hair spray
Sunscreen/bug spray
Batteries
Fishing hooks
A complete list can be found on the FAA and TSA websites.
Spirit Carry-On Fees
Here is a link to Spirit's Carry-On page to make sure you have the most up-to-date information.
More related articles…
Frequently Asked Questions:
Can you bring snacks on a Spirit Airlines flight?
Yes. You can bring snacks on board a Spirit flight. They offer snacks and drinks for sale, but you will pay for them at a rate of $3-$15 each. Bringing a snack with you will ensure you get what you want and will save you some money as well.
Can you bring alcohol on a Spirit Airlines flight?
Yes, as long as you adhere to the TSA Liquids requirements. Mini bottles of alcohol are allowed in carry-on bags but they must be able to comfortably fit into a single quart-sized bag.
Can I bring a blanket on a Spirit flight?
Yes. But be careful. Spirit charges for carry on bags, so make sure to tell them it is part of your clothing (i.e. a "wrap") or you might get charged.