FYI: We may earn a small commission if you make a purchase through a link on our site, at no additional cost to you. Please refer to our
Disclosure
for more details.
IHG Rewards Overview
IHG Rewards Club, formerly known as Priority Club, is the Intercontinental Hotels Group loyalty program.  It allows you to earn rewards at more than 5,000 properties within IHG's extensive network of hotels, including InterContinental, Holiday Inn, Crowne Plaza, Hotel Indigo, Candlewood and Staybridge Suites properties.
This in-depth guide will provide you with a complete overview of the program and some great tip for how to earn more points and maximize the redemption options!
IHG Rewards Levels: Elite Status and Benefits
The IHG Rewards Club program has three levels of elite status:   Gold, Platinum and Spire.  When you first enroll in the IHG Rewards program, you will be at the Club level, which does count as "Status" and has some benefits, but not "Elite Status" since it is awarded automatically upon joining.
Join the IHG Rewards Club Program Here…
Hotel Nights and Points Required for Rewards Elite Status
Club – Just sign up and you're at the Club Level
Gold – 10 qualified nights or 10,000 Elite Qualifying Points
Platinum – 40 qualified nights or 40,000 Elite Qualifying Points
Spire – 75 qualified nights or 75,000 Elite Qualifying Points
**Qualifying Points are points earned from Qualifying Rates paid for hotel stays, spend on IHG Rewards Club credit cards, select partner activity, IHG Rewards Club Bonus Points Packages, and Qualified Spend through IHG Business Rewards are considered Qualifying Points and are counted towards Elite status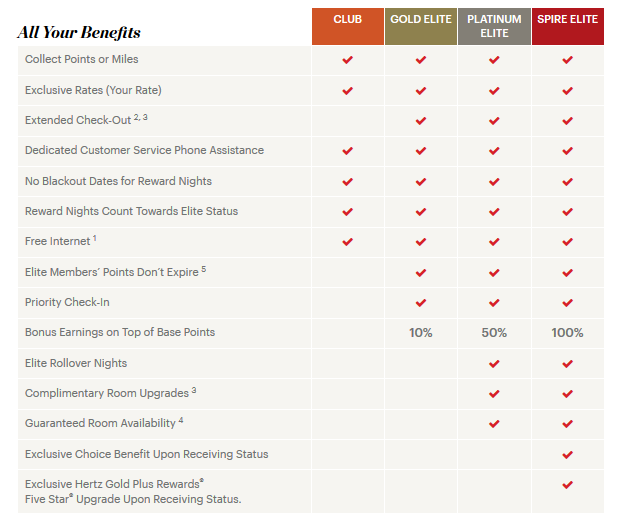 Gold Benefits
After staying 10 qualifying nights or earning 10,000 qualifying Rewards Club points, you will reach IHG Rewards Gold Status.  Some of the benefits that come with Gold Elite Status are:
Late Checkout
Free WiFi
Points don't expire (although this is a bit of a false benefit – by definition if you are staying enough to earn Gold Status you are keeping your account active and therefore would not lose points due to inactivity in a 12-month period)
Reward nights count toward elite status
10% Bonus on top of base point earnings
Platinum Benefits
After staying 40 qualifying nights or earning 40,000 qualifying Rewards Club points, you will reach IHG Rewards Platinum Status.  Platinum members receive all the benefits that come with Gold Elite Status, plus:
50% Bonus on top of base point earnings
Elite Rollover Nights
Complimentary Room Upgrades (subject to availability – includes

rooms on higher floors, corner rooms, newly renovated rooms, or rooms with preferred views – hotels are not required to upgrade to suites

)
Guaranteed Room Availability (with 72 hours advanced notice)
Spire Benefits
After staying 75 qualifying nights or earning 75,000 qualifying Rewards Club points, you will reach IHG Rewards Spire Status.  Spire members receive all the benefits that come with Platinum Elite Status, plus:
100% Bonus on top of base point earnings
Exclusive Choice Benefit upon earning Spire Status  (

choose to either receive a 25,000 annual point bonus or to gift Platinum Elite to a family member or friend)
Intercontinental Ambassador Status
As an IHG Rewards Club member, you may also purchase InterContinental Ambassador status. This status entitles you to higher levels of recognition and only applies to stays at Intercontinental hotels. 
Intercontinental Ambassador Status will cost you $200/year and provides the following benefits when you stay at Intercontinental Hotels:
Guaranteed room upgrade
Fresh fruit upon arrival
In-room water
In-room gift
The single-room rate for double occupancy
Extended checkout—up to 4 pm
Dedicated Ambassador check-in area
Complimentary pay-TV film per stay
Complimentary newspaper delivered daily
Complimentary weekend night certificate
Elite status in IHG Rewards Club
5,000 bonus IHG Rewards Club points
Intercontinental Ambassador Status Levels
Gold Ambassador
Platinum Ambassador
Spire Ambassador
Royal Ambassador
Upon purchase of InterContinental Ambassador status, IHG Rewards Club members who are Club or Gold Elite members will receive Gold Ambassador status upon enrollment. All InterContinental Ambassador members can earn Platinum Ambassador or Spire Ambassador or be invited to Royal Ambassador status.
When staying at IHG properties, other than Intercontinental Hotels, Gold Ambassador members will receive Gold Elite benefits; Platinum Ambassador members will receive Platinum Elite benefits, and Spire Ambassador and Royal Ambassador members will receive Spire Elite.
Royal Ambassador status is the highest level of Ambassador status and is offered by invitation only.   For Royal Ambassador member stays at InterContinental Hotels and Resorts in the US, Canada, Mexico, Latin America, the Caribbean, and Europe a room upgrade to a category two tiers higher than the original booking shall be available to all Royal Ambassador members. Club lounge access must also be given.
How to Earn IHG Rewards Points
You can earn IHG Rewards Club Points by staying at IHG hotels, participating in promotions, buying goods and services through IHG partners, and via credit cards – both IHG Co-Branded and Chase Ultimate Rewards Cards.
Earn Points from hotel stays
You will earn 10 points for every dollar you spend when staying at IHG properties, other than Staybridge and Candlewood Suites where you will earn 5 points for every dollar spent.
Earn Points at The Venetian and Palazzo in Las Vegas
The Venetian and Palazzo are not part of the Intercontinental Alliance Resort program, so you will earn 2,000 points for each qualifying stay.
IHG Rewards Promotions
IHG offers promotions on a quarterly basis to help you earn more points, faster.
IHG One Rewards Promotion
2K Bonus Points
Register Here!
Expires on: 04/14/2023
IHG Rewards Club Dining
You can earn IHG Rewards Club points every time you eat at select restaurants by signing up for the IHG Rewards Dining program with Rewards Network.   All you have to do is sign up and register your credit card.  When you visit any one of the 11,000+ participating restaurants and bars and pay with your registered credit card you will earn up to 8 points for every dollar you spend on dining, including taxes and tips.
One of the best ways to use this program is to keep your points active.  If you have been inactive in the IHG Rewards program, you won't want to lose your points due to 12 months of inactivity.  Just register a card, go buy a pizza from a participating pizza shop and you will ensure you don't lose any of those IHG Rewards Club points you have built up.
Earn IHG Points with Hertz Car Rentals
IHG Rewards Club members can save 35% and earn at least 1,500 points when renting with Hertz.
As an IHG Rewards Club Elite Status member, you can get further benefits and more points with your rental.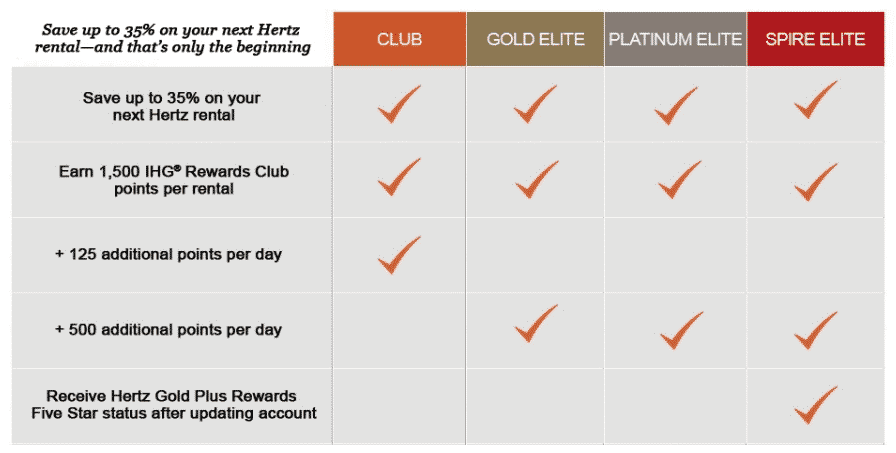 Credit Cards That Earn IHG Points
There are two ways to earn IHG Rewards points from credit cards – co-branded loyalty cards and cards with transfer options.
The IHG Rewards Club Co-Branded Credit Card will allow you to earn IHG points on every purchase you make.  The points will show up automatically in your IHG Rewards Club account each month
Transfer points through Chase.   Chase Ultimate Rewards Points can also be transferred to IHG Rewards at a rate of 1:1.   The following cards earn Chase Ultimate Rewards Points:
Transfer points through Diners Club.   Diners Club "Club Rewards" can also be transferred to IHG Rewards Points at a ratio of 1,500 Club Rewards Points: 1,250 IHG Rewards Club Points.  The following cards earn Diners Club "Club Rewards":
How to use your points – Redemption Options
You can use your IHG points for anything from free nights, to frequent flyer miles to shopping, gift cards, and more.   Just be careful, so options get a much better "return" on your points than others.
Use your points for Free Hotel Nights
You can use your points for free nights at IHG hotels and resorts for as little as 10,000 points per night, up to 60,000 points per night for high-end Intercontinental properties.
IHG Rewards Points and Cash – If you are coming up a little short on points you can use the Cash and Points option.  These rates will automatically show up when you search for award nights.
There is also a Travel Hack called the Points and Cash Trick, where you can use this method to get IHG points for less than $0.70 each
Transfer Points to Frequent Flyer Miles
IHG Rewards Points can be transferred to a large number of airlines for frequent flyer miles.   The point-to-mile ratio varies, but the majority are 10,000 IHG points for 2,000 frequent flyer miles.  The transfer time can take 4-6 weeks, so if you need miles quick, this is not the best option.
Use IHG Points for Shopping
IHG has a shopping portal where you can use your points to buy magazines, coffee makers, jewelry, electronics, and much more.
IHG Discounts and Promo Codes
If you have plans to stay at an IHG property in the near future make sure to check out the latest discounts and best rate guarantee offers below:
More Great Content for IHG Fans
If you like what you're reading now, here are some more great articles every IHG member should check out!