FYI: We may earn a small commission if you make a purchase through a link on our site, at no additional cost to you. Please refer to our
Disclosure
for more details.
Before you finish packing to head to the airport, always double-check your carry-on bags and make sure you don't have any bottles or other items that don't comply with the TSA liquids rule, (known as the 3-1-1 rule).   
By the time the TSA finds that expensive bottle of perfume or lotion in your bag, it's too late and you'll have to say goodbye and hand it over to get through security and board your plane on time.  It's happened to my family many times and could easily have been avoided with a quick check before leaving.
To help make sure this doesn't happen to you, we've created this article that will tell you everything you need to know about the TSA liquids rule, including how much liquid is 100 ml, what are travel-sized bottles, what is considered a liquid, etc. Basically, all the stuff that could get confiscated when making your way through airport security.
What's the TSA Liquids Rule?
The TSA liquids rule states that you can bring a quart-sized bag of liquids, aerosols, creams, gels, and pastes in your carry-on bag and through the airport security checkpoint. However, you are limited to containers that are travel sized and contain less than 3.4 ounces (100 milliliters) per item.
Items that are in packages or bottles larger than 100 milliliters (or 3.4 ounces) will have to go in your checked luggage.  In addition to larger liquids, any liquid that is more than 3.4 oz or 100 ml and is not contained in a secure, tamper-proof bag must be packed in your checked luggage.
TSA 3-1-1 Rule
Each liquid must be in a 3.4-ounce or less container ("3"), all containers must be placed inside one clear quart-sized plastic bag ("1"), and each passenger is only allowed one plastic bag ("1").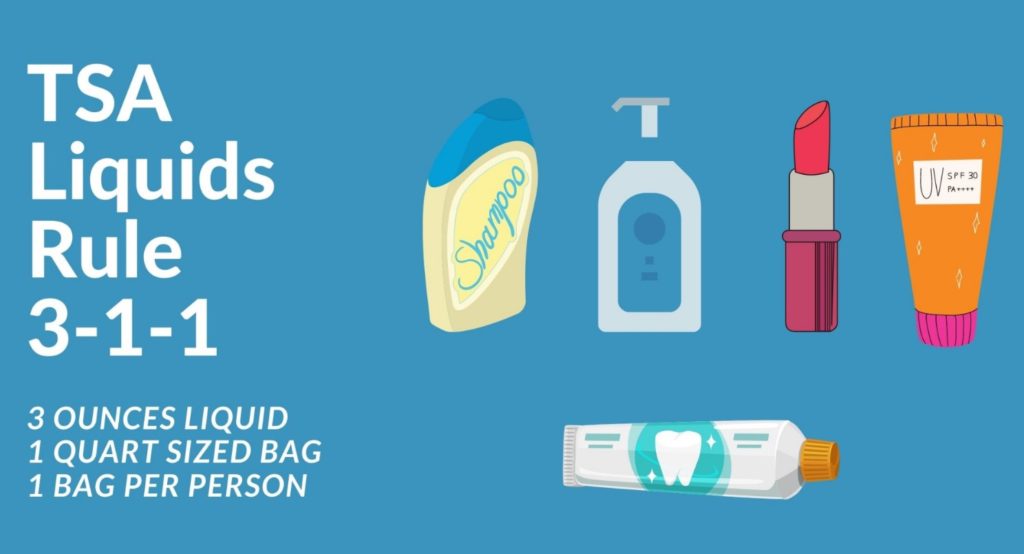 Exceptions to the TSA Liquids rule
There are 2 exceptions to the TSA 3-1-1 Liquids Rule
Medications, and
Infant/Child nourishment
Medications larger than 100ml
TSA allows larger-sized packages of medical liquids, gels, and aerosols in your carry-on. This also includes medical accessories such as freezer bags, pumps, syringes, etc. These items do not have to be in a plastic zip lock bag, but you will have to declare these items to TSA officers at the checkpoint prior to inspection.
Here's a video that provides all the details you need about traveling with medication.
Formula, Breast Milk, and Juice
Formula, breast milk, and juice for infants and toddlers are allowed through the security checkpoint. These can be in quantities greater than 3.4 ounces or 100 milliliters and are allowed in carry-on baggage.
Similar to medications, just inform the TSA officer of what you have and remove the items from your carry-on bag so they can be screened separately from the rest of your belongings.
Ice packs, freezer bags, frozen gel packs, and other accessories required to cool formula and breast milk are allowed in your carry-on bag.
TSA Liquids Rule for PreCheck
The TSA PreCheck Program allows registered travelers the ability to go through expedited screening lines at over 200 participating U.S. airports with over 80 participating airlines. Once you are approved in the program you don't need to remove your 3-1-1 liquids from your bag.
Actually, you can avoid removing any of the following items during the screening process:
Shoes
Belts
3-1-1 compliant bag
Light jacket/Sport coat/outerwear
Laptop / iPad from bag
To apply for PreCheck, go to tsa.gov/precheck. From here you can enroll and make an appointment online or walk in at any one of over 380 enrollment centers. It can take up to 30 days to obtain a TSA PreCheck known traveler number.
What does TSA consider a liquid?
According to TSA guidelines, any substance that is free-flowing or viscous is considered a liquid. This includes liquids, aerosols, pastes, creams, and gels.
Does TSA consider Makeup a liquid?
According to the TSA, "Makeup in a solid or powder form is allowed in carry-on and checked bags with no quantity or size limitations. However, when packed in carry-on bags, makeup in a liquid, lotion, gel, paste, or creamy form, must be in containers that are 3.4 ounces or less. You can take as many travel-sized liquids as you can comfortably fit into one quart-sized, zip-top bag."
When it comes to makeup, the following are some examples of liquid cosmetics:
Nail polish,
Perfume,
Moisturizers,
Foundation,
Mascara, etc.
How much is 3.4 oz?
Now that you understand the basic concepts of the TSA liquid rule, it may help to have an idea of what constitutes 3.4 oz or 100 ml, since most people don't naturally know how big a 3.4-ounce container or a 100 ml bottle is.
So if you're wondering exactly how much is 3.4 oz or how big is a 100 ml bottle, we will walk through that for you here.
Converting 3.4 oz to ml – how many ml is 3.4 ounces?
3.4 ounces (oz) converts to 96.388 milliliters (ml). For purposes of simplicity, the TSA rounds this up to 100 ml
What does 3.4 oz (100 ml) look like?
Most of the toiletries you would bring on a trip come in travel-sized packages that can be bought at any drug store or grocery store. These travel-sized items are typically 3 ounces (90 ml) and generally provide enough lotion, shampoo, or toothpaste for a 5-day trip. If you'll be traveling longer, you may need to stock up on a couple of extra bottles or plan on purchasing more upon arrival at your destination.
Converting 100 ml to oz – how many oz are in 100 ml?
100 milliliters (ml) converts to 3.3814 ounces (oz). For purposes of simplicity, the TSA rounds this up to 100 ml
100 ml to cups
100 milliliters (ml) converts to .422675 cups, so it's just under 1/2 cup.
100ml bottle size – how big is a 100ml bottle?
A 100 ml bottle is fairly small. To give you a visual, look at the image below that shows a 500 ml water bottle vs. a 100 ml spray bottle. The 100 ml bottle is about 3 inches tall and the water bottle is about 8 inches tall.
Wrapping Up: TSA Liquids Policy
Hopefully, this guide will give you a better idea of what the TSA considers a liquid and what size they will let you bring on your carry-on. Knowing this information in advance can save a lot of headaches at the airport!
More Carry-On Content: