FYI: We may earn a small commission if you make a purchase through a link on our site, at no additional cost to you. Please refer to our
Disclosure
for more details.
If you're planning to travel with just a carry-on, you'll need to be up to speed with your airline's carry-on policy.  Each airline's rules are different, so don't just assume that what works for one, will work for all airlines.  This is especially true if you're flying a low-cost airline, like Frontier.
Low-cost airlines may have lower base fares, but if you aren't careful, you'll end up paying more because of all the "a la carte" fees they have.   These include fees for both checked and carry-on luggage (as well as seat assignments, beverages, printing your boarding pass, etc..).
If you are going to be flying Frontier, here are the carry-on rules and size limits you need to be aware of.
Frontier Airlines Carry-On Rules & Bag Guidelines
Frontier allows one personal item onboard at no charge, but they charge for both carry-on and checked bags.  The personal item must fit under the seat in front of you, and the carry-on bag must be stowed in the overhead bin or it will have to be checked.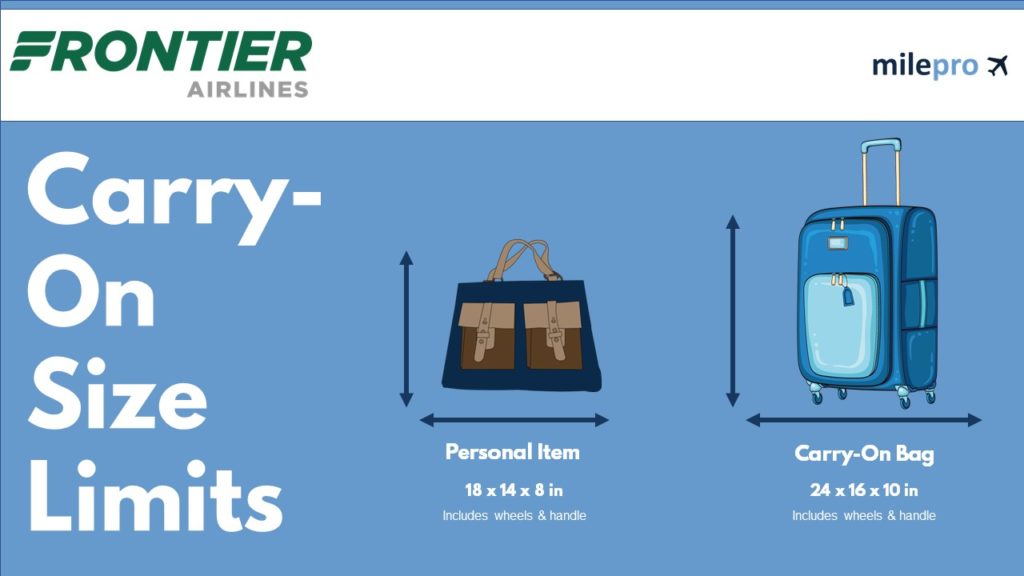 Frontier Personal Item Size & Fees
Personal items include a purse, briefcase, laptop, backpack, shopping bag or a similar sized item.  Dimensions must not exceed 18 x 14 x 8 inches (45 x 35 x 20 cm) including handles and wheels.
Coats, diaper bags when traveling with an infant, canes, crutches, Portable Oxygen Concentrator, respiratory devices or any other assistive devices, and foot rugs for use during prayer are all free to carry on in addition to your one personal item.
Frontier Carry-On Policy: Size & Fees
Frontier's size requirements for a carry-on are 22″ x 18″ x 10″ and they will make you pay if your bags are even the slightest bit larger than what fits in their carry on sizer box.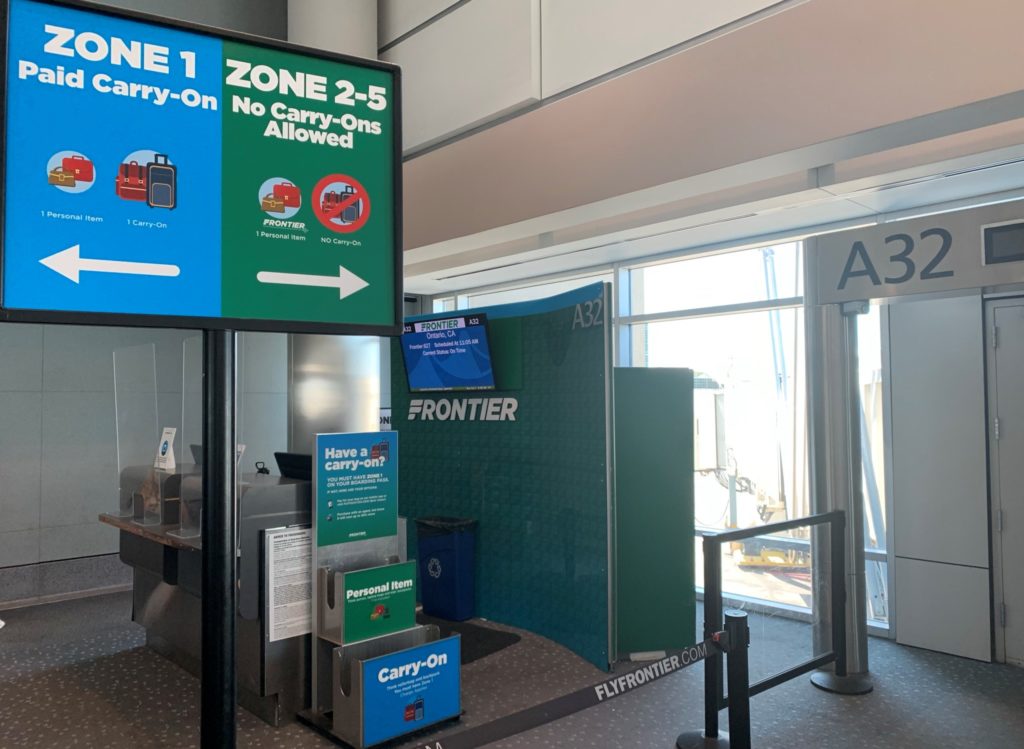 Carry-on bag fees vary based on when you purchase and are non-refundable.  The following are a range of fees you could pay for your carry-on, each way, depending on your destination.
During Booking: $37 – $39
Before & During Online Check-In: $40 – $46
Airport Kiosk or Ticket Counter: $55
At the Airport Gate: $60
Frontier Carry-On Weight Limit
Frontier requires your carry-on bag to be less than 35 pounds.
Prohibited Items
There are certain items that are considered dangerous and classified as a hazardous material. Dangerous goods are prohibited from both your carry-on and checked bag on all flights. These rules are not specific to any airline and are mandated by the Federal Aviation Administration.
The list includes items such as aerosols, fireworks, matches, etc…  A complete list can be found on the FAA website and the TSA website.
Carry-On Liquids (Frontier Airlines Liquid Policy)
The rules for carry-on liquids are set by the TSA (Transportation Security Administration), not by the airline.  Frontier Airlines doesn't have their own specific Liquids Policy, they just enforce the rules and policies of the TSA.
It's also important to note that the rules for bringing a "liquid" in your carry on bag are different from the rules that govern what you can bring in your checked luggage. Liquids in a carry on bag must be 3.4 ounces or smaller and fit in a 1 quart sized container. Anything larger must be placed in your checked luggage.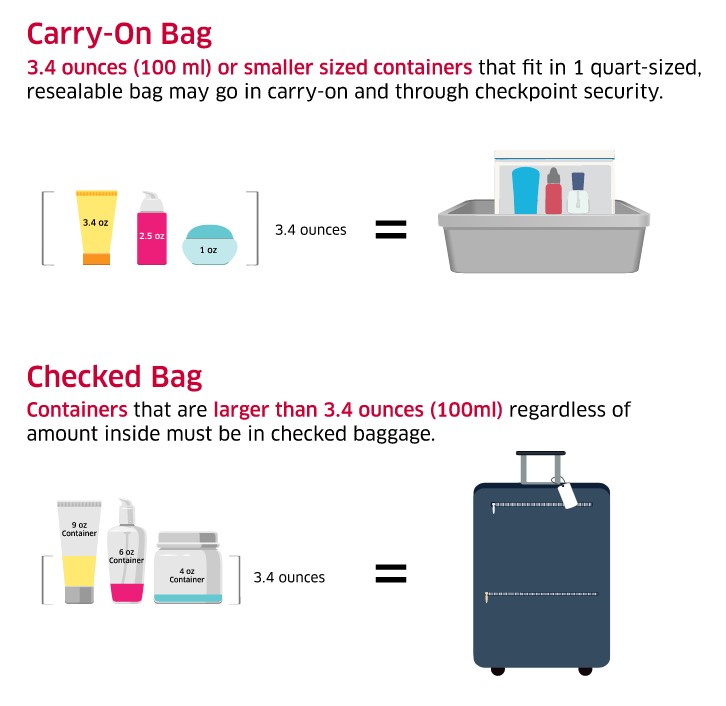 The TSA 3-1-1 Rule
Each passenger may carry liquids, gels and aerosols in travel-size containers that are 3.4 ounces or 100 milliliters and are enclosed in a sealed, one quart-size bag. Common travel items that must comply with the 3-1-1 liquids rule include toothpaste, shampoo, conditioner, perfume, mouthwash, deodorant and lotion.
Any liquid that does not meet the TSA 3-1-1 rule will either have to be checked with your luggage or will be thrown away at the security check point.
Here is a little video to help illustrate:
Exceptions to this rule are certain medications and baby food / child nourishment.
Carry-On Food
The TSA also sets the rules for what type of food you can bring on the plane. There are two different scenarios pertaining to food: 
Food you bring with you from home, and
Food you buy at the airport, after you have gone through security.
When bringing food with you from home, an important thing to note is the classification of liquid vs. solid foods.   The general rule is "If you can spill it, spread it, spray it, pump it, or pour it, then it's considered a liquid or gel,".   This means your food may be considered a liquid and will fall under the TSA 3-1-1 liquids rule, which mandates that any liquid, gel, cream, aerosol, or paste in a carry-on must be 3.4 ounces or less, and fit in one quart-size resealable bag (only one such bag is allowed per passenger).
Here's a link to the TSA website advising what food can be brought with you on your Frontier flight.  This applies to food you are bringing from home through security.   Once you get through security, you can bring just about any food on the plane that you buy at the airport.
Frontier Airlines Carry-On Pet Policy
Frontier Airlines allows domesticated dogs, cats, rabbits, guinea pigs, hamsters or small household birds may be carried on flights within the United States.  Only domesticated dogs and cats may be carried to or from international destinations.
Frontier does not allow pets to be checked as baggage.
If you are going to bring a pet on board with you, it must be able to fit in a small, ventilated pet carrier that fits under the seat in front of you.  Your pet carrier cannot exceed 18″ x 14″ x 9″.
Carry-On Pet Fees
Here is a chart showing the pet fees Frontier charges each way.   Double them for a round trip flight.
| | |
| --- | --- |
| To/From Destination | Pet Fee Each Way |
| Any Frontier Airlines Flight |  $ 99.00 |
TSA Approved Pet Carrier for Frontier
If you do plan on bringing your pet with you, make sure you follow TSA's pet policy and have an approved Pet Carrier that conforms to Frontier's pet policy.
Frontier Carry-On Policy
Here is a link to Frontier's Carry-On page to make sure you have the most up to date information.
More related articles….