FYI: We may earn a small commission if you make a purchase through a link on our site, at no additional cost to you. Please refer to our
Disclosure
for more details.
The Hilton Honors Loyalty Program
Hilton's loyalty program is called Hilton Honors.  With three levels of elite status, it offers some great benefits when staying at any of Hilton's 6,000+ hotels in over 100 countries.
As a Hilton Diamond member, I have extracted some great value out of the program over the years and I love how easy it is to earn a lot of Hilton points and top tier status (Gold and Diamond).
This in-depth guide will provide a complete overview of the program benefits and some great tips for how to earn more points, how to easily "earn" elite status, and how to maximize your Hilton Honors point redemption's.
Hilton Honors Membership Tiers & Benefits
The Hilton Honors program has three levels of elite status: Silver, Gold and Diamond. 
When you sign up for the program you will receive Hilton Member status.  This will give you the ability to earn Hilton points, free Wi-Fi and mobile check in, plus a few other things.
Join the Hilton Honors program here….
Silver Benefits
The first level of Hilton Honors elite status is Silver, which you will earn after 4 stays or 10 nights ( 25,000 Honors Base Points).
Silver status provides the following benefits:
20% Elite Status Honors points bonus
Two complimentary bottles of water
Fifth nigh free on award stays
Gold Benefits
Hilton's mid-tier elite status is Gold, which is awarded after 20 stays or 40 nights (or 75,000 Honors Base Points). 
Gold status provides all the benefits of Silver, plus the following
80% Elite Status Honors points bonus
Daily Food and Beverage Credit or Continental Breakfast (varies by brand and region)
Space-available room upgrades
Milestone Bonus: Earn 10,000 Bonus Points every 10 nights after you've stayed 40 nights in a calendar year.
Diamond Benefits
Hilton's highest level of elite status is Diamond, which is awarded after 30 stays or 60 nights (or 120,000 Honors Base Points). 
Diamond status provides all the benefits of Gold, plus the following:
100% Elite Status Honors points bonus
Executive lounge access
48 hour Guaranteed room (even if the hotel is sold out)
Lifetime Diamond Status
Lifetime Diamond Status will be awarded to Honors members who have earned Diamond Status for at least 10 years (non-consecutive) and who have completed stays totaling at least 1,000 paid nights.
How to Earn Hilton Honors Points
There are a bunch of ways to earn Hilton Honors points, many of which don't even involve staying at a Hilton property.   Naturally, you will earn points from staying at their hotels, but you can also earn points from the wide variety of their partners including airlines, rental cars, credit cards, restaurants, shopping and wine clubs.
1.  Earn Hilton Honors points from Hotel Stays
The most popular way to earn points, especially for business travelers, is by staying at Hilton Hotels.  When you stay at a hotel or resort within the Hilton Worldwide portfolio, you will earn 10 Base Points for every US dollar spent on your room rate and other eligible room charges, including telephone calls and room service.
When you reach elite status, you will automatically receive extra Honors Bonus Points on all the Base Points you earn. You will get a 20% bonus with Silver status, an 80% bonus with Gold status, and a 100% bonus with Diamond status.
However, some exceptions apply:
At Tru and Home2 Suites, you will earn 5 Base Points for every US dollar spent on your room rate only. This is half the earning rate of other Hilton properties.
2.  Bonus Points from Hilton Honors Promotions
Hilton offers regular promotions which offer the ability to earn additional bonus points with your stays.  Make sure you register for the latest Hilton promotion or you will miss out on a great opportunity to earn free nights at Hilton much faster!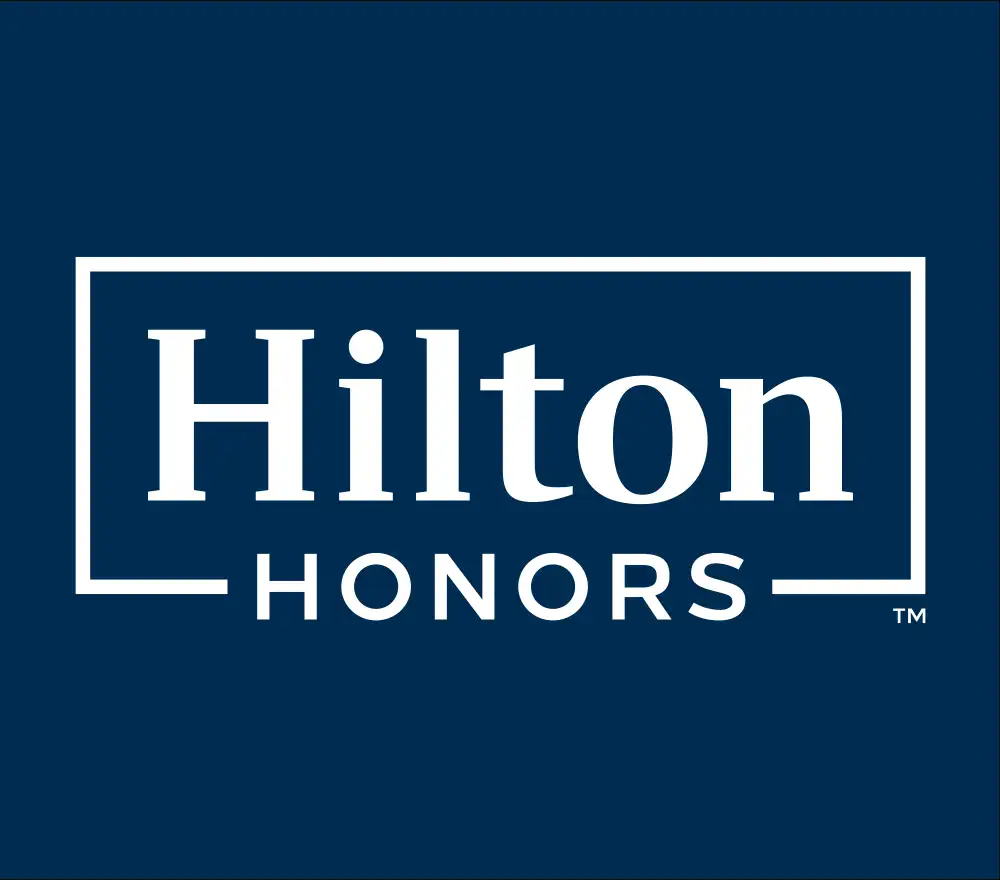 3.  Credit Cards that earn Hilton Honors Points
Credit Cards are one way to quickly earn Hilton Honors points and get elite status.   There are quite a few card options including both co-branded Hilton American Express cards and cards that transfer to the Hilton rewards program including American Express cards that earn Membership Rewards.
Hilton Co-Branded Credit Cards:
When you earn points through a Hilton Co-Branded credit card, they automatically post to your Honors account each month – no transfer required. I have the Hilton Aspire card and keep it every year to maintain my Hilton Diamond status. There is no easier way to earn the highest level of status with Hilton!
You can really rack up the points on your stays when you use a Hilton Co-Branded Credit Card to pay for your hotel bill.  For example, if you use the Hilton Honors Aspire Card (which provides automatic Diamond Status) to pay for your stay at a Hilton Hotel you will receive:
10x base points per dollar
10x bonus points for having Diamond Status (which comes with the Aspire Card)
14x bonus points from paying with the Hilton Aspire Credit Card
That's 34 points for every dollar spent at a Hilton hotel!
American Express Cards with Hilton Honors Transfer Option:
In addition to their Hilton co-branded credit cards, American Express Membership Rewards Points transfer to Hilton Honors at a ratio of 2,000 Honors Bonus Points for Every 1,000 Membership Rewards Points (transfer ratio's vary by country; this is the US rate).
(While this transfer option is nice if you need to move over a small number of points to top off your points to book an award stay, transferring Membership Rewards points to Hilton is not the best use of MR points.)
4.  Earn with Rental Car Companies
You can earn Hilton Honors points when you rent with National, Enterprise and Alamo Car Rental
Alamo – earn 500 Honors points with each rental
Enterprise – earn 500 Honors points with each rental
National – earn 500 Honors points with each rental
5.  Hilton Honors Dining – Earn Hilton Points at Restaurants
You can earn Honors Bonus Points at thousands of participating restaurants across the United States. When you join Hilton Honors Dining, you automatically earn Honors points when you pay with a registered credit card at a participating establishment.
Earn up to 8 Honors Bonus Points per US dollar spent dining at one of 10,000+ locations in the Hilton Honors Dining program. Membership levels vary based on how many times you have dined at the participating restaurants.  The base amount is 2 points per dollar spent with a registered card.  Once you have dined at a participating restaurant 12 times and paid with a registered credit card you will earn 8 points per dollar spent
I occasionally use this feature to avoid losing my Hilton points due to inactivity.   The Honors program has a tight rule where you lose all points if you have not had activity on your account for 12 months.   Any activity counts, so if I buy 1 pizza a year from my local pizza joint that participates in the program, I don't have to worry about my points expiring.   I have a lot of Hilton points, but don't stay at their properties much, so this is an easy way to make sure you don't lose them!
6. Pool your Points with a Family Member
Hilton now allows you to "pool your points" with family and friends.  With this perk, a Member (and up to 10 others) will now be able to combine their Points. For example, if a group of friends are taking a trip together and individually don't have enough Points to cover their entire stay, they will now be able to combine their Points, free of charge, into one account to unlock new redemption opportunities.
How to Use Hilton Honors Points
There are a bunch of ways you can use your Hilton Points ranging from free nights and upgrades to frequent flyer miles, experiences and much more.
1. Using Hilton Points for Free Nights
Hilton offers the ability to use your points anytime with no blackout dates.  The amount of points required to redeem Standard Room Rewards varies by hotel, room, booking and stay date (Peak vs Off Peak Times).   They no longer publish an award chart but you can go to their points explorer tool to find out how many points are typically needed for a stay.
You can use your points for:
Free standard room bookings
Free Premium rooms and suite bookings
Booking standard rooms using a combination of Honors Points and money, and/or
Upgrades to premium rooms and suites on existing paid reservations
Silver, Gold, and Diamond elite members will receive every 5th night free on Standard Reward Stays of 5 consecutive nights or more.
How to book an Honors Reward Night online:
Sign into your Hilton Honors Account.  In the reservations form, check the box labeled "Use Honors Points."
Fill in all the required fields.
Click the "Find" button to view hotel availability. Each room listing shows the amount of Honors Points required for a free night, as well as the regular room rate.  If premium rooms are available for points, they will show as well.
Complete your reservation.
2. Exchanging Hilton Points for Airline Miles
You can exchange Honors points for airline miles, rail points or other loyalty points earned through partners that participate in the Hilton points exchange program.
The miles per Hilton point will vary by airline, but most offer 1,000 miles for 10,000 Hilton Honors points.
This also works in reverse – if you need more Hilton points, you can exchange the other way — from a partner account to your Honors account.
3.  Experiences – Using Hilton Points for unique Experiences
Hilton offers an Experience Redemption offer like Marriott Bonvoy's Moments, which allows you to use points for unique music, sporting, food and cultural experiences.
There are two ways to take advantage of these redemption experiences:
1. Instantly Redeem Your Honors Points
Instantly redeem your points on 'Redeem Now' experiences at a fixed-point price. The quantity available is limited, so you will need to redeem before they sell out and you win!
2. Bid Your Honors Points
'Bid' experiences are won by the highest bidder. Place your bid, keep an eye on your prize and make sure your bid stays on top. When the auction closes, the person who has placed the highest bid gets to PLAY.
Is Hilton Honors Right for You?
Now that we have covered the basics of the Hilton Honors program, let's go over the important things to think about when considering what hotel program is best for you.
1. Number of hotels in the portfolio to earn and use points
Hilton is in good shape here.   They have 6,000 hotels, across 17 brands in 100 countries.  Finding a Hilton property nearby is very easy
2. Luxury hotel and resort options in the portfolio
Hilton has three luxury brands – Waldorf Astoria, Conrad Hotels & Resorts and LXR.  Curio is Hilton's boutique hotel brand and has some great hotels and resorts as well.  Finally there are Hilton resorts, which for the most part are not great, but there are some hidden gems like the Hilton Seychelles or Hilton Moorea. Overall, they are a good selection of luxury hotels and resorts to choose from.
3. Ability to earn points
It's very easy to earn Hilton Honors points through hotel stays, promotions, credit cards and partners.   Hilton is one of the easiest programs to earn points with.
4. Ability to use points
Hilton no longer offers a published award chart so knowing how may points you will need for a stay can be a bit tricky.  The do have a Points Explorer tool which highlights to high and low points range for a given property.
5. Ease of earning elite status
Hilton is without question the easiest hotel program to earn elite status.  All you have to do is apply for the Hilton Aspire card (referral link) to have Hilton's top tier Diamond status or the Hilton Surpass card for complimentary Gold status.  There are annual fees with these cards, but the benefits can easily outweigh the fees if you use them properly.
6. Benefits of elite status
Hilton has some pretty good benefits for having top tier elite status.  The 100% points bonus for stays is great as is the fifth night free option for award stays.  On top of that there are room upgrades and free breakfast.  Naturally, the benefits are more valuable then you are staying at Hilton high end properties, vs the mid-tier options.
7. Credit Card option for earning points
Hilton credit cards are the best in terms of elite status and availability.  Hilton has several co-branded credit cards with American Express, including both personal and business options.  They also are a transfer partner of membership rewards so there are a ton of ways you can earn Hilton points from your credit card spend.
More Content for Hilton Honors Fans:
If you like what you are reading now, here are some more great articles every Hilton Honors member should check out!