FYI: We may earn a small commission if you make a purchase through a link on our site, at no additional cost to you. Please refer to our
Disclosure
for more details.
In this article, we dig into the Marriott travel agent rate familiarization program, called "Fam-tastic", and review how to qualify for these deeply discounted rates vs. a standard Marriott Travel Agent rate. It's more complicated than you might think.
Here is everything you need to know about Marriott travel agent rates.
What is the Marriott Fam-tastic Program?
"Fam-Tastic" is Marriott's rate familiarization program, which allows registered travel agents to book special rates at Marriott properties across the globe.   It's a way to let travel agents see Marriott properties at discounted prices so they can promote them to their customers.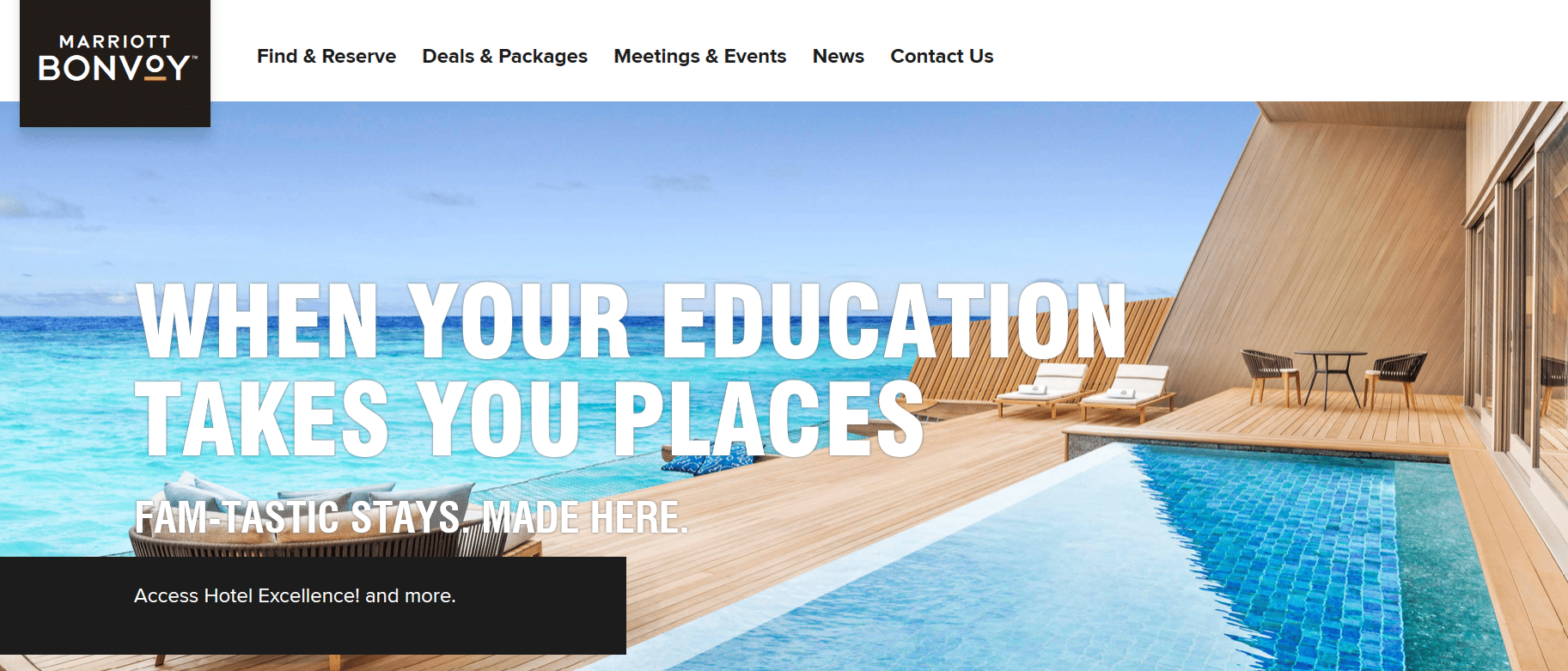 The Fam-tastic program is recognized as the industry's premier travel agent familiarization rate program and is offered as an exclusive benefit to qualified travel consultants who have successfully completed the Hotel Excellence!  Core training and the current year's annual Continuing Education are employed by a valid ARC/IATA/TIDS/CLIA agency.
The Fam-tastic rate is a discounted rate that varies by brand and is subject to availability based on Marriott's Travel Agent Rate Ratio Policy.
Qualifying travel agents are eligible to book Fam-tastic stays (maximum four nights per stay, one visit per participating hotel per calendar year) at participating hotels.
Marriott Travel Agent Rates vs. Fam-tastic Rates:
It's important to note that Marriott has two different types of discounted travel agent rates:
The "Fam-tastic" Travel Agent Rate, and
The Standard Travel Agent Rate.
Any registered travel agent can book a standard travel agent rate. However, If you want to book a "Fam-tastic" rate there are some additional steps you need to go through.
Fam-Tastic Travel Agent Rate Requirements:
To qualify for Fam-Tastic discounted rates and benefits, travel agents have to do the following:
Complete the Hotel Excellence! Core training.
Complete the latest Continuing Education training.
Ensure your profile has been updated.
US advisors must also have a valid IATAN VER or CLIA EMBARC ID number added to their Hotel Excellence! profile.
"Fam-Tastic rates are for the exclusive use of active accredited travel agents who are graduates of Hotel Excellence! and have completed the current year's continued education training ("Travel Agents").  Fam-Tastic rates are designed to afford travel gents the ability to familiarize themselves with Marriott hotels and resorts.

Fam-Tastic rates may not be used by anyone other than the travel agent. For clarity, Fam-Tastic rates may not be used by a travel agent's family, friends, clients, or any other third party.

As soon as a your Hotel Excellence! dashboard indicates that you are "Qualified" for Fam-Tastic, stays can be booked immediately."

Marriott
How to Book a Marriott "Fam-Tastic" Travel Agent Rate?
Fam-Tastic rate reservations must be made in advance and can only be made via marriott.com/travelagents.
You'll need to Log in with your MI Partner Privileges credentials. If you meet the requirements to qualify for the Fam-Tastic rate, the booking page will appear, and you may continue to search and book your Fam-Tastic reservation.
How to Book a Standard Marriott Travel Agent Rate?
Standard Travel Agent rates are much easy to book. You just need to go to the Marriott booking page and book a room with the Marriott travel agent rate code ("TVL"). 
Enter code "TVL" in the "Corporate/Promotional Code" box under the "Special Rates" section of the Marriott booking page
Then enter your travel destination, and dates and hit the "find hotels" button to reveal the results.  
The process is the same as when you book a room with a Marriott Corporate Code or a Marriott Employee Discount Rate. 
That said, you will still need to provide travel agent credentials when checking in, so this is not a rate code just anyone can use.
Here are the credential and ID requirements for using the Marriott travel agent rate code:
At the time of hotel check-in, the travel advisor must provide appropriate credentials. For travel agents associated with a US agency: an IATAN photo ID Card or CLIA EMARC Photo ID Card is required. For travel agents associated with an agency outside the US or for advisors associated with a AAA location: a valid photo ID and a business card or employment verification letter on the letterhead of their agency are required.
If the appropriate credentials are not presented at check-in, the hotel will charge the travel advisor the Travel Agent rate or the lowest rate available to the general public for each night of the stay.
Marriott Travel Agent Rates – How much can you save as Travel Agent?
I must admit that I was surprised at how little you actually can save with these rates.  There are a couple of issues:
Many Marriott hotels don't offer them, however, most of the resorts in vacation destinations do offer travel agent rates.
The savings are not that big. I have seen anywhere from 10-40%, depending on location and time of year.
Don't get me wrong, a 10-40% discount is still saving, but I would have expected the travel agent rates to be in the 50% or more discount range to motivate advisors to check out the properties and promote them to their customers.  Here are a couple of rate examples:
Example 1:  New York City
Example #2:  Hawaii
Marriott Hotel Excellence Program
If you want to book a Marriott Fam-Tastic rate, you are going to need to familiarize yourself with Marriott's travel agent training program.
Hotel Excellence! (HE!) is Marriott's online library of training for travel advisors and is a key component of Marriott's Preferred Travel Agency (PTA) program.
The training covers hotel industry knowledge, sales tips, Marriott International's portfolio of brands, pricing and commission policies, and more.  Plus, qualified Marriott Hotel Sales Specialists gain access to Fam-Tastic rates, their lowest industry rates, so you can experience the brands for yourself.
Marriott Travel Agent Benefits
Exclusive access to Fam-Tastic rates at thousands of Marriott International Hotels worldwide.
Receive dedicated eNewsletters on our latest news, openings, and more.
CEUs for maintenance of The Travel Institute's CTA/CTC certification, the Association of Canadian Travel Agencies certification, or CLIA credits.
Access Tools and Resources to help you sell our brands.
Travel Agency Owner Benefits
Receive enhanced commission as a Preferred Travel Agency (PTA).
Provide award-winning training to your travel agents.
View your agency's status with Marriott from your dashboard once logged in.
Easily complete annual requirements for the Preferred Travel Agency program.
What's the difference between Standard Travel Agent Rates and Marriott Fam-Tastic Rates?
There are a couple of key differences between the two Marriott travel agent rates including:
The discount is typically higher for the Fam-tastic rate.
You can only book 1 room (4 nights maximum) at the given property with a Fam-Tastic Rate, but you can book 2 rooms with a standard travel agent rate and stay as long as you want.
You can only book a Fam-Tastic rate at a participating Marriott International property one time per calendar year. Standard Travel Agent rates do not have this limit.
You have to go through additional training to qualify for a Fam-Tastic rate, whereas any accredited travel agent can book a Travel Agent Rate.
You can only book a Fam-Tastic rate through the Marriott Travel Agent portal, whereas you can book a standard Travel Agent Rate through the Marriott website.
Terms of the Marriott Fam-Tastic Program
Reservations for the Fam-Tastic rate must be made upon logging into hotelexcellence.marriott.com.
The rate is available at participating properties for a minimum of one (1) night and a maximum of four (4) nights per stay.
Rates are subject to availability and black-out dates. Advance reservations are required.
Travel agents may book a maximum of one (1) room per stay using the Fam-Tastic rate.
There is no limit on the number of stays the travel advisor may book in a calendar year using the Fam-Tastic rate, provided that the travel advisor may only use the Fam-Tastic rate one (1) time per calendar year at each participating property.
Rates will be shown in USD or local currency and do not include taxes, gratuities, resort or destination fees, or other mandatory fees.
The rate applies to one standard guest room based on double occupancy.
More Travel Agent Content
How about some more content around travel agent deals?
Frequently Asked Questions
How do I get an IATA/IATAN card?
In order to be eligible for an IATA/IATAN card, you must work for an IATA-accredited travel agency. Eligible applicants can be an owner, manager, employee, or independent consultants involved in the administration, operations, or sale of travel.
What is CTA/CTC certification?
A CTA is a Certified Travel Associate. You can obtain your certification through The Travel Institute.
Do Travel Agents Get Free Trips with Marriott?
No. Travel agents have to pay for their stays with Marriott properties, but they do get a discounted travel agent rate of up to 50% off rack rates.
How many rooms can I book with a Travel Agent Rate?
A maximum of one room per stay may be booked at the Marriott Travel Agent "Fam-Tastic" rate.
What Brands participate in the Travel Agent "Fam-Tastic" Program?
All brands across Marriott's portfolio except Design Hotels, Homes & Villas by Marriott International, and The Ritz-Carlton Yacht Collection participate in the Fam-Tastic program.
Can you earn Marriott Bonvoy points with Fam-tastic Rates?
Yes. The Fam-Tastic rate is eligible for Marriott Bonvoy Points for stays arriving on or after May 2, 2022.