FYI: We may earn a small commission if you make a purchase through a link on our site, at no additional cost to you. Please refer to our
Disclosure
for more details.
There's nothing as exciting as heading to the airport and knowing you're on your way to another adventure. But what happens when things don't go the way you planned? If you have an upcoming flight with United Airlines, you have some flexibility, even on the day of your flight—in case your plans change.
United Airlines gives you two options to change your flight on the same day of your departure. You can either make a same-change change or stand by (at no charge) for an earlier flight.
In this article, we'll guide you through everything you need to know about flying standby on United Airlines, from understanding their rules and restrictions to tips for making the experience as smooth as possible.
Here is everything you need to know…
Making a Same-Day Change with United
United Airlines allows passengers to make changes to their flight before or after check-in—even for those who booked their flight with miles.
Same-Day Change Rules for Premier Members
If you are a United Premier member, you have extra flexibility for flight changes made within 24 hours of departure. You may be able to confirm a seat on another flight within 24 hours of the originally scheduled departure time at no additional cost (i.e. you will not have to pay a change fee)
If your original ticketed fare class isn't available on the new flight, however, you may have to pay the fare difference. If not, you can always opt to standby for free.
Same-Day Change Rules for All Other Travelers
If you're a MileagePlus member or a customer without a Premier status, you may still be able to confirm a seat on another flight. However, you must fly within 24 hours of your originally scheduled departure time. A fare difference may also apply even if the same original class is available.
You can also choose to stand by for free instead.
What If I Have a Basic Economy Ticket?
Basic Economy tickets are not eligible for same-day change or same-day confirmed flights, even if you have elite status. However, you can fly on standby for other flights within 24 hours of your original departure time instead, you will just be at the bottom of the list.
What If I Already Checked My Bags?
Don't worry, you can "same-day change" if you checked your bags as long as the change is completed at least 60 minutes before your new flight's departure. This allows United enough time to move your bags onto the new flight. If you are flying with just a carry-on, you have no time limits to worry about.
Best Carry-On Luggage When Flying on Standby
If you are looking for a great carry-on bag when flying on standby, I recommend the Travelpro Maxlite 5 Expandable Spinner. I have used this carry-on for years. It's durable, reasonably priced, and holds everything I need for shorter trips. Plus the spinner wheels make it very easy to get through the airport quickly and effortlessly.
If you know you are going to be flying on Standby, it's always best to travel with only a carry-on!
Our Pick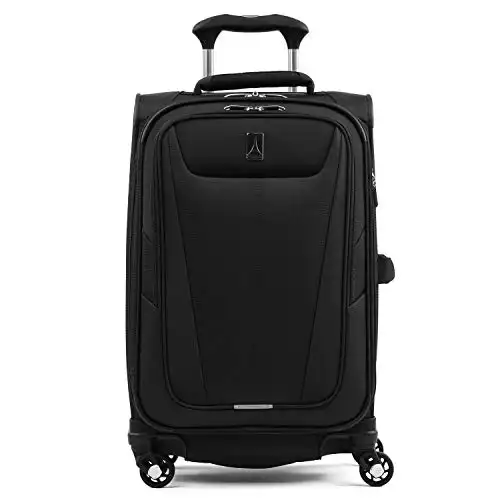 Flying Standby with United Airlines
If you can't confirm a seat on another flight or don't want to pay the same-day change fee, you can always choose to join the standby list for an earlier flight for free.
If your itinerary has several flight segments (e.g. you have connecting flights), you'll need to standby for each flight individually.
Who Is Usually on the Standby List?
According to United Airlines, some of the most common types of passengers on the standby list are the following:
Involuntary standby customers. These are customers who did not travel on their original flight because it was canceled or United Airlines changed their itinerary.
Voluntary standby customers. These are customers on eligible fares who chose to voluntarily standby for a different flight from their original one.
Pass riders. These are United Airlines employees or their eligible dependents standing by on a space-available basis. They are prioritized last and are only assigned seats after all other standby customers have been accommodated.
Can I Change My Seat Assignment?
If you have the United app installed on your phone, you can change your seat if United Airlines assigns it an hour or more before your flight departs.
If you receive the seat assignment within an hour of departure, you won't be able to change your seat on the United app. If you want to change your seat after receiving the seat assignment, and you are within one hour of departure, you can talk to a gate agent and they'll do their best to help you out.
How to Join United Airlines' Standby List
Add yourself to the standby list via united.com or the United App. You may also do this at an airport kiosk or by talking with a United representative at the airport. (If you're doing this at the airport kiosk, select "View Flight Options" when reviewing your itinerary.)
Once United adds you to the waitlist, you'll see the first three letters of your last name and your first initial displayed on the screens near the gate for your new flight. You may also check the real-time standby status on the United app or at united.com/flightstatus.
If a seat is available, United Airlines will automatically assign you one about 30 minutes before departure for a domestic flight and 60 minutes for international flights. If you signed up for day-of-travel notifications, United Airlines will text or email you to let you know that they have already assigned you a seat. You can also refresh your boarding pass on the United app or check the screens near the boarding gate to view your status and seat.
If you've requested to be added to the standby list but don't see your name, check with a United Airport representative. United can only resolve issues such as these at the airport.
Standby Rules for Missed Flights
United Airlines commits to helping their passengers in any way they can, especially when flights are delayed for more than an hour or canceled or the passenger misses a connection. You can look for options for an alternative flight that works best for you through the following channels: United App, the United website (united.com/check-in), and the United kiosk in the airport check-in areas.
When you log on to any of them, you'll be able to do the following:
Check if you already have a new flight. United Airlines will keep looking for the best alternatives to get you where you need to go. They may already have found a new flight for you. If so, you can get your boarding pass right away.
Re-book your flight. Another option is to re-book yourself on the earliest possible flight with available seats. This option is also the same one an agent will give you, so you might want to skip the line without having to wait.
Join the standby list. If there are flights that leave earlier, with no available seats, you can try joining the standby list. United Airlines might be able to get you on those flights if a space becomes available. If you join the standby list, United won't give up your confirmed seat on your re-booked flight. They will also waive their usual standby fees so it will be completely free. If you don't see the earlier flight listed on the kiosk or app, stop by the gate of that flight about 60 minutes before departure. The gate agent will be able to add you to the standby list.
Find alternate airports. Sometimes, a flight to a certain airport gets canceled. You can opt to switch to a nearby airport if it works with your travel plans.
If you opt to cancel your trip instead, speak with an airport agent or someone from United Airlines' customer service center. You may be able to obtain a refund.
Standby Rules for Employees, Friends & Family Members
United Airlines employees can enjoy unlimited standby travel and discounted prices on airline tickets wherever United flies. Their parents, spouse, and children are also eligible for domestic travel on standby. United employees and their dependents also get significant discounts on international travel.
The catch is that these benefits usually only allow you to fly standby. Employees traveling with their spouse or kids have higher priority, while those flying alone on a buddy pass are given the lowest priority. Those with buddy passes are usually the last to be cleared on the standby waitlist.
Standby Rules for Upgrades
Sometimes, when you book a ticket for a flight, you are eligible for an upgrade right away or you can apply for an upgrade and be added to the upgrade list.
Instant Upgrades on United Airlines
If you are a United Airlines elite passenger traveling on the highest-priced economy-fare classes (Y and B), you are eligible for an instant upgrade. This means the moment you select the flights and buy them, you can check the available upgrades. This instant upgrade is also available for other travelers, such as Premier 1K members and customers applying for miles or a certificate to move up to the next cabin (provided that they meet the terms and conditions).
Waitlist for Upgrades on United Airlines
Often, however, your upgrade won't clear during the time you are booking your flight. Instead, you'll end up on the waitlist for an upgrade. In some cases, you'll get to confirm your upgrade a few days before your flight, but in other cases, you may only find out at the gate just before departure.
In case you're wondering if you have a chance at getting an upgrade you requested, United Airlines clears requests on the upgrade waitlist in the following order of priority:
Premium Plus passengers. Passengers booked in the O, A, and R fare classes have the highest upgrade priority. These fare classes represent United Premium Plus and have a priority that is even higher than United Global Services members with full-fare Y tickets.
Upgrade type. Passengers who are redeeming PlusPoints or miles for an upgrade are prioritized over elites who are relying on complimentary premier upgrades.
Premier elite status of traveler. United Global Services members are prioritized first, followed by Premier 1K, Premier Platinum, Premier Gold, and Premier Silver elites.
Fare class. For travelers who buy regular economy tickets, the priority order for the different fare classes is as follows: Y, B, M, E, U, H, Q, V, W, S, T, L, K, G. If you applied for Complimentary Premier Upgrades on award tickets, you will be prioritized after the lowest paid fare class.
United Credit Card Holders. Chase United MileagePlus Club cardholders and Presidential Plus cardholders.
United Corporate Preferred Participants.
Chase United MileagePlus cardholders with $25,000 in annual spending.
Time and Date of request.
Of course, these factors don't come into play during all flights. In case it happens, however, and multiple passengers with the same elite status tier are requesting the same upgrade, United Airlines will use fare class as a tiebreaker. When that is not enough to determine who should get an upgrade first, the system will check the credit card type the passengers hold (if any) and their spending threshold.
Finally, the time and date the passenger submitted the request will come into play, so it's best to apply for an upgrade as soon as possible.
How Does the United Standby List Work?
While waiting on standby, you might see the list constantly changing. Just because you were the first to ask to be included on the standby list doesn't necessarily mean you will be the first to be given a seat.
United Airlines prioritizes passengers on their waitlist by the following order:
Premier status of the traveler (The published Premier status that has the highest priority is Premier 1K, followed by Premier Platinum, Premier Gold, Premier Silver, other MileagePlus members, and then all remaining customers.)
Fare class
Chase United MileagePlus Club cardholders and Presidential Plus cardholders
United Corporate Preferred participants
United Chase Card members with $25,000 in annual spending
Date and time of the request
If you have a Basic Economy ticket, United Airlines will add you to the standby list after all other ticketed customers. They will follow the same prioritization listed above. This rule applies even if you have MileagePlus Premier status but are flying under a Basic Economy ticket.
Related Posts:
Here are some more articles that explain how the standby list works on other airlines: