FYI: We may earn a small commission if you make a purchase through a link on our site, at no additional cost to you. Please refer to our
Disclosure
for more details.
Have you ever had to make last-minute changes to your travel plans? It can be a hassle, especially if you have to purchase a new ticket and spend more money. Fortunately, most airlines, including American Airlines allow you to make same-day flight changes, and if that isn't available, you can fly on standby at no additional charge.
In this article, we'll guide you through everything you need to know about flying standby on American Airlines, from understanding the rules and restrictions to tips for making the experience as smooth as possible.
Here is everything you need to know…
Same-Day Flight Change on American Airlines
A same-day flight change will allow you to confirm a seat on a different flight (on the day of departure) on any American Airlines and/or American Eagle flight if eligible seats are available.
However, the alternate flight must be to the same origin and destination and you can only make the change on the actual date of your flight. You cannot make a Same-day flight change on any day prior to your scheduled departure.
Same-Day Flight Change Fees
If you want to take advantage of a same-day flight change, you will have to pay a fee. The table below shows the fees for markets where you can make a change.
| | | |
| --- | --- | --- |
| Market | Confirmed | Standby |
| U.S., Puerto Rico and the U.S. Virgin Islands | $75 | $0 |
| Canada and the Caribbean | $75 | Not offered |
| Between/through New York (JFK) and London Heathrow (LHR) | $150 | Not offered |
If you fit one of the following scenarios your standby fee will be waived
| | | |
| --- | --- | --- |
| Passenger / Ticket Type | Confirmed | Standby |
| AAdvantage Executive Platinum and AAdvantage Platinum Pro status (and companions in same reservation) | Free | Free |
| Unrestricted Economy (Y fare), Business, First, AirPass | Free | Free |
| First, Business Flight Awards | Free | Free |
| AAdvantage Platinum and AAdvantage Gold status (and up to 8 companions in the same reservation) | Not available | Free |
| oneworld Emerald, Sapphire, or Ruby status (and up to 8 companions in the same reservation) | Not available | Free |
| Alaska Airlines MVP Gold 100K, MVP Gold 75K | Free | Free |
| JetBlue TrueBlue Mosaic members | Free | Free |
| Active U.S. military personnel (on orders or personal travel) and active U.S. military dependents (on orders only) | Not available | Free |
Flying Standby on American
Same-day standby allows you to standby for an earlier (or later) American Airlines flight as long as it has the same routing on your day of departure. Unlike same-day flight change, when you are flying standby, you are not guaranteed a seat on a flight.
If you fly standby for an earlier flight on your departure day, you will retain your original flight reservation until you are confirmed on the earlier flight. If not, you may still have to continue with your original flight.
You can request to be added to the standby list on American Airlines' website, or by talking with an agent or at the airport self-service kiosks.
Best Carry-On Luggage When Flying on Standby
If you are looking for a great carry-on bag when flying on standby, I recommend the Travelpro Maxlite 5 Expandable Spinner. I have used this carry-on for years. It's durable, reasonably priced, and holds everything I need for shorter trips. Plus the spinner wheels make it very easy to get through the airport quickly and effortlessly.
If you know you are going to be flying on Standby, it's always best to travel with only a carry-on!
Our Pick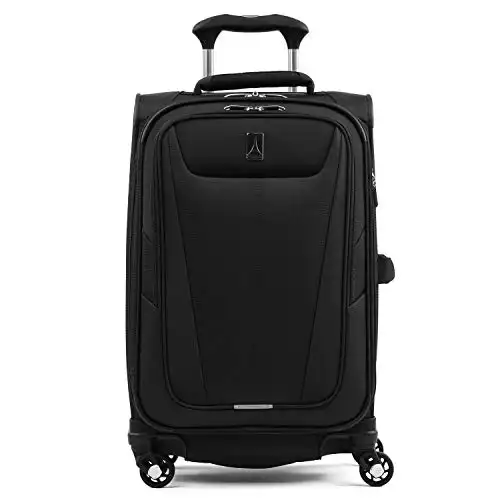 Standby Travel Rules
If you're planning on flying standby, there are a couple of requirements that must be met. They are as follows:
Depart on the same day, to and from the same airports as your original flight
Have the same number of stops in the same airports as your original flight. (this means you cannot change what is currently scheduled as a connecting flight into a direct flight)
Be marketed and operated by American Airlines or American Eagle
Please also keep the following in mind:
Anyone can standby for an earlier flight, but only AAdvantage status members can standby for a later flight on the same day
Same-day confirmed changes and standby are subject to availability on select flights
How to Request a Same-Day Change
Starting 24 hours before departure, access your trips via the American Airlines website or app. You can also stop by an airport kiosk or ticket counter to request a change and pay the fee (if applicable).
(Note: Customers traveling on a Basic Economy fare cannot make changes at a kiosk. You can find your trip on the American Airlines app or website, make the changes from there, or visit a ticket counter to request a change.)
After you check-in, you'll receive a new boarding pass and receipt.
Refunds
Fees are non-refundable unless American Airlines
Is unable to assign you a seat because the flight is full
Delays your incoming flight or causes you to miss your connection
If you are eligible for a refund, you can request it online.
Flying Standby Terms & Conditions
Based on availability on select routes operated and marketed by Americana Airlines or American Eagle
May be confirmed up to 24 hours before the new flight time
Non-refundable and non-transferable
Must not have chances to depart/arrival airports, number of flight segments, connection cities, or from a through flight to a connecting or nonstop flight
Made at the airline's discretion and subject to change or termination at any time
Standby Rules for Missed Flights
If you miss your original flight with American Airlines and it is your fault, you can try and ask them to place you on the standby list. While American Airlines only allows standby for a later flight if you are an AAdvantage member, you might just get lucky if you explain your case and ask them nicely. You may also have to pay a fee, so be prepared for additional expenses.
If the missed flight is because of American Airlines (such as a canceled or delayed flight), the airline will try to get you another seat on the next flight. You can ask to be placed on standby if all flights are booked already.
If the cancellation or delayed flight causes you to miss your connection, American Airlines will rebook you on the next flight with available seats. They will also reroute your bags automatically when you check in for your new flights.
Remember that you may have to wait for more than one flight until a seat becomes available. Ask the gate or customer service agent about your chances of getting onto a flight as it might be better to reschedule your trip instead of just waiting.
Standby Rules for Employees, Friends & Family
American Airlines employees can enjoy standby travel to any destination where American Airlines flies. If an employee, their spouse, children, or other dependents wish to fly standby, they can do so at no cost except for international destinations where certain taxes may apply.
American Airlines also has a 65-point plan which allows retirees to fly for free. However, they must meet the requirement of 10 years minimum active service, and their age plus years of service must equal or exceed 65.
Employees or retirees and their registered companions who wish to travel business class or above must pay an additional fee, depending on the itinerary. Fees for premium domestic travel throughout the United States depend on the distance you are flying. On the other hand, international premium cabin travel has a flat fee based on the destination.
Buddy Passes
American Airlines also allocates a certain number of "Buddy Passes" each year to qualifying employees who can give them to friends or other travel companions who aren't parents, spouses, or children. These Buddy Passes have a lower boarding priority than American Airlines employees on vacation, retirees, and other eligible travelers.
American Airlines employees can also buy full-price tickets where a 20% employee discount is applied. This gives the employee or the ticket holder a confirmed, assigned seat, and the passenger will be treated like the rest of the passengers who buy tickets with American Airlines.
Standby Rules for Upgrades
You have different options for upgrading to first class or another type of premium cabin on American Airlines. While some are only available to elite status members, others are available for any traveler. Upgrading your seat means you need to have an eligible ticket, and there must also be available space. Remember, you can't guarantee an upgrade until the airline confirms them:
Upgrade Options
There are four main ways to get an American Airlines upgrade.
500-Mile Upgrades
System-wide Upgrades
Upgrade with Miles
Business Extra Upgrades
500-Mile Upgrades
500-mile upgrades are available for certain elite members of the American Airlines AAdvantage program for flights within North America.
All elite members with a Gold status (or higher) receive unlimited, automatic upgrades when flying 500 miles or less. Upgrades for flights longer than 500 miles depending on your elite status:
Gold and Platinum elites can earn four 500-mile upgrades for every 12,500 Elite Qualifying Miles (EQMs) they earn each membership year
Executive Platinum or Platinum Pro members can enjoy unlimited 500-mile upgrades (as long as they are available) on all paid flights within the U.S. and between the U.S. and destinations in North and Central America
System-wide Upgrades
System-wide upgrades (also known as SWU's) are special upgrades that are good for confirmed upgrades to the next class of service for any one-way travel wherever American Airlines flies. You can use system-wide upgrades for up to three one-way segments on American Airlines and American Eagle marketed and operated flights. Members can also give their upgrades to other travelers, even if they are not traveling together.
The best thing about SWU's is that they get top priority, and you can use them on any route. The disadvantage, however, is that you need to have Executive Platinum or Platinum Pro status to be able to avail of these upgrades.
Upgrade with Miles
If you've flown frequently and have some AAdvantage miles saved up, you can use them to purchase an upgrade. You can also combine cash and miles to buy upgrades on American Airlines. With an option like this, you don't need to be an AAdvantage elite status member to get upgraded. When you upgrade with miles, you also get priority over complimentary upgrades and other types of upgrades.
Business Extra Upgrades
American Airlines has a Business Extra program that small business owners and other people can join for free. As a member of the program, you earn one Business Extra point for every $5 you spend on eligible flights. You can then use your accumulated points for upgrades, free flights, AAdvantage Gold Status, Admirals Club passes, and more. The points you earn are different from your AAdvantage miles, meaning you can spend your points on upgrades (or whatever you'd like), and it won't touch your regular mileage balance.
Who Gets Upgraded First?
After you request an upgrade on American Airlines, they may confirm it right away. If not (either an upgrade isn't available yet or can't be confirmed immediately), you will be placed on a waiting list with other people who requested an upgrade.
If your upgrade hasn't yet been confirmed by the time you check in for your flight, you'll be put on the upgrade standby list. Once confirmed, the American Airlines app will automatically upgrade your mobile boarding pass.
American Airlines prioritizes upgrade requests depending on the following order:
Your elite status level. If you are a ConciergeKey member, you're at the top of the list. Following close behind are Executive Platinum, Platinum Pro, Platinum, and then Gold-level elites.
Your type of upgrade request. Mileage award upgrades and system-wide upgrades have more priority over 500-mile upgrade requests. Also, 500-mile upgrade requests have priority over those who have award tickets.
Your number of elite qualifying dollars (EQD). You earn EQDs through the airline tickets you buy on American Airlines marketed flights and your spending on eligible AAdvantage Aviator MasterCard cards. EQDs are updated daily, and the airlines will go by the value of the 12-month rolling EQDs if there are some ties between passengers vying for an upgrade.
Your time and date of request. If even after all the conditions listed above, there is still a tie between you and the other passengers, requests made first will be given priority.
How Does American Airlines Standby List Work?
American prioritizes full fare and elite passengers first, followed by discount fare passengers, friends of employees with buddy passes, and so on. You may have to wait for more than one flight before a seat becomes available. That's why it's best to show up early, so you have better chances of getting a seat.
Tips for Flying Standby on Other Airlines:
Here are some more articles that explain how the standby list works on other airlines:
Other Related Articles: