FYI: We may earn a small commission if you make a purchase through a link on our site, at no additional cost to you. Please refer to our
Disclosure
for more details.
When you're traveling, anything can happen. You get delayed, your plans change and you want to get on an earlier flight, or you might even miss a flight.
With Southwest, you don't have to worry. Their standby policy allows you to standby for an earlier flight on the same day as their original flight, as long as there is an available seat. This means that passengers do not have to pay any additional fees or penalties for making a same-day change. In fact, Southwest's standby policy is one of the most flexible in the industry, as it allows passengers to change flights even after their original flight has departed.
In this article, we'll guide you through everything you need to know about flying standby on Southwest Airlines, from understanding the rules and restrictions to tips for making the experience as smooth as possible.
Here is everything you need to know…
Flying Standby with Southwest Airlines
Southwest Airlines allows for same-day change and standby for Business Select, Anytime, and Wanna Get Away Plus fares at no additional costs. Those who purchase tickets under the Wanna Get Away fare are eligible for a same-day change, but a fare difference may apply.
Same-Day Change
Same-day change allows you to swap your flight on the day of your travel for an earlier or later one. You can do this as long as a seat is available and your origin and destination are the same. The flight must also depart on the same calendar day as your original flight. Same-day changes are at no additional cost to you.
Same-Day Standby
If there are no open seats and you can't get a same-day change, you can request to be added to the same-day standby list to grab a seat on an earlier-day-of travel flight if one is available. Note that you must depart on the same calendar day before your scheduled flight.
Best Carry-On Luggage When Flying on Standby
If you are looking for a great carry-on bag when flying on standby, I recommend the Travelpro Maxlite 5 Expandable Spinner. I have used this carry-on for years. It's durable, reasonably priced, and holds everything I need for shorter trips. Plus the spinner wheels make it very easy to get through the airport quickly and effortlessly.
If you know you are going to be flying on Standby, it's always best to travel with only a carry-on!
Our Pick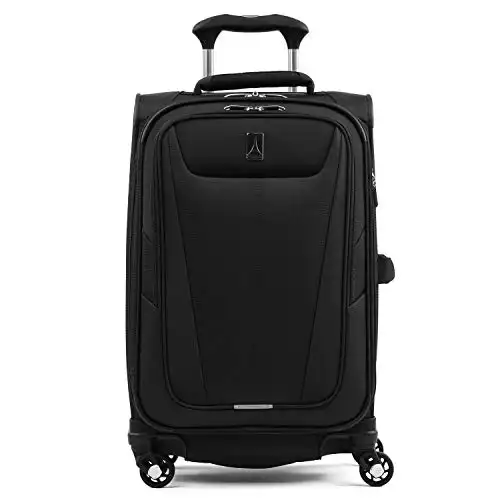 Same-Day Change & Standby Flight Guidelines
Requesting the Change
For both same-day change and standby benefits, you must change your flight request to be added to the standby list at least 10 minutes before the scheduled departure of your original flight. If you fail to do so, the no-show policy will apply.
The message regarding your standby status will be an email or a text message, depending on what you chose as your contact preference during booking. It will contain a link to access the boarding pass via the Southwest mobile app. You can also visit a Southwest ticket counter or ask a gate agent to print one for you.
Boarding
If you are checked in for your original flight before making a same-day change, you lose that boarding position once you move to the new flight. You will need to check in again after completing your flight change to get your new boarding position.
Once Southwest clears you for the standby change, you will get a new boarding position. If you cannot get on the earlier flight, you will not lose your boarding position on your original flight until you have officially moved to the new flight.
Who's Eligible for Same Day Change and Standby Benefits?
People who purchase flights under the following fares are eligible for free same-day change and same-day standby benefits:
Business Select
Anytime
Wanna Get Away Plus
A-List and A-List preferred members are eligible for free same-day change even if they have Wanna Get Away fares, but they must call Customer Service or visit a Southwest Gate Agent. If not, they will be charged when they try to make the change online.
Same-Day Change and Standby Fees
Travelers who purchased tickets under Wanna Get Away fare have access to same-day change and same-day standby benefits, but they have to pay the fare difference. You don't need to pay airline fees, so it may be cheaper than booking a new flight.
If there is a non-airline change (for example, you go from a direct flight to a connecting-flight itinerary), you will be responsible for any taxes and fees that go with the change. This policy applies to all fare levels.
Refunds for Same-Day Change or Standby Flights
If the fare of your new flight is lower than your original purchase and your new seat is confirmed and ticketed, Southwest Airlines will refund the difference. This perk is only for benefit-eligible fares—Business Select, Anytime, and Wanna Get Away Plus. The refund policy also applies to A-List and A-List Preferred Rapid Rewards Members.
How to Make a Same-Day Change on Southwest Airlines
Check Availability. Look up your flight confirmation on Southwest.com or the Southwest mobile app. You can find your flight details in My Account or the Manage Reservations section. If you're a Tier member, make sure to log in to your account.
Change Flights. See which flights are available and choose a new one.
Confirm. You'll receive a text or email confirmation and a link to get your new boarding pass. Check the contact preference you listed when selecting your booking.
How to Get on the Southwest Standby List
When you log in to change your flight and don't see any availability for your desired flight, do the following steps:
See a Gate Agent. Speak with the Southwest customer service agent to be added to the standby list.
Confirm. Wait for a text message or email clearing you for takeoff in a new seat. Once cleared, you will receive a link to retrieve your new seat assignment. Check the contact preference you listed when selecting your booking.
Standby Rules for Missed Flights
Southwest is one of those airlines with incredibly generous rules for when you miss your flight—whether their fault or your own. As a courtesy to their passengers, they commit to accommodating customers who arrive within two hours after their scheduled departure and can fly on standby on the next available flight to their destination.
Standby Flight Rules for Employees, Friends & Family
Southwest Airlines employees have free, unlimited travel privileges for themselves and eligible independents on Southwest Airlines. Eligible dependents include a spouse or committed/registered partner, eligible dependent children under 19 years old (or up to 24 years old if the child is a full-time student), and parents.
Employees can also take advantage of pass agreements from other airlines, discounts with rental car companies, hotels, theme parks, and more. Southwest Airlines also has Guest Passes that their employees can hand out to other family members and friends.
The Guest Pass has five coupons: two for the departure flight, two for the return flight, and the last coupon are the Passenger Receipt. Keep the coupons together, or you might not be allowed to board.
Planning Your Trip
If you have a Guest Pass, it's best to plan your trip as early as possible. Visit Southwest.com to view the schedule and see which flight(s) you prefer to travel on. Remember that Guest Passes (and travel for employees and their dependents) only let you fly on standby, so a seat is not guaranteed. Remember that you may not be cleared as a standby on your preferred flights, especially during high peak travel times—like Spring Break or Super Bowl—or during inclement weather conditions.
Before heading to the airport, check flight availability and create a non-revenue listing for your trip through the employee who gave you the Guest Pass. Alternatively, you may call (866) FLY-SWNR (866-359-7967).
At the Airport
Head to the airport as early as possible. Add your name to the standby list at the ticket counter or the gate up to two hours before your flight's scheduled departure time. When the gate agent calls your name, exchange your Guest Pass coupon for a boarding pass. If your name isn't called, wait for the other flight to depart before speaking to the Agent about other possible flight options. Be sure to retrieve your unused Guest Pass coupon if the Agent collected it from you, but you weren't cleared on the standby list.
How Does the Southwest Standby List Work?
Southwest Airlines clears the standby list according to priority, depending on the type of ticket you purchased and/or whether or not you have frequent flier A-list status.
For non-revenue customers, Southwest clears the standby list according to priority type. Employees come first, then dependents, and then those who are traveling under the Guest Pass. If two or more passengers are under the same priority, Southwest will process them according to check-in time, so it pays to be as early as possible. 
In Summary…
Overall, Southwest's flexible standby policy is one of the airline's key features that has contributed to its success and popularity among passengers. The ability to fly standby and confirm a flight at little to no cost is a convenient and hassle-free option for travelers who need to make changes to their flights at the last minute.
Related Posts:
Here are some more articles that explain how the standby list works on other airlines: