FYI: We may earn a small commission if you make a purchase through a link on our site, at no additional cost to you. Please refer to our
Disclosure
for more details.
What happens if you're flying with jetBlue Airways and something causes your plans to change? Thankfully, jetBlue provides travelers some flexibility when something unexpected happens.
If you're flying jetBlue and need to make changes on the day of your trip that won't cost a fortune, you have two options: the "same-day switch" and the "same-day standby".
In this article, we'll guide you through everything you need to know about flying standby on jetBlue, from understanding the rules, fees, and restrictions to tips for making the experience as smooth as possible.
Here is everything you need to know…
jetBlue Same Day Switch
If you are looking into changing your flights because you want to depart earlier or later, JetBlue allows you to make a confirmed same-day switch for a flat rate of $75. No fare difference applies, and it can only be made on the day of travel, beginning at midnight in the same time zone as your departing flight.
Keep in mind that same-day flight changes are only available in cities with multiple flights a day.
Same-Day Switch Details
Same-day flight changes are available for all fare options.
You may adjust your travel to an earlier or later flight on the same day as your current flight.
You must travel between the same city pairs or, if applicable, out of the nearby airports according to jetBlue's different airport options (see below).
It can only be made starting at midnight in the time zone of your departing flight.
It is only available on the same calendar day as your originally scheduled flight.
Mosaic customers do not need to pay a same-day switch fee and can switch a light beginning 24 hours before the originally scheduled flight time.
Customers with refundable fares do not need to pay a same-day switch fee.
TrueBlue redemption bookings are eligible for same-day switches.
Interline bookings may be eligible for same-day switches, depending on the circumstances and as long as they meet the minimum connection times. You can only make same-day switches to interline booking by contacting jetBlue.
jetBlue Standby Rules
With jetBlue, standby travel is based on seat availability—thus, there are no guarantees. You may also have to pay an additional fee of $75 (no fare difference applies) depending on the ticket fare you purchased.
To fly standby, you must have already purchased a seat on JetBlue. You may list standby on any sold-out flights between the same cities on the same calendar day as your confirmed scheduled departure.
jetBlue Standby Details
All fares except Blue Extra must pay the same-day standby fee of $75 to list standby. The fee is refundable if you are not confirmed for your standby flight.
You may list standby at the airport before your original flight. You cannot list standby travel online or over the phone.
You must travel between the same city pairs (i.e. you can be confirmed on a nonstop flight and travel on standby on a connecting flight or vice versa, as long as the origin and destination cities remain the same).
If you have an Even More Space seat and choose to fly on standby, you will forfeit the seat fee, and it will not be eligible for a refund.
Customers in cities with multiple flights can only fly on standby on the same day. Standby travel is unavailable to customers traveling to cities with only one flight a day.
Mint customers may choose to fly standby, but there is no guarantee that they will still get a Mint seat on the new flight. The Mint seat will only be assigned if available, and the $75 fee will still apply. If a Core seat is assigned, the Mint customer will not be able to get a refund for the Mint experience.
Please note that to list for standby, only one person per reservation must be at the airport. To check-in, however, each individual must be present.
Mosaic customers and customers with refundable fares will not be charged a fee to list standby.
Best Carry-On Luggage When Flying on Standby
If you are looking for a great carry-on bag when flying on standby, I recommend the Travelpro Maxlite 5 Expandable Spinner. I have used this carry-on for years. It's durable, reasonably priced, and holds everything I need for shorter trips. Plus the spinner wheels make it very easy to get through the airport quickly and effortlessly.
If you know you are going to be flying on Standby, it's always best to travel with only a carry-on!
Our Pick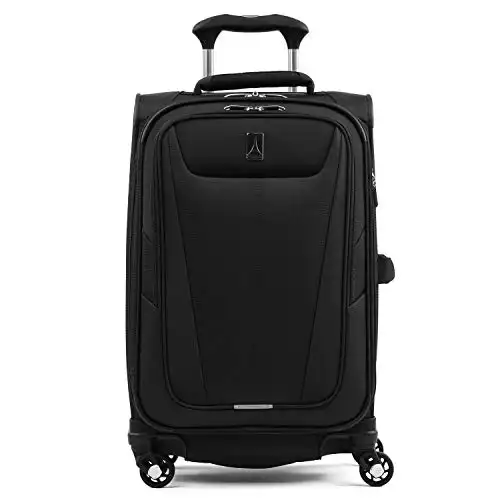 Airport Options for jetBlue Standby Travelers
If you are traveling to or from one of these areas, you may choose to re-book your same-day switch or standby flight to a nearby airport.
Boston
Boston Logan International (BOS)
Providence T.F. Green (PVD)
Worcester Regional (ORH)
Buffalo
Buffalo/Niagara International (BUF)
Greater Rochester International (ROC)
Chicago
Chicago O'Hare International (ORD)
General Mitchell International (MKE)
Los Angeles
Hollywood Burbank (BUR)
Los Angeles International (LAX)
Ontario International (ONT)
New York
John F. Kennedy International (JFK)
LaGuardia (LGA)
Newark Liberty International (EWR)
Stewart International (SWF)
Westchester County (HPN)
North Carolina
Asheville Regional (AVL)
Charlotte-Douglas International (CLT)
Philadelphia
Baltimore/Washington International (BWI)
Newark Liberty International (EWR)
Philadelphia International (PHL)
San Francisco
San Francisco International (SFO)
San Jose Norman Y. Mineta International (SJC)
South Florida
Fort Lauderdale Hollywood International (FLL)
Miami International (MIA)
Palm Beach International (PBI)
Tampa Bay
Sarasota Bradenton International (SRQ)
Tampa International (TPA)
Texas
San Antonio International (SAT)
Austin-Bergstrom International (AUS)
Washington D.C.
Baltimore/Washington International (BWI)
Washington D.C. Reagan International (DCA)
London
London Gatwick (LGW)
London Heathrow (LHR)
Standby Rules for Missed Flights
If you are running late and think you are going to miss your flight, it's best to contact jetBlue at least two hours before your flight to let them know so your ticket doesn't get tagged under "no-show" and the fare forfeited.
Once you inform jetBlue, you can opt to have the fare refunded (if applicable to the ticket you bought) or fly standby on the next consecutive flight as long as seats are available. Take note that you may have to pay the standby fee of $75 and that the rules are different when you miss a connecting flight.
You will also have to follow jetBlue Airways' 2-hour rule (the same for other airlines). It means you must reach the airport within 2 hours of your missed flight departure so you can request the next flight. jetBlue's other standby rules apply, including whether you are traveling to a destination with multiple jetBlue flights in a day.
If your missed flight is the only flight or the last flight for the day, ask the airline agent about your options, though you will likely have to book a new flight.
Standby Rules for Employees, Friends, & Family
jetBlue allows its full-time employees to fly for free on standby—a benefit that extends to their immediate family members (spouse, dependent children, and parents). While employees can experience this benefit for free when they fly across the 50 U.S. states, flying internationally will result in international taxes and fees.
Employees also get Buddy Passes throughout the year that they can hand to extended family and friends. A Buddy Pass, however, is only for the regular seats. jetBlue employees may be able to fly in Mint, jetBlue's premium travel experience, but travelers using a Buddy Pass are not eligible to be seated in jetBlue's Mint.
jetBlue will try to seat you and your companions together for those traveling in a group, but it may not always be possible, so you can opt to sit separately or go on another flight. If you cannot get onto your intended flight because all seats are taken, jetBlue's Airport Crew members will roll you over so you can stand by for the next flight.
If you are traveling with a pet, you may add them to your standby listing upon arrival at the airport (only one pet per standby traveler). If you are traveling under a Buddy Pass, you must pay the current pet fee (waived for the dependents of Crew members). For those eligible to sit in Mint, pets are not allowed.
Rules for Upgrades
If you want more perks like extra legroom and more spacious seats, you have two options. You can buy the jetBlue Mint airfare—the airline's version of first-class or Even More Space, an upscale experience with more comfortable seats and a few added benefits. When you avail and pay for the seat upgrade, you'll be able to get it without having to wait.
Travelers who have Mosaic elite status with the jetBlue TrueBlue Rewards program, however, may not even have to pay to get an Even More Space seat. They can request a same-day Even More Space seat upgrade, which is first-come, first-served, and subject to availability.
If you are a Mosaic member and want to ensure you get the upgrade, you can come to the airport a little earlier, so your name is at the top of the list.
How Does the jetBlue Standby List Work?
When you fly standby on jetBlue, your original check-in time (whether you do so online, through jetBlue's mobile app, or at the airport) establishes your position on the flight's standby list. As a result, if you are flying on standby, you want to check in and be at the airport as early as possible.
When you get to the departure gate, be as patient as possible. For flights with many available seats, standby passengers are cleared as early as 60 minutes before departure for international flights and 30 minutes before departure for domestic flights. For flights with limited seat availability, standby passengers will be cleared up to 15 minutes before departing.
In case you may not be able to make it to your intended flight because it is full, jetBlue's Airport Crew members will roll you over to the next scheduled flight. This will be completed once your originally booked flight has departed.
jetBlue Standby Rules – Related Posts:
Here are some more articles that explain how the standby list works on other airlines: