FYI: We may earn a small commission if you make a purchase through a link on our site, at no additional cost to you. Please refer to our
Disclosure
for more details.
If you're planning to travel with just a carry-on, you'll need to be up to speed with airline carry-on policies.  Specifically, the various rules and regulations each carrier has for what you can and cannot "carry on" to the plane.   Each airline's rules are different, so don't just assume that what works for one will work for all airlines.
Here are the American Airlines Carry-On rules you need to be aware of regarding size, weight, fees, liquids, etc.
American Airlines Carry-On Size and Weight Restrictions
American Airlines allows one personal item and one carry-on bag at no charge. The only restriction is that one of the items must be small enough to be stored under the seat in front of you.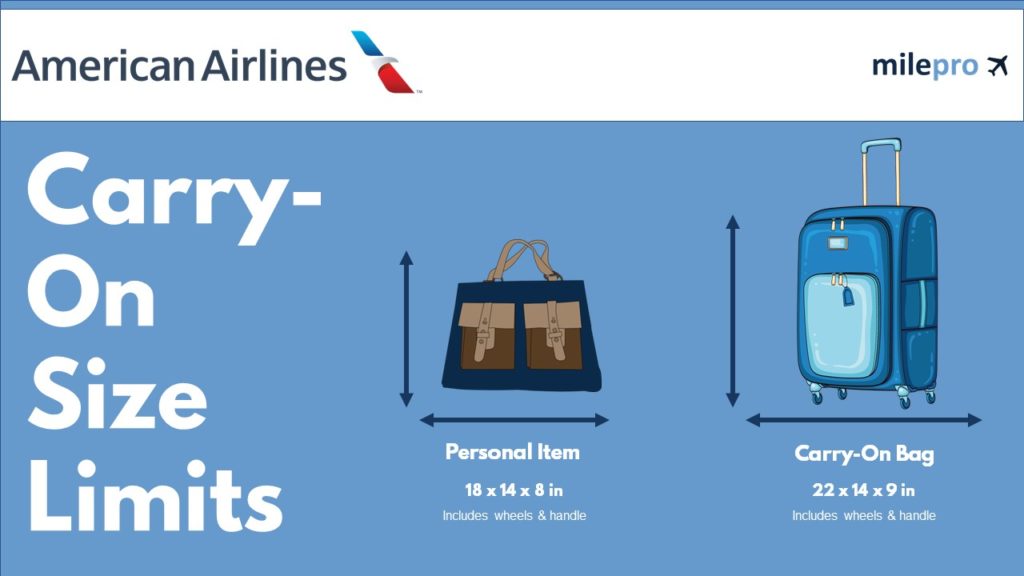 American Airlines Carry-On Size Restrictions
American Airlines' size requirements for a carry-on are 22″ x 14″ x 9″.
If you aren't sure what size your carry-on is, American typically provides "size check templates" located at their ticketing counters and departure gates. But if you wait until you get to either of these locations and have an issue, it's too late.
Soft-sided garment bags up to 51 inches / 130 cm (length + width + height) can also be taken as your carry-on item.
American Airlines Personal Item Size and Restrictions
Personal items include a purse, briefcase, laptop, backpack, blanket, shopping bag, or a similar-sized item.  Dimensions for a personal item should not exceed 18 x 14 x 8 inches (45 x 35 x 20 cm).
Diaper bags (1 per child), soft-sided cooler bags with breast milk, child safety seats, strollers, and medical or mobility devices don't count as your personal item or carry-on.
American Airlines Carry-On Weight Restriction
As a rule, American Airlines does not impose weight restrictions on carry-on bags.
Carry-On Rules for Basic Economy Fares
There is no charge to carry a bag when you buy an American Airlines Basic Economy fare.  The carry-on rules are the same for all classes of service.  However, with a Basic Economy ticket, you will be one of the last to board, so overhead space will be limited.
Carry-On Rules for Small Regional Aircraft
American Airlines regional aircraft have limited overhead space.  If your carry-on is larger than the personal item dimensions, you must gate check your bag before boarding.
Carry-on bags within American Airlines' size restrictions will be gate checked, free of charge, during the boarding process and returned upon deplaning.   Depending on the time of year and where you are flying, this will give you the opportunity to hang out with 50 of your newest friends in either a steaming hot or freezing cold jet bridge.  Fun!
Despite this "official rule" there are some bags you can carry on a regional jet.  Check out this article on the best carry-on luggage for regional jets.
American Airlines Liquids Policy for Carry-On
The rules for carry-on liquids are set by the TSA (Transportation Security Administration), not by the airline.  American Airlines doesn't have its own specific Liquids Policy, they just enforce the rules and policies of the TSA.
It's also important to note that the rules for bringing a "liquid" in your carry-on bag are different from the rules that govern what you can bring in your checked luggage. Liquids in a carry-on bag must be 3.4 ounces or smaller and fit in a 1 quart-sized container. Anything larger must be placed in your checked luggage.
All liquids, gels, pastes, and aerosols must be in a container of 3.4 ounces or smaller.
All liquids must be in a resealable quart-sized clear plastic bag that is removed from your carry-on during the TSA screening process. 
Special exceptions are in place for items such as medication, formula, breast milk, etc.
Food and Drinks purchased once you have cleared TSA checkpoints are not included in these restrictions.
The TSA 3-1-1 Rule
The TSA 3-1-1 rule provides the parameters for how passengers can bring liquids on an airplane in their carry-on.
Each passenger may carry liquids, gels, and aerosols in travel-size containers that are 3.4 ounces or 100 milliliters. Each passenger is limited to one quart-size bag of liquids, gels, and aerosols. Common travel items that must comply with the 3-1-1 liquids rule include toothpaste, shampoo, conditioner, perfume, mouthwash, deodorant, and lotion.
Any liquid that does not meet the TSA 3-1-1 rule will either have to be checked with your luggage or will be thrown away at the security checkpoint.
Here is a little video to help illustrate:
Exceptions to this rule are certain medications and baby food/child nourishments.
American Carry-On Food Policy
The TSA also sets the rules for what type of food you can bring on the plane. There are two different scenarios pertaining to food: 
The food you bring with you from home, and
The food you buy at the airport after you have gone through security.
When bringing food with you from home, an important thing to note is the classification of liquid vs. solid foods.   
The general rule is "If you can spill it, spread it, spray it, pump it, or pour it, then it's considered a liquid or gel".   This means your food may be considered a liquid and will fall under the TSA 3-1-1 liquids rule, which mandates that any liquid, gel, cream, aerosol, or paste in a carry-on must be 3.4 ounces or less, and fit in one quart-size resealable bag (only one such bag is allowed per passenger).
Here's a link to the TSA website advising what food can be brought with you on your American Airlines flight.  This applies to food you are bringing from home through security.   Once you get through security, you can bring just about any food on the plane that you buy at the airport.
American Carry-On Pet Policy
On American flights, you can bring 1 kennel as your carry-on bag if:
You pay the carry-on pet charge
Your pet stays in the kennel and under the seat in front of you the entire flight
You can travel with your pet carrier and one personal item, but you won't be permitted to bring a carry-on bag in addition to a pet carrier and personal item. Instead, the kennel will replace your carry-on bag.
Carry-On Pet Fees
Here is a chart showing the pet fees American Airlines charges each way.   Double them for a round-trip flight.
| | |
| --- | --- |
| To/From Destination | Pet Fee Each Way |
| Within and between the United States and Canada, Mexico, Central America, Colombia, and the Caribbean (based on specific country's entry policy) |  $ 125.00 |
Service animals have some separate guidelines.  Here is a link to AA's service animal rules.
TSA Approved Pet Carriers
If you do plan on bringing your pet with you, make sure you follow TSA's pet policy and have an approved Pet Carrier that conforms to American Airlines' pet policy.
Prohibited or Restricted Items
There are certain items that are considered dangerous and classified as hazardous materials. Dangerous goods are prohibited from both your carry-on and checked bag on all flights. These rules are not specific to any airline and are mandated by the Federal Aviation Administration.
Items considered "dangerous goods" are prohibited under American Airlines' carry-on policy and include the following:
Any beverage with more than 70 percent alcohol (any alcohol container in your carry-on should meet TSA liquid restrictions and contain no more than 3.4 ounces or 100 milliliters).
Firearms and ammunition
Mace and pepper spray,
Poisonous, infectious, or radioactive substances
Sharp objects (knives, cutting instruments, razors, ice picks, carpet knives, metal scissors, box cutters, or similar items) 
Camping equipment containing flammable liquids or gasses 
Flammable liquids, including gasoline and kerosene
Hoverboards, including electric skateboards, balance boards, gravity boards, and self-balancing devices
Medical or liquid oxygen 
Marijuana 
Torch lighters, lighter fluid, strike-anywhere matches, and fire starters
Wet-cell batteries
Motor oil, hydraulic fluids, brake fluid, and transmission fluid
The following items are not considered "dangerous goods" and are allowed when packaged properly, in accordance with TSA regulations
Knitting/scissors
Hiking or trekking poles
Hair spray
Sunscreen/bug spray
Batteries
Fishing hooks
A complete list can be found on the FAA and TSA websites.
American Airlines Carry-On Fees
American Airlines does not charge a fee for carry-on baggage that meets their size requirements.  If your bag is too large and does not meet American Airlines' carry-on restrictions, you may be charged a fee to gate check it.
Here is a link to American's Carry-On page to make sure you have the most up-to-date information.
Related Articles: American Carry-On Size