FYI: We may earn a small commission if you make a purchase through a link on our site, at no additional cost to you. Please refer to our
Disclosure
for more details.
Grand Hyatt Baha Mar
1 Baha Mar Blvd, Nassau, The Bahamas
Tel: +1 242.788.1234
Book Direct: Hyatt
Check Other Rates: Booking.com, Orbitz, Priceline (also available with Inspirato)
Read More Reviews: TripAdvisor
Award Category for Using Points: Hyatt Category 5
Grand Hyatt Baha Mar Review – COVID Procedures
We took this trip in February 2021, so we had to jump through some extra hoops to adhere to the Bahamas' COVID Rules. Here's a quick summary of what had to be done.
The Bahamas requires all incoming travelers over the age of 10 to present proof of a negative PCR COVID-19 test taken within five days of departure. This timing can be a little tight depending on how fast your results are turned around.
After you receive a negative test result, you have to apply for the Bahamas Travel Health Visa by uploading your negative PCR test results. The site says it can take 72 hours to get approved, so submit your application as soon as possible. I waited too long and only had 24 hours before my departure so I was a bit nervous we would not be approved in time. Luckily I was able to call the Bahamas travel compliance team and asked them to expedite my Visa, which they did. This was a very smooth process with the exception of the $200 international phone charge I received due to the long hold times.
Once my Visa was approved I had to buy travel insurance and print out the forms to submit at the airport departure, arrival/immigration, and when I checked in at the hotel.
Upon arrival, we were escorted to the on-site COVID-19 testing facility, located in the Grand Hyatt lounge. All guests staying at the Baha Mar have to take a rapid antigen COVID-19 test before being approved to move around the resort. The test is free, and if you're staying more than four nights, you'll have to take another rapid test on the fifth day and/or on your departure day.
After taking the test, I was able to check into my room and had to wait there until I received a call that the results were negative. At that point, they brought my wristband key to the room and I was free to enjoy the vacation.
Location
Baha Mar is a 1,000-acre mega-resort on Cable Beach, which is in the center of the island of New Providence, The Bahamas. There are 3 luxury hotel brands at Baha Mar:
The location is conveniently located near the Lynden Pindling International Airport (NAS), which is just a 10-15 minute drive away.
Rooms
As a Hyatt Globalist member, I used one of my free night certificates to get upgraded to a suite and get an extra bonus. Normally, the suites available for upgrade are facing the front of the property, overlooking the fountain. However, since only half of the resort was open during my stay I was "double upgraded" to an ocean view suite, which was great!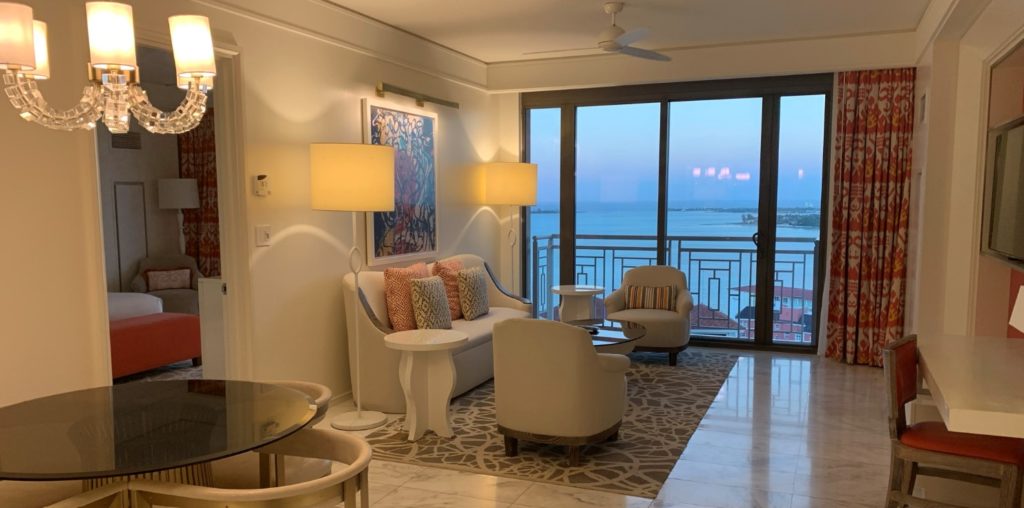 The marble bathrooms were large and very nice with two rain shower heads, double sinks, a separate room for the toilet, and a large soaking tub.
Amenities
The resort is loaded with amenities and things to do including a bunch of pools (I think around 8 or 9), a beautiful white sand beach, a huge fitness center, a spa, and much more.
Restaurants & Bars
There is no shortage of places to eat at the Baha Mar. However, since we were traveling during COVID many of them were closed. Here is a list of the restaurants that were open during our stay.
3 Tides – Only open for Breakfast
Carna – Steakhouse
Drift Bar & Grill – Pool Dining and Bar
Fi'lia – Italian
Jazz Bar
Katsuya – Japanese and Sushi
Out Island Bar – Pool Dining and Bar
Pizza Lab – Great pizza and gelato
Starbucks
Stix Noodle Bar – Casual noodle restaurant
T2 Cigar Bar
The Lynden
We ate at all of the restaurants, except Stix Noodle Bar. I normally prefer to leave the property for dinner, which we did twice. However, if I had to do it over again, I would just stay on the property as the food at the resort was much better than the food at the other places we ate on the island.
The following restaurants were not open during our visit and are scheduled to open in March when the SLS and Rosewood open back up.
25N
Cafe Boulud
Cafe Madeleine
Cleo
Costa
Da' Poke Bowl
El Jefe – Food Truck
Streetbird – Food Truck
Regatta
Scoops Ice Cream
Shuang Ba
The Swimming Pig
Tingum on the Sand
The Palms
Unami Burger
Activities & Things to do
Baha Mar offers a variety of sports and activities, including:
The Royal Blue Golf Club – the Jack Nicklaus Signature 18-hole Golf Course;
The Racquet Club Baha Mar – 9 tennis courts including clay, hard, and grass surface courts;
Bocce & croquet;
Mini Golf; and
Basketball Courts
Grand Hyatt Baha Mar Review – Points & Elite Status
Like the Park Hyatt St Kitts, I found the Grand Hyatt Baha Mar to be great "point value" for a luxury resort in the Caribbean. Standard rooms typically run about $250-$400 per night, in season, with the suites starting at $500 per night. This is a Hyatt Category 5 hotel, so a standard room will require 20,000 points per night.
I booked a 2 standard rooms for 5 nights for 200,000 World of Hyatt Points. However, there was a great Hyatt promotion at the time which rebated back 50,000 points. I also used a Hyatt Globalist certificate to upgrade one of the rooms to a suite.
As a globalist, I received the room upgrade, free valet parking, free daily breakfast for 2 (per room), and a daily drink voucher at the bar for 2 free drinks up to $50 in value. Despite the volume of people that normally come through this property, they did a great job with customer service and loyalty recognition.
How to stay here with Points
There are a couple of ways you can stay at this hotel for free. The first is via staying at Hyatt properties and earning points through stays. If you are going to try to earn free nights this way, make sure to check out our World of Hyatt Promotion page– here you will find a variety of ways to earn Hyatt points and any promotions that are currently being offered to accelerate your earning power. This method will take some time, but if you are a frequent business traveler, it absolutely can be done.
The fastest way to earn free nights at this hotel is to apply for a credit card with a solid bonus offer such as the Hyatt Visa Card or the Chase Sapphire Reserve Card, which offers 1:1 transfers of Ultimate Rewards Points to World of Hyatt Points.
More Hotel Reviews