FYI: We may earn a small commission if you make a purchase through a link on our site, at no additional cost to you. Please refer to our
Disclosure
for more details.
Acqualina resort review based on my 5 night stay in March 2023.
Acqualina Resort & Residences
17875 Collins Ave, Sunny Isles Beach, FL 33160
Tel. +1 (305) 918-8000
---
Acqualina is consistently ranked the #1 Beach Resort in the United States by US News, so I was really looking forward to checking it out. Here is my review and thoughts after a five night stay in March.
Acqualina Resort Location
The Acqualina Resort and Residences is a 3 building complex of hotel rooms and private residences located on the sandy white beach of Sunny Isles Beach, FL.
If you aren't familiar, Sunny Isles Beach is known as the "Florida's Riviera" and is located in the northeastern section of Miami-Dade County, about 45 minutes north of Miami. It's made up of sophisticated high-rise buildings, luxurious resorts, and upscale condominiums.
Lobby and Check in
We reserved an Ocean-front king guest room with our Inspirato Pass membership for a 5 night stay, making the check in process smooth and simple since Inspirato has specific rooms they reserve for their members.
The lobby definitely felt more like a high end condominium complex than a resort, which is understandable since this is a mixed use building. It was fairly small and did not have an open resort lobby feel.
For some people this is a non-issue, but I like to get up early, grab a coffee can get some work done in the lobby while my family is still sleeping, so this set up was not great for me.
Rooms and Suites
The ocean front room was very spacious and luxurious. Upon opening the door there was a nice note from the manager welcoming us with a small fruit tray which was very nice.
The room was very large for the two of us at 725 sq feet, with plenty of closet space, a king bed, TV/living area and a nice balcony overlooking the ocean. Overall, a great room!
The bathroom was also very large with a separate tun and rain shower, plus a dual vanity sink.
The view from the balcony was fantastic!
Restaurants and Bars
Acqualina has 3 restaurants on property (Il Mulino New York, Ke-uH, and Costa Grill) plus Avra Miami, which is located at The Estates at Acqualina, which is the building next door connected by a sky bridge. All restaurants are very high end, and you will need to make reservations well in advance for Il Mulino and Avra Miami (especially Avra Miami).
Il Mulino New York
Cuisine: Italian
Description: Il Mulino New York is a renowned Italian restaurant known for its classic Italian dishes, fine wines, and elegant atmosphere. The menu features homemade pasta, seafood, and delectable desserts.
Il Mulino New York serves breakfast, lunch and dinner with indoor and outdoor dining overlooking the sea. For breakfast, there is both a buffet as well as an a la carte menu. 
Ke-uH
Cuisine: Japanese Fushion
Description: Ke-uH serves Japanese fusion tapas and sushi. The restaurant has a modern setting indoor as well as outdoor seating overlooking the Atlantic Ocean.
Ke-uH  is open for dinner and takeout is also available.
Costa Grille
Cuisine: Mediterranean and American
Description: Costa Grill is a beachfront restaurant that specializes in Mediterranean and American cuisine. This is not your typical beachfront dining, it's a very sophisticated and elegant white tablecloth restaurant that just happens to be in between the pool and beach.
Costa Grill is only available for hotel guests, Acqualina Residents and Beach Club Members.
Avra Miami
Cuisine: Refined Greek Cuisine
Description: Avra Miami is part of the acclaimed Avra Estiatorio Greek restaurant brand (Several locations in New York plus Miami and Beverly Hills). With a very active bar/lounge at the front of the restaurant an elegant dining experience in the back. The main attraction and signature part of the Avra experience is the "pick your seafood from the ice display" featuring in-season catch. You can then choose to have it grilled whole over charcoal, de-boned and finished with Avra's signature ladolemono sauce or baked in salt. Or try it raw as a carpaccio or in a ceviche.
Amenities, Beach & Pools
Acqualina has a very large, private beach and three pools. The beach is impeccably maintained and only available to resort guests and Acqualina residents. The pools were all very nice, with plenty of chairs to comfortably accommodate all guests without the need to "save" pool chairs early in the morning.
The family pool was very quiet in the morning but got very active and busy with kids as the day went on.
The adult pool was off to the side of the resort and was very quiet for those looking to stay away from the family activity. All pools have cabana attendants and wait staff to get you whatever you need while lounging in the sun.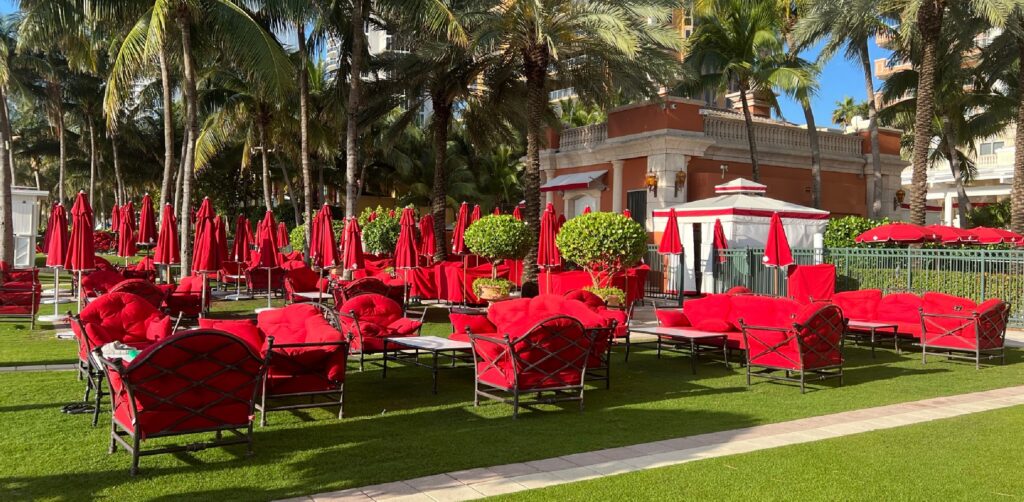 In addition to the pools, there were several other unique activities to keep the kids (and adults) busy including Beach Chess, Basketball and a Soccer Field.
Pros and Cons of Acqualina (My Perspective)
Acqualina Resort is known for its opulent amenities, world-class service, and stunning oceanfront setting, earning it a reputation as one of the top luxury resorts in the United States. But it's not for everyone. There were many things that I loved about this resort, but it definitely had some drawbacks. Here are the pros and cons of Acqualina Resort and Residence on the Beach:
Pros:
The Beach: The beach here is absolutely beautiful, with pristine white sand that is manicured on a daily basis. Any beach fanatic would love this place! On top of that, the plush red cushions and red umbrellas really stood out next to the white sand and heightened the sense of beachfront luxury.
Pools: With two very active family pools and a quiet adults only pool, there was something for everyone. The pools were definitely busy and full, but not to the point that you have to rush out early in the morning to "save" lounge chairs. Between the beach and the pool there are more than enough lounge chairs to go around for all guests.
The Room: The rooms are great, with plenty of space, very high quality furnishings and large, private balconies.
Dining Options: Great Dining options both on the beach and in the hotel. We had lunch on the beach every day and dinner one night at Avra Miami and one night in the Ke-uh lounge. The food was great but you need to plan ahead for dinner, as all restaurants fill up well in advance.
Cons:
Price: Everything about this place is expensive, from the room rates to the drinks and dining. Be prepared to spend a lot if you stay here.
Location: I didn't love the location. It was a bit too far from Miami and there were very few restaurants and shops to walk to from the hotel. The area has a lot of high rise condo's with very little to do unless you get in your car and drive.
Lobby: When staying at a luxury resort I love a lush lobby to hang out in the morning with a coffee and my laptop. This felt more like a condominium lobby with very little space to hang out and relax.
Bar & Lounge: The Avra Miami in the Acqualina Residence building next door had a great bar set up, but the hotel itself did not. There was no bar on the beach and the one in the hotel was very small, dark and boring.
Valet Parking: You are required to valet park your car, which normally is fine, but they were short on staff so it took about 30 minutes every time we wanted to get our car.
Overall, I am glad we were able to spend some time here, as it's been on my list for quite some time, but I probably would not come back. I'm sure I'm in the minority on this, as many of the people that were staying during our visit come back time and time again, but I just didn't love it.
Booking Options
Acqualina Resort & Residences
17875 Collins Ave, Sunny Isles Beach, FL 33160
Tel. +1 (305) 918-8000