FYI: We may earn a small commission if you make a purchase through a link on our site, at no additional cost to you. Please refer to our
Disclosure
for more details.
Hotel Yountville
6462 Washington Street Yountville, California 94599 USA
Tel: +1 707.967.7900
---
Located in the heart of Napa Valley, Hotel Yountville is the perfect place to escape for a wine-country weekend!  We stayed here for my wife's 50th birthday with two other couples and could not have asked for a better location and hotel experience!  The hotel is surrounded by amazing restaurants, shops, and galleries and serves as a perfect base to explore the entire Napa region.
Location:
The Hotel Yountville is located at the southern end of the town of Yountville, which is right in the middle of the Napa Valley wine region.  Yountville itself is only about 1.5 miles long, so it's a great place to walk, shop, eat (at amazing restaurants), or set out on a Napa Valley wine tour via bike, bus or train.
The Rooms at Hotel Yountville
The Hotel Yountville was originally built in 1998.  Then in 2011, it underwent an extensive expansion and renovation that upgraded all guest rooms, including 29 newly-built rooms, and added a restaurant, spa, meeting space, an outdoor pool, and lounge patio.
With only 80 rooms and suites, the hotel is small by most standards, but it feels much larger due to the layout and spacing of the buildings.  The rooms are in 13 separate stone "abodes", spread over the 5-acre property.  The buildings are constructed of stacked Napa river rocks with heavy timber beams and are connected via a series of beautifully landscaped pathways with fountains and sculptures.
This map will give you a better feel for the layout of the property.
We stayed in a Deluxe King Room, which was very comfortable with a plush, four-poster bed, fieldstone fireplace, vaulted ceiling, and patio/deck.
The bathrooms were very well designed with high-end fixtures, a spa tub/shower, Molton Brown bath amenities, and a separate water closet.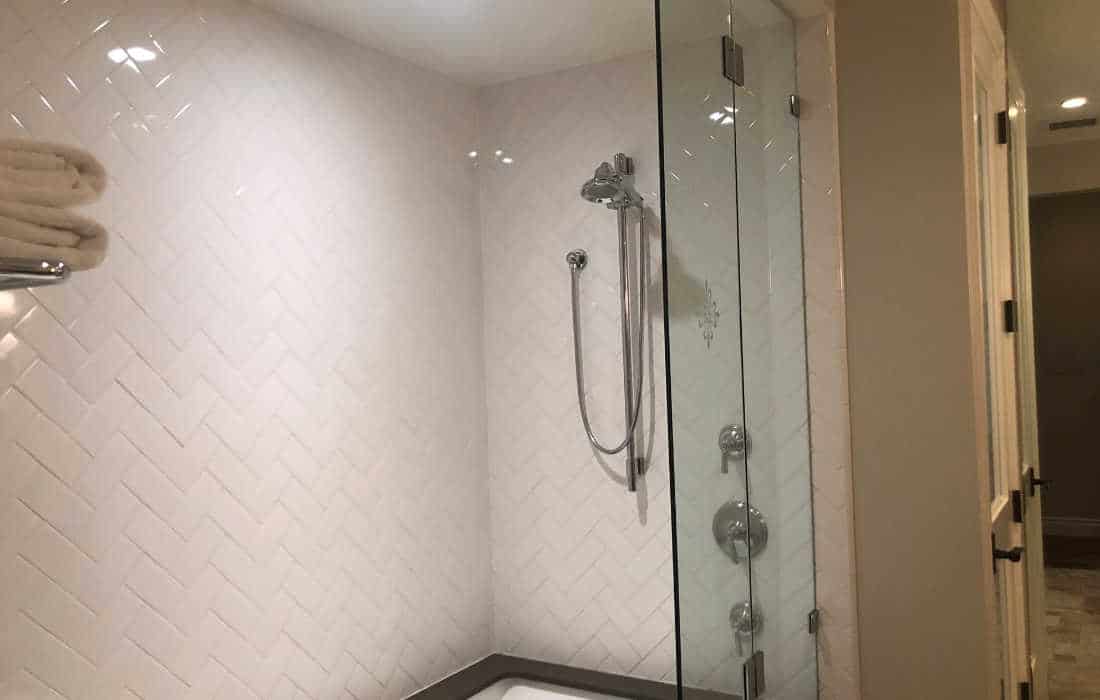 Restaurants and Bars at The Hotel Yountville
There are two bars and a restaurant within the Hotel Yountville.   "The Bar" is in the lobby of the hotel and serves light appetizers, wine, beer, and craft cocktails.  The lobby is also where you will find a daily continental breakfast (Complimentary) with yogurt, fresh fruit, pastries, homemade granola, and coffee.
The pool has another bar and terrace with a fire pit and seating.
The signature restaurant of the Hotel Yountville, Heritage Oak, offers a locally sourced, farm-to-table menu.   I didn't eat at the restaurant, but our friends had breakfast there each day and said it was fantastic!  I preferred the continental breakfast in the lobby, which was equally amazing, just a little on the lighter side.
Activities and Things To Do at the Hotel Yountville
The hotel pool layout and design are one of a kind and are great places to hang out and relax.  Both sides are lined with lounge chairs & day beds, each nestled between tall, tightly cropped Italian Cypress trees.  Heritage Oak restaurant and its dining terrace are on one side of the pool, the spa is on the other side and the pool bar & terrace are at the back.  It's a great setup!
Complimentary bicycles are provided for guests to explore the downtown area or the Napa Valley Vine Trail. We had a private bike tour through a local company, but in hindsight, I think I would just use the hotel bikes and venture out on my own.
Recommendations when you stay at the Hotel Yountville
The list of things to do in and around Yountville is endless.  Here are some recommendations, based on our trip and experience.
Yountville is known as the Culinary capital of the U.S., so you really can't go wrong with any of the local restaurants.  Just be sure to make reservations before you arrive, as everything books very quickly and well in advance.
Yountville Restaurants
Thomas Keller Restaurants – no trip to Yountville would be complete without having lunch or dinner at least one Thomas Keller restaurant.  Fortunately, he has a bakery (Bouchon Bakery) and four restaurants to choose from in Yountville including The French Laundry (Michelin 3 Star), Bouchon Bistro (French), Ad Hoc + Addendum (Comfort Food), and La Calenda (Mexican).
Across the road from The French Laundry is the French Laundry Garden where the food for his restaurants is grown.  If you are into gardening and/or cooking, you are going to want to check this out!
RH Yountville – This is not your typical Restoration Hardware!   The RH Yountville compound includes five separate structures housing an art gallery, a restaurant, and a neighboring two-story wine vault, surrounded by indoor/outdoor living rooms.  RH refers to this location as the "integration of Food, Wine, Art, and Design".   I would add the integration of "landscape" to that statement.  The buildings are surrounded by 100-year-old Olive Trees and perfectly trimmed boxwood hedges creating one of the most beautiful settings I have ever seen!
You can either dine at the restaurant or just have a glass of wine at the Wine Vault.  The Wine Vault is in a separate two-story structure known as the historic Ma(i)sonry building.   Here, you can choose to order a single glass of wine or have a tasting from one of their local, limited-production, wine flight options.   We just stopped in for a glass of wine, since we had previously made reservations at Bottega for dinner.  Next time, I will definitely call ahead and reserve a table here.
Bottega Napa Valley – Great Italian restaurant owned by celebrity chef, Michael Chiarello.  You may remember him from a couple of popular Food Network shows he hosted, Easy Entertaining with Michael Chiarello and NapaStyle. I've been here twice and it was great both times!
Yountville Bike Tour
Napa Valley Bike Tour – We booked the full-day bike tour with a private guide, which included tastings at three wineries (Cliff Lede, Honig & Plump Jack) and a picnic lunch at Honig Winery.
Our first stop and tasting was at Cliff Lede Winery (pronounced lay-dee), which turned out to be my favorite of the bunch.  The wines are great at all the wineries (sure some are better than others, but they are all pretty darn good) so, for me, it's about the architecture, landscape, and aesthetic of the winery that makes for a great wine tour stop.
Cliff Lede not only had a great tasting room, with a beautiful outdoor tasting area but it was also built on a Classic Rock theme, which was very different and a welcome change from the other wineries.  Classic rock music was playing throughout the tasting area, there's a private member room with rock memorabilia and rock & roll themed art, and every grape block in the vineyard is named after one of Cliff Lede's favorite songs and albums.
The names of the Rock Blocks for Cabernet Sauvignon include classics like "Dark Side of the Moon" and "Bohemian Rhapsody".  There are Petit Verdot blocks named "Scarlet Begonias" and "Purple Haze" as well as a Sauvignon Blanc block named "Hey Jude", just to name a few.  If you're interested, here is a map of the vineyard and Rock Blocks.
The next stop was at Honig Winery, where we had a great picnic lunch and another tasting.  Followed by the final stop at Plump Jack for our last tasting of the day.
Each winery was within a couple of miles of each other so the bike rides were short and easy.  There was also a van that tagged along if you had any issues or wanted to cut the bike ride portion of the tour short.
Yountville Dive Bar
Pancha's of Yountville – Grab a beer at the only dive bar in Yountville.   If you need a break from the fancy wine tastings and high-end foodie scene, stop in and have a drink at Pancha's.  This will be the break you need.
In our case, the ladies wanted to hang by the pool for a little while, so one of the guys and I jumped at the chance to break away and check this place out.  There was no way they were going to join us for this stop, so we had to go it alone.  A very smart move, if I do say so myself…
Points and Elite Status – Can you Book with Points at Hotel Yountville?
Hotel Yountville is independently owned and not affiliated with any larger hotel group with a loyalty program, like Marriott or Hilton, so there are no elite benefits or opportunities to use traditional points.
However, you can book your room with Chase Ultimate Rewards Points through the Chase Travel Portal, which is what we did.   Using the Chase travel portal to book boutique and luxury hotels is one of my favorite ways to use the points I earn from my credit card spending.
If you are going to pay with cash or credit card, rooms start at $400+ per night, depending on the time of year.
The hotel charges a $40 destination fee per room, per night, which, at most hotels, is just another way to sneak in an added fee that doesn't have to be disclosed with the advertised price of the room.  However, this is the first time I actually felt the resort fee was worth it.  No complaints at all, there is a legitimate value they are providing with the fee.  The following items are included in the destination fee.
Bottle of Napa Valley wine in the guest room
Unlimited use of the hotel bicycles
Continental breakfast (fresh fruit, yogurt, granola & pastries) and fresh Lavazza coffee in the Great Room daily
Parking
In-room refreshment center stocked daily
Wireless, high-speed Internet access in guest rooms and common areas
Unlimited local telephone calls
Transportation within a 5-mile radius of the hotel each evening
Unlimited use of the hotel fitness center
Bottled water and towels
PressReader, a Digital Newsstand
Conclusion: Would I stay here again?
Absolutely.  All three couples we were with loved this place!   The location is perfect, the climate is ideal and the hotel and grounds are beautiful.  My wife and I both felt we could come back here and not even tour the wineries.  We could just relax at the hotel and enjoy Yountville and all it has to offer.
Hotel Yountville, Yountville, CA
6462 Washington Street Yountville, California 94599 USA
Tel: +1 707.967.7900
Book Direct: Hotel Yountville
Check OTA Rates: Booking.com, Orbitz, Hotels.com
TripAdvisor Reviews: TripAdvisor