FYI: We may earn a small commission if you make a purchase through a link on our site, at no additional cost to you. Please refer to our
Disclosure
for more details.
If you're planning to travel with just a carry-on, you'll need to be up to speed with airline carry-on policies.  Specifically, the various rules and regulations each carrier has for what you can and cannot "carry on" to the plane. Each airline's rules are different, so don't just assume that what works for one will work for all airlines.
If you are going to be flying Brussels Airlines, here are the Brussels Airlines Carry-On rules you need to be aware of.
In this article, we'll explain everything you need to know about Brussels Airlines' carry-on policy. This includes their carry-on size and weight limits, personal items, liquids, pets, prohibited items, and other rules and restrictions you should know before boarding your flight.
Brussels Airlines Carry-On Size & Weight Limits
As a general rule, Brussels Airlines allows one carry-on bag ("Cabin Bag") and one personal item ("Hand Bag") onboard at no charge.  However, if you are flying Business Class, they will allow you to bring 2 cabin bags and a personal item.
Brussels Airlines Carry-On Size (Dimensions)
Brussels Airlines's size requirements for a carry-on are 55 x 40 x 23cm. The amount of bags you can bring with you will vary depending on your fare class.
| Economy Class  | Premium Economy Class  | Business Class |
| --- | --- | --- |
| 1 piece | 1 piece | 2 pieces |
| 8kg  | 8kg  | 8kg per piece  |
| max. 55 x 40 x 23 cm | max. 55 x 40 x 23 cm  | max. 55 x 40 x 23 cm  |
If you are not sure what size your carry-on is, Brussels Airlines has size check templates located at their ticket counters and gates.  But by the time you get to either of these locations, it's too late if the bag is too big, so better to always know your bag size in advance.
Brussels Airlines carry-on size limits are displayed when you check-in
Brussels Airlines Carry-On Weight Limit
Brussels Airlines requires carry-on bags to weigh less than 8 kg (17 lbs.) if you are traveling in the Economy cabin, and 8 kg per piece if you are traveling in the Business Class cabin.
However, they don't weigh your carry-on items prior to boarding, so you're generally not going to have a problem if it's too heavy. The weight issue applies to check baggage more than carry-on bags since they weigh your checked bags when you check in for your flight.
Recommended Carry-On Bag
If you are looking for an international-sized carry-on bag, the Travelpro 20-inch Global Expandable Spinner Carry-on is definitely one to consider. It's durable, reasonably priced, and holds enough for shorter trips (3-5 days). Plus the spinner wheels make it very easy to get through the airport quickly and effortlessly.
Our Pick
Brussels Airlines Personal Item Size
Personal items include a purse, briefcase, laptop, backpack, shopping bag, or a similar-sized item. Personal items should not exceed 40 x 30 x 10 cm and must be placed underneath the seat in front of you. If you are seated in the emergency exit row, it must be stowed away in the overhead bin for safety reasons. 
Additional items that can be carried on include:
A jacket and/or umbrella
Food or drink purchased after clearing the security checkpoint
Duty-free merchandise
Special items like strollers, child restraint seats, or assistive devices such as wheelchairs or crutches
Related Content: Brussels Airlines Flight Deals
Brussels Airlines Flight Deals
Save $$$

Get Deals Here!
Doesn't expire
Brussels Airlines Carry-On Liquids Policy
The rules for carry-on liquids are set by the TSA in the US and the EASA and European Commission in Europe.  Brussels Airlines doesn't have its own specific Liquids Policy, they just enforce the rules and policies of the Authorities.
Containers with liquids and gel-like substances may hold up to 100 ml (maximum capacity must be printed on the container).
All containers must be carried in a plastic bag (transparent, resealable, max. capacity of 1 liter). One bag per person.
The bag must be presented separately at security. Take your liquids out of your carry-on baggage at the security screening point and present them separately. In exceptional cases, liquids may be opened in the course of security checks and removed from their outer packaging.
Liquid duty-free goods purchased at an international airport or on board an aircraft outside the EU must be transported in a tamper-proof, certified bag on connecting flights via an EU airport. The proof of purchase must be inside the bag and the bag must be sealed by the retailer.
Medicines and special food (e.g. baby food) can be carried outside the plastic bag and must also be presented at security.
Below is a table that provides some examples of Non-solid Food and Personal Items that are considered "liquids":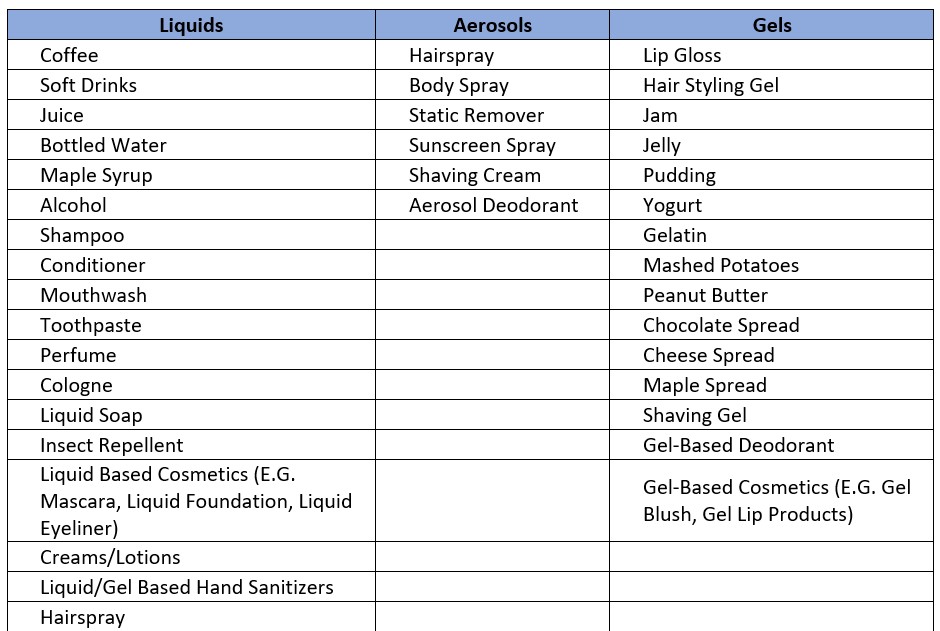 The TSA 3-1-1 Rule
Each passenger may carry liquids, gels, and aerosols in travel-size containers that are 3.4 ounces or 100 milliliters and are enclosed in a sealed one-quart-size bag. Common travel items that must comply with the 3-1-1 liquids rule include toothpaste, shampoo, conditioner, perfume, mouthwash, deodorant, and lotion.
Any liquid that does not meet the TSA 3-1-1 rule will either have to be checked with your luggage or will be thrown away at the security checkpoint.
Exceptions to this rule are certain medications and baby food/child nourishment.
Carry-On Food
The TSA also sets the rules for what type of food you can bring on the plane. There are two different scenarios pertaining to food: 
The food you bring with you from home, and
The food you buy at the airport after you have gone through security.
When bringing food with you from home, an important thing to note is the classification of liquid vs. solid foods.
The general rule is "If you can spill it, spread it, spray it, pump it, or pour it, then it's considered a liquid or gel."   This means your food may be considered a liquid and will fall under the TSA 3-1-1 liquids rule, which mandates that any liquid, gel, cream, aerosol, or paste in a carry-on must be 3.4 ounces or less, and fit in one quart-size resealable bag (only one such bag is allowed per passenger).
Here's a link to the TSA website advising what food can be brought with you on your Brussels Airlines flight.  This applies to food you are bringing from home through security. Once you get through security, you can bring just about any food on the plane that you buy at the airport.
Brussels Airlines Pet Policy
Brussels Airlines will only allow cats and small dogs that are at least 16 weeks old in the cabin. The pet must remain in its kennel (container) for the entire flight duration.  The total weight of the pet + carrier has to be 8kg (18 lbs.) or less and it must fit to store under the seat.
Here is the Brussels Airlines Pet policy if you want to double-check everything, as there is a lot of information you will need to read if you are bringing your pet on board.
Prohibited Items and Dangerous Goods
There are certain items that are considered dangerous and classified as hazardous material. Dangerous goods are prohibited from both your carry-on and checked bag on all flights. These rules are not specific to any airline and are mandated by the Federal Aviation Administration.
Items considered "dangerous goods" are prohibited under Brussels Airline's carry-on policy and include the following:
Firearms and ammunition
Stunning devices, mace, tear gas, and pepper spray
Poisonous, infectious, or radioactive substances
Sharp or pointed objects (knives, swords, cutting instruments, razors, ice skates, carpet knives, metal scissors, box cutters, or similar items) 
Camping equipment containing flammable liquids or gasses 
Flammable liquids, including gasoline and kerosene
Self-Balancing devices such as hoverboards, including electric skateboards, balance boards, and gravity boards
Medical or liquid oxygen 
Torch lighters, lighter fluid, strike-anywhere matches, and fire starters
Wet-cell batteries
The following items are not considered "dangerous goods" and are allowed when packaged properly, in accordance with FAA regulations
Hiking or trekking poles
Hair spray
Sunscreen/bug spray
Fishing hooks
A complete list can be found on the FAA website and the TSA website.
One more way to find them is with the Brussels Airlines summary of restricted items.
Brussels Airlines Carry-On Size and Fees
Brussels Airlines does not charge a fee for carry-on baggage that meets their size requirements. If your bag is too large and does not meet Brussels Airlines's carry-on restrictions, you may be charged a fee to gate-check it.
Here is a link to Brussels Airlines' Carry-On page to make sure you have the most up-to-date information.