FYI: We may earn a small commission if you make a purchase through a link on our site, at no additional cost to you. Please refer to our
Disclosure
for more details.
When traveling, it can be difficult to discern what is and what's not allowed on an airplane, and the rules can vary depending on where you go.
If you are a frequent flyer, you are probably familiar with the 3-1-1 liquids rule for liquids that you are allowed to put in your carry-on luggage, instated by the TSA.
TSA Rules for liquids in your baggage
The TSA, or Transportation Security Administration, enforces rules on liquids following the 2006 transatlantic aircraft plot, which was a terrorist plot to detonate liquid explosives that were carried on a plane traveling from the United Kingdom to the United States.
These new rules make it much easier for airport security to check the bags to eliminate any potential threats of liquid explosives as they come in.
Ever since then, there have been a few rules regarding liquids, especially those that you put in your carry-on and some for checked-in luggage. While the rules are almost the same worldwide, there may be subtle differences in the rules depending on where you go.
So it's best to check government guidance for the country you are traveling to before getting to the airport.
What Does the TSA Consider a "Liquid"?
The TSA regards all aerosols (like deodorant or shaving cream), gels, creams, and pastes as a liquid. That means that items like toothpaste, lip gloss, shaving cream, and even peanut butter are considered to be liquids.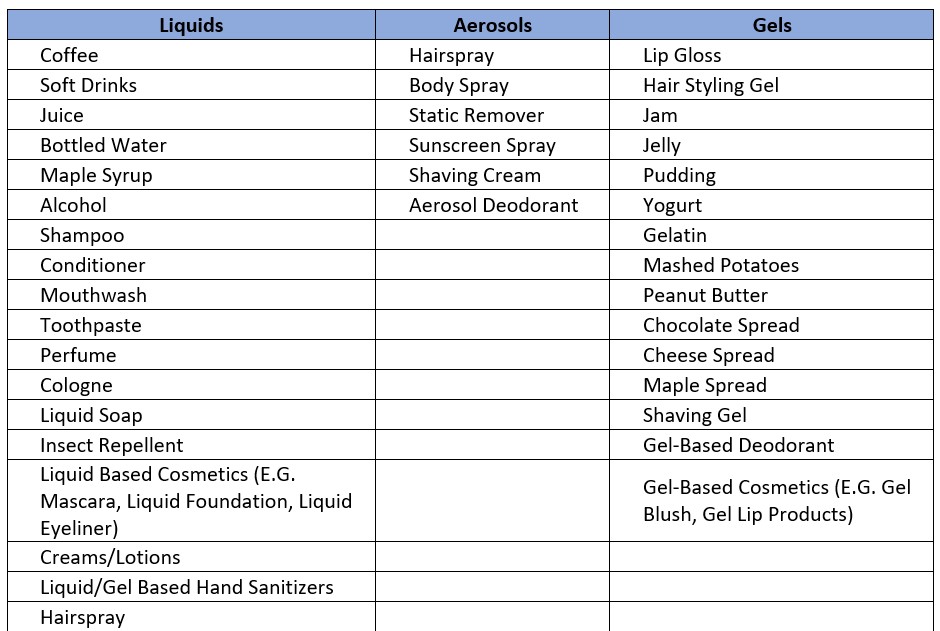 What's The 3-1-1 Liquids Rule?
The 3-1-1 rule dictates how much liquid you are allowed to put in your carry-on bags.
It refers to the three core components that stipulate how many liquids you can have in your carry-on bags.
Each liquid must be in a 3.4-ounce container (or smaller containers that hold less volume, but 3.4 is the maximum)- this is represented as the "3" in the name of the 3-1-1 rule.
All containers must be placed inside one clear quart-sized plastic bag. This is the first "1" in the name of the 3-1-1 rule.
Then, each passenger is only allowed one of these bags in their checked luggage. This is the second "1" in the name of the 3-1-1 rule.
The number of bottles placed in the quart-sized bag is up to you, just as long these liquids do not violate any other TSA rules. Generally, though, the limit of bottles that can actually fit in the quart-sized bags is about six to seven bottles, depending on the sizes of the bottles you are using.
Even though 3.4-ounce containers are the maximum, they are not always the most practical for the liquids you may want to take, like eye cream, for example. This of course would depend on the length of your trip as well.
It's important to note that medications and breast milk infant formula or baby food are all exempt from the 3-1-1 rule.
With the medication, you will need to have sufficient documentation stating what medication it is, and the bottles need to be clearly labeled. It's also advised to keep the medication separate from any other liquids you have in your carry-on luggage.
Additionally, if the medication needs to be kept cool, freezer packs for this are allowed as well, but all need to be labeled.
Likewise, liquids purchased duty-free, at the airport, within 48 hours of your flight (this needs a receipt as proof), packed in a transparent, secure, and tamper-evident bag by the retailer are also exempt from the 3-1-1 rule.
Liquids On Checked Baggage – Flying with Liquids
According to the TSA, you can take liquids in your checked luggage, and not only that, there are no limits to the volume of liquid taken on your flight as long as they adhere to the weight allowances of checked luggage.
In other words, you are allowed to travel with anything that is considered to be a liquid, they are allowed to be of a volume over 3.4 ounces and the overall weight of the luggage must be within the regulation limits.
Hazardous Items in Checked Luggage
Additionally, all liquid items packed into checked luggage must not contain any hazardous or flammable ingredients – these are not allowed in case of a fire or change in temperature and pressure effects on these ingredients may cause an explosion.
Furthermore, it is recommended that any liquids packed in your checked luggage should be packed in a secure, clear bag.
If you have any glass bottles that you are transporting, be sure to place the bottles in clothing or bubble wrap to protect the bottle, so it does not break and leak all over the place.
There are two reasons for putting your liquids in a clear bag, the first is to prevent any leaks or spillage and to protect the other contents in your checked luggage as well as other passengers' checked luggage. The second reason is for airport security to clearly see what is in your luggage, making their jobs easier.
If you are carrying liquid medication, be sure to put them in your carry-on and not your checked luggage.
Alcohol in Check Luggage
Allowances for alcoholic beverages in checked baggage are dependent on the alcohol content of the beverage. If the alcohol has an alcohol content or ABV of less than 70% or 140 proof (per bottle), then the alcohol is permitted to take with you in your checked luggage.
Anything above 70% or 140 proof, is not acceptable to take in either checked luggage or carry-on luggage.
In terms of the different airlines flying in and around the United States, such as United Airlines, Southwest Airlines, or American Airlines, the same rules apply for checked luggage and carry-on luggage as discussed above.
However, some airlines like American Airlines or Delta are quite strict on not going over 3.4 ounces in your carry-on luggage and so anything above that will have to go into your checked luggage.
Air Canada on the other hand allows you to pack in any liquids into your checked luggage provided that their total capacity does not exceed 75 fl. oz. per passenger, which limits you if you are wanting to transport more than a couple of bottles of alcohol.
Final Thoughts: Flying with Liquids in your Checked Baggage
Packing liquids can be tricky and traveling can be quite stressful, especially if it is not something you do very often.
The best thing to do is follow the guidance set out by the TSA, and it is recommended to pack ahead of time and mindfully so that you don't get caught out and have to throw away any expensive essential items or be subject to any fines or other penalties.
Related Posts:
Here are some more articles about things you can bring on a plane: