FYI: We may earn a small commission if you make a purchase through a link on our site, at no additional cost to you. Please refer to our
Disclosure
for more details.
You've got your holiday booked, and you're ready to go, but as you're packing your bag for the airport you suddenly think to yourself, Can I bring food on the plane?
The answer is yes, however, there are some rules that you need to be aware of.
It's always good to check the airline's policy before taking food on your flight with you. But in this article, we'll be taking a look at the foods you can fly with and those that you can't.
What Foods You Can and Can't Pack for Your Next Flight
If you're flying soon, you might want to start thinking about what foods you can pack in your carry-on bag and which ones you can put in your checked bag.
The Transportation Security Administration has released its updated list of prohibited items, so now's the time to make sure you know what you can and cannot take on an airplane.
Here are some things you can and can't bring on a flight:
Liquids and gels (such as baby formula) are allowed, but you have to pack them in their original container. You also can't pack any liquid or gel that could potentially leak out of its packaging.
You can bring small amounts of solid food in your carry-on, such as crackers, cookies, trail mix, fruit snacks, granola bars, etc., provided you pack them in a clear plastic bag. However, you can't pack anything that would block the x-ray machine.
You can bring small amounts of liquid in your carry-on — up to 3.4 ounces — provided it's packed in a one-quart clear plastic bag. Anything larger than this will need to be packed in your checked baggage.
Cheese and spreadable foods, like peanut butter or Nutella, are considered liquids and must adhere to the 3-1-1 rule. The only exclusion for these foods is if they are in a sandwich, which is typically allowed by most airports. Solid cheese, chocolate, and peanuts are considered dry snacks and are allowed to be taken on a plane in your carry-on luggage.
Canned and bottle items need to be in a bottle of 3.4 ounces or less. Cans of pourable foods, such as cranberry sauce, gravy, jellies, dips, dressings, etc., need to be placed into your checked luggage.
Meat, whether it's raw, whole, or sliced, is considered acceptable to bring on your flight. You just need to make sure that it is sealed well enough to stop any juices or liquids from leaking. Even frozen seafood, such as lobster, is allowed on your flight, but again, it has to be properly packaged. Some airports will provide the correct packaging for you, so it's always good to check with your airline before you fly.
If you have a fancy cake or pie that you want to take on your flight, you are allowed to pack this in your carry-on luggage, no matter if it's whole or sliced. It would count as a carry-on item, and you may be asked to place your item underneath the seat in front of yours.
What's the 3-1-1 Rule?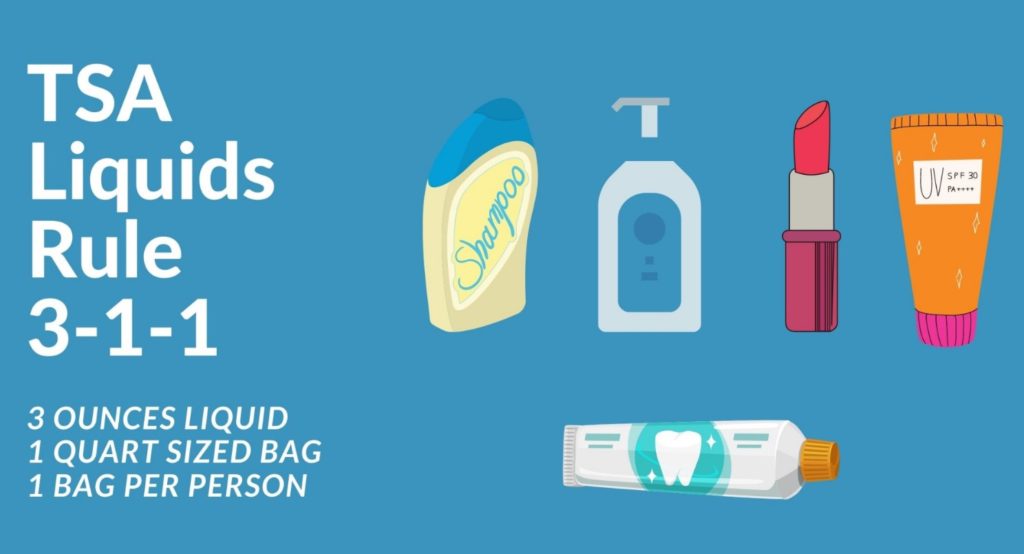 You may have heard the term '3-1-1 rule' being used when discussing which foods you can take on board your flight, but do you know what it actually means?
In short, it's a general rule that every airport uses to govern how many liquids can be taken on your flight in your carry-on luggage.
With this rule, each liquid must be placed in a 3.4 ounce or smaller container (3). These containers must all be placed inside the same clear quart-sized plastic bag (1). Each passenger can only take one plastic bag on board with them (1).
As long as all of your containers fit into your clear plastic bag, there is no limit to how many liquid items you take in your carry-on luggage.
Here is a TSA video that will explain in more detail:
Food Purchased Post-Security
You've made your way through security, and you're browsing the many shops the airport has on offer. But can you bring food that you've purchased post-security onto the plane?
The answer is yes, you can, and you don't need to eat it before you get to your seat.
You can simply purchase your food and store it in your carry-on bag or a separate small bag and take it on the plane with you without anyone taking it from you.
Most airports have a duty-free section where there are no restrictions to what you can buy. So whether it's a box of chocolates or a simple sandwich, you can purchase whatever you need and enjoy it from the comfort of your plane seat, guilt-free.
Can I Take Fresh Food on a Plane?
When it comes to taking fresh food on a plane, rules depend on whether it's a domestic flight or an international flight.
For most domestic flights, you can take fresh foods such as raw meat, fresh fruit, seafood, vegetables, and also eggs in your carry-on luggage. However, they should be sealed to stop any juice or smells from leaking out during the flight.
Passengers flying from Hawaii, Puerto Rico, or the U.S. Virgin Islands to the U.S. mainland cannot take most fresh fruits and vegetables due to the risk of spreading invasive plant pests.
For international flights, the rules are a little stricter.
Bringing fresh fruit and vegetables is typically not allowed as doing so brings with it the possible introduction of invasive species into new environments. To be certain about what fresh foods you can and can't bring with you, it's always best to check with immigration and customs before flying.
Can I Bring Baby Food on my Flight?
Bringing a toddler with you on a flight can be tricky and as a parent. You always want to make sure you have food on you in case hunger strikes.
Baby food is allowed in reasonable quantities in carry-on bags. Remove these items from your carry-on bag to be screened separately from the rest of your belongings. Please see traveling with children for more information.
What about Baby Formula?
Yes. Formula, breast milk and juice are allowed in reasonable quantities in carry-on bags. Be sur eto remove these items from your carry-on bag to be screened separately from the rest of your belongings. You don't need to travel with your child to bring breast milk. Please see traveling with children for more information.
---
---
Final Thoughts
As you can see from this article, there are some restrictions when it comes to taking food on a flight.
However, doing your research before you fly and knowing where to pack these items will save you a lot of time and potential confusion when it comes to going through security.
So whether you're packing liquids, fresh food, baby food, or even picking up a snack from the duty-free lounge, knowing what your options are is crucial to having a stress-free flight.