FYI: We may earn a small commission if you make a purchase through a link on our site, at no additional cost to you. Please refer to our
Disclosure
for more details.
If you're going to be flying to or from Japan on ANA (All Nippon Airways) and are planning to travel with just a carry-on, you'll need to be up to speed with their carry-on policies.  Each airline's rules are different, so don't just assume that what works for one will work for all airlines.
In this article, we'll explain everything you need to know about ANA's carry-on policy. This includes carry-on size and weight limits, personal items, liquids, pets, prohibited items, and other rules and restrictions you should know before boarding your flight.
ANA Carry-On Size & Weight Limits
ANA allows one carry-on bag and one personal item onboard at no charge.  They refer to the carry-on bag as a "standard article" and the personal item as a "personal article".
ANA Carry-On Size (Dimensions)
ANA size requirements for a carry-on are 22″ x 16″ x 10″ (55cm x 40cm x 25cm). The sum of the three sides cannot exceed 45 inches (115 cm).
If you aren't sure what size your carry-on is, ANA provides size check templates located at their ticket counters and gates.  But by the time you get to either of these locations, it's too late if the bag is too big, so better to always know your bag size in advance.
ANA Carry-On Weight Limit
ANA limits your carry on baggage weight to no more than 22 lbs. (10 kg), including both your carry on bag and your one personal item.
ANA Airlines Personal Item Size
In addition to a carry-on bag, ANA allows each passenger to bring one personal item onboard. Personal items include purses, briefcases, cameras, food containers, or laptops (case included).
Your personal item must be stored under the seat in front of you.
Related Article: ANA Business Class Review HND-IAH
Recommended Carry-On Bag for ANA
If you're looking for a great carry-on bag when flying ANA, I recommend the Travelpro Maxlite 5 Expandable Spinner. I have used this carry-on for years. It's durable, reasonably priced, and holds everything I need for shorter trips. Plus the spinner wheels make it very easy to get through the airport quickly.
Our Pick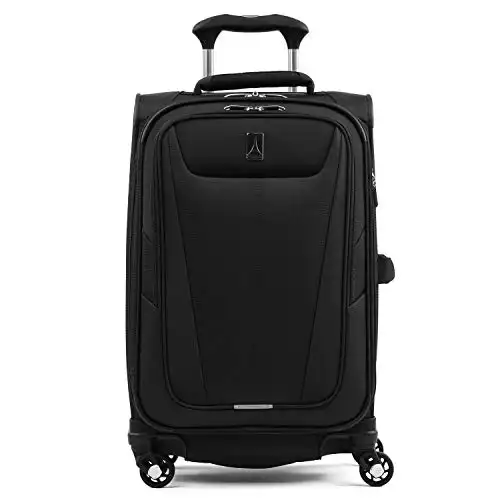 ANA Carry-On Liquids Policy
The rules for carry-on liquids are set by the International Civil Aviation Organization (ICAO), not by the airline.  ANA doesn't have their own specific Liquids Policy, they just enforce the rules and policies of the ICAO.
However, here are some tips ANA specifically provides regarding liquids and liquid size limits:
All liquids, aerosols, and gels (LAG's),  must be carried in containers with a capacity no larger than 100 ml (3.4 ounces) each. Liquids in containers with a capacity of more than 100 ml even if the content is less than 100 ml are also not permitted to be carried on and must be placed in the checked baggage. This includes drinks, creams, lotions, oils, perfumes, sprays, shampoos, shaving foams, aerosols such as deodorizers, pastes such as toothpastes, semisolid materials, and other similar items.
Liquid containers must be placed in a transparent, resealable plastic bag (zip-locked bag) with a volume no larger than one liter (1,000 ml), and a two side total no larger than 40 cm. The containers must fit into the bag which must be completely closed.
Each passenger is permitted to carry on board only one such bag. Upon security check, present the transparent plastic bag separately from other baggage.
Rules for Medications, Baby Food, and Special Dietary Requirements
Medications, baby milk / baby food, and restricted food for special dietary can be carried on board without placing them in a transparent plastic bag. However, baby milk and baby food is only permitted for passengers traveling with an infant.
Regarding medication, a copy of the prescription or a medical certificate issued by a medical practitioner indicating the name of the illness, etc., may be requested upon security check.
Items Considered a "Liquid" When Flying ANA
Below is a table that provides some examples of Non-solid Food and Personal Items that are considered "liquids":
Liquids
Food
Aerosols
Gels
Beverages
Jelly
Spray Paint
Hair Gel
Shampoo
Pudding
Deodorant Spray
Shower Gel
Conditioner
Yogurt
Insect Repellent
Hand Sanitizer
Toothpaste
Gelatin
Cooking Spray
Gel Deodorant
Lotion
Mashed Potatoes
Sunscreen
Mouthwash
Peanut Butter
Spray Lubricant
Liquid soap
Cheese Spread
Hairspray
Contact Lens Solution
Maple Syrup
Shaving Cream
Perfume
Hummus
Prohibited and Restricted Items
There are certain items that are considered dangerous and classified as a hazardous material. Dangerous goods are prohibited from both your carry-on and checked bag on all flights. These rules are not specific to any airline and are defined under the Civil Aeronautics Act in Japan.
Dangerous goods include explosives (fireworks, firecrackers, unexploded bombs, etc.), flammable substances (including a large quantity of matches, lighter fuel, camping/household stoves, and alcoholic beverages containing more than 70 % alcohol), compressed gases (including gas cartridges for gas cartridge stoves, oxygen canisters for sports, and dust-proof sprays), toxic substances (including insecticides), corrosive substances*, radioactive substances, ferromagnetic substances, oxidizing substances*, harmful or irritating materials, and any other items that may endanger or cause trouble for the aircraft itself and/or the persons and items on board it.
A complete list can be found on ANA's website.
Conclusion: ANA Carry-on Rules
ANA (All Nippon Airways) provides clearly defined size and weight limits, along with reasonable restrictions on items such as liquids and personal items. Whether you're traveling for business or leisure, being well-informed about ANA's carry-on policies will not only ensure a seamless travel experience but also avoid added fees and inconvenience.