FYI: We may earn a small commission if you make a purchase through a link on our site, at no additional cost to you. Please refer to our
Disclosure
for more details.
Mr. C Beverly Hills
1224 Beverwil Drive, Los Angeles, CA 90035 USA
Tel: +1 310.277.2800
---
I had been looking forward to my stay at Mr. C Beverly Hills for quite some time.  It's a relatively new addition to the Beverly Hills hotel market so outside of TripAdvisor, there weren't a lot of reviews and articles about the hotel to research in advance.
Even without a lot of information, I felt comfortable choosing this hotel as it is part of a discerning hotel collection, Leading Hotels of the World, and is owned and developed by the Cipriani's, the Italian family behind the legendary Harry's Bar in Venice and many other well-known bars and restaurants throughout the world.
But it was the images on their website that ultimately sold me.   The style of the hotel is a striking mix of Hollywood glamour and upscale, contemporary European design.  Dark mahogany wood trim, leather couches and chairs, teak floors, and vintage black & white film photography made the images of the room and hotel spaces come to life on the website.
Our stay here was part of a Spring Break trip to San Diego and L.A. with my wife, daughter, and her friend (both teenagers).  This was the Beverly Hills / Hollywood part of the trip and the hotel felt like the perfect backdrop to a couple of fun days shopping, eating, and "celebrity hunting" with the girls.
Unfortunately, our arrival revealed a surprise that got us off on the wrong foot.  During the check-in process, we were informed the pool was closed for annual renovations and updates.  I was shocked we weren't given advance information about this, especially since I had received two separate emails from the hotel preparing me for the upcoming stay and the hotel is known for its pool and "pool scene".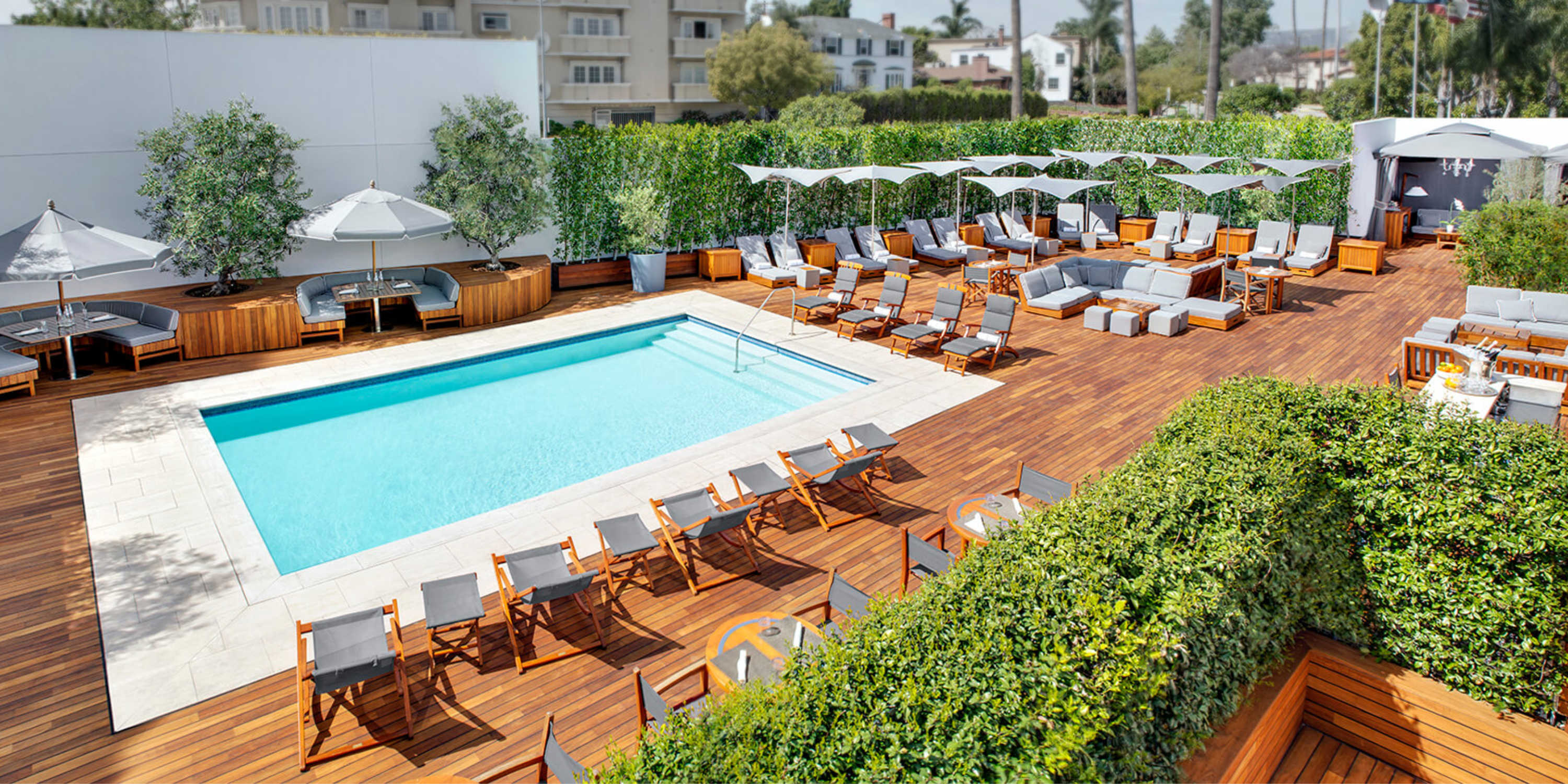 If I was traveling alone this wouldn't have been a big deal, but I was with two teenage girls and my wife with the weather in the eighties and perfectly sunny.  All of us were looking forward to spending an afternoon just "hanging by the pool" – especially this pool.
We were told we could use one of three nearby hotel pools – The Marriott Beverly Hills, The Avalon, or the Sixty.  None of them are on par with the pool at Mr. C (although the Sixty is close).
Trying to make the most of it, we got in our car and drove a mile to the Sixty Hotel only to find out we could not use their pool because no one from Mr. C had contacted them about the "arrangement" that was made for the week.  This was the same "arrangement" we were told was already in place for all guests.  We now had to get in our car again and drive to the Marriott to use their pool.  The Beverly Hills Marriott had recently been renovated, but the pool looked like it was build to "check the box" rather than have anyone actually use it.
By this point, it had been a series of screw-ups and disappointments.  I was about as mad as I can get.
I called the hotel, yet another time, to tell them of yet another screw-up and insisted on talking to the manager.  This is not something I typically do, but I was shocked that a hotel of this caliber not only screwed up so many times but more importantly, the concierge and front desk staff did not seem to have any appreciation or care for what this was doing to my trip.
The manager on duty was definitely more in tune with how things should happen and did a great job trying to rectify the situation.
We had originally booked two rooms – a deluxe king room for my wife and I, and another deluxe room with 2 queen beds for the girls.  The manager worked with her staff and freed up an otherwise unavailable Signature Suite for the girls to stay in, which was a very nice upgrade from the room we booked.
On top of that, she arranged to have the chef bake them a tray of chocolate chip cookies for the afternoon and a tray of cupcakes for the evening and gave us a food and beverage credit to cover breakfast or drinks.
While I wish I would have known about the pool maintenance in advance so I could have stayed elsewhere, I also know that the hotel manager did the best she could to make the most of a tough situation and the girls were very happy with the room they ultimately stayed in and the experience they received.
I've always felt that the true test of any organization is not how they perform when things are going well, it's how they react and perform when things go sideways.  Thanks to the hotel manager, Mr. C definitely passed this test and it was very much appreciated.
Now, on to the review of the property…
Mr. C Beverly Hills Location:
The hotel is centrally located in Beverly Hills, less than a mile walk to Rodeo Drive and close to many other shops and restaurants.   The L.A. area is so widespread that there is no way to find any hotel that is within walking distance or a short cab ride to everything you want to do and see, so this location is about as good and centralized as any.
The Rooms at Mr. C Beverly Hills:
There are 138 rooms and 12 Suites ranging from 365 to 1,200 square feet. Every room has a private balcony with views of Beverly Hills and Los Angeles.
Pro Tip: If views are important to you, make sure to reserve a room with the Beverly Hills view (as opposed to a city view).  They cost about 10% more, but the view looking out the back of the hotel over Beverly Hills is better than the city view out the front, which overlooks Pico Blvd.
All rooms have hardwood floors, handcrafted Italian furniture, and furnished balconies.  The beds are plush and comfortable with Casa Rovea linens that were turned down each night.
While the bathroom was fairly small, it was elegant with Carrara marble and high-end Waterworks fixtures.
But the real treat was the shower.  The rain shower had, by far, the strongest water pressure of any hotel I have ever stayed in.  I have to give the showers at the Mr. C Beverly Hills an 11 on a scale of 1-10!
Amenities at Mr. C Beverly Hills
Restaurants and Bars:
The hotel featured a couple of bars – one in the lobby and another in the restaurant.  When the pool is open, there is a third on the pool deck.  The drink specialty here is the Bellini, which was invented at Harry's Bar, and is the hotel's signature drink given to you upon arrival.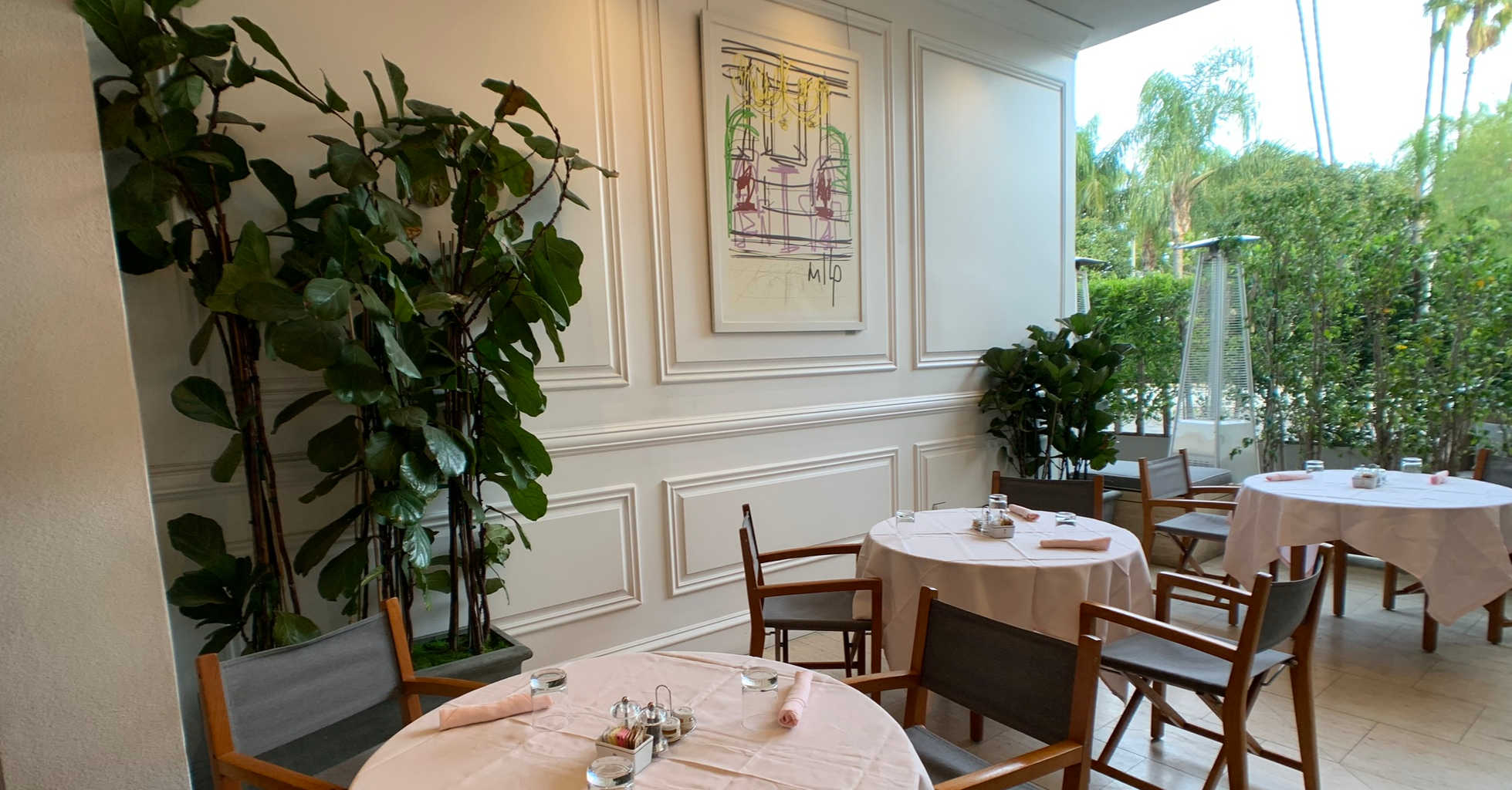 The restaurant at the hotel, named The Restaurant at Mr. C, features classic Cipriani Italian dishes dating back to 1931 as well as some updated specialties of the house. It's quite good and a little quieter than some of the others in town, with both indoor and outdoor seating.
Activities and Things to Do at Mr. C Beverly Hills:
The lobby is a great place to hang out and have a drink.   There are also complimentary bikes available to use, as well as a spa and weight room.
Mr. C Beverly Hills Review – Points and Elite Status:
Mr. C Beverly Hills is part of the Leading Hotels of The World hotel group, which has a loyalty program called Leaders Club.  This program has an annual fee of $175 to join and offers some great benefits like member discounts, room upgrades, and a daily continental breakfast for two.
How to Stay Here with Points:
Members of Leaders Club now have the ability to book free rooms with points (exact points required for a free night varies by hotel and seasonality).  However, the more likely way to stay here on points is to book with Chase Ultimate Rewards points through the Chase travel portal.  You will still have to pay for valet parking and a daily resort fee, but the base cost of the room can be covered with your Chase Points if you have either the Chase Sapphire Reserve or Chase Sapphire Preferred Cards.
Overall Rating: Would I Recommend this hotel or stay here again?
Despite the initial issues we had, I would definitely stay here again.  The two things I would do differently would be:
Call in advance to make sure there are no renovations going on during my stay, and
Book a room with a Beverly Hills view instead of the L.A. City view (which overlooks the strip mall across the street).
Mr. C Beverly Hills
1224 Beverwil Drive, Los Angeles, CA 90035 USA
Tel: +1 310.277.2800
Book Direct: Mr. C Beverly Hills or Leading Hotels of the World
Check OTA Rates: Booking.com, Orbitz, Hotels.com
TripAdvisor Reviews: TripAdvisor