This guide provides an overview of flying, saving, and earning miles with Emirates, including a summary of their frequent flyer program, Skywards. You'll learn all about Emirates Airline, the deals they offer and how to get the most of each flight.
Either read everything sequentially or use the Table of Contents (above) to jump to the section that's most relevant to you.   
It's all here. Check it out!
About Emirates Airline
Emirates Airlines, one of the most luxurious airlines in the world, is a Dubai based airline that has been flying passengers in style since 1985. The international airline is completely owned and operated by the Government of Dubai.
With over 230 aircraft, including the worlds largest fleet of Airbus A380's and Boeing 777's, Emirates Airlines currently flies to over 150 destinations in 80+ countries across the globe.
Skywards Frequent Flyer Program
Emirates frequent flyer program is called Emirates Skywards.  Skywards has a basic tier called Blue, and three elite levels: Silver, Gold and Platinum.   Skywards Miles can be earned on flights – both on Emirates or with one of their partner airlines and with exclusive offers from their global partners in hospitality, car hire, finance, lifestyle and retail.
What Alliance is Emirates part of?
Emirates is not a member of any of the three global airline alliances – Oneworld, SkyTeam or Star Alliance.
Where is Emirates Hub?
Emirates hub airport is the Dubai International Airport (DXB), in Dubai, United Arab Emirates.  From there Emirates flies to more than 150 destinations over six continents via 3,600+ flights per week.
Emirates Customer Service Information
Customer Affairs Department, Emirates
P.O. Box 686
Dubai, United Arab Emirates
Email: [email protected]
Phone: 1-800-777-3999  or  1-888-320-1576
Emirates Promo Codes & Deals
These promotions, discounts and sale fares include both business and economy class and are valid from major global markets including United States, India, Australia, Africa, New Zealand, South Asia and many more great locations!
Save 4% on Emirates Airfare
Emirates Special Offers & Deals
Emirates Airline promo codes will work on flights that Emirates serves directly, they do not work on Emirates codeshare flights or Emirates partner airlines.  The discount will be calculated off the base component of the airfare (taxed and fees are not discounted)
Emirates Skywards Promotions
Emirates Skywards 1st Flight Bonus
5,000 Miles
Join Here
How to Apply an Emirates Discount Code and/or Promotion Code:
Emirates makes it very easy to take advantage of a promotion code or discount code.   Just click on the Emirates promo code link in the table above.  This link will take you to the proper booking page.  Now all you have to do is enter the Emirates discount code in the identified field before you search for your flight.   This will then automatically apply the discount to your airfare.  It is that easy!
Emirates Seating and Cabin Class
Emirates offers three classes of service including it's famous Private Suites in First Class, flat bed seats in Business Class and economy class.
Economy Class Cabin
As with any economy product, the legroom can be a little tight, but Emirates does offer some very nice features in their economy class.  All Emirates A380s and most of the Boeing 777s have Wi-Fi and in-seat power, so you can stay connected when you fly. You can even make calls to people on the ground, with their mobile phone and data roaming services (Qatar Airways has this as well).
All classes of Service on Emirates feature the Emirates award winning In Flight entertainment system – ICE  (Information, Communication and Entertainment).  ICE has over 2,500 channels of movies, TV shows, music and games, on demand and in multiple languages.
Business Class Cabin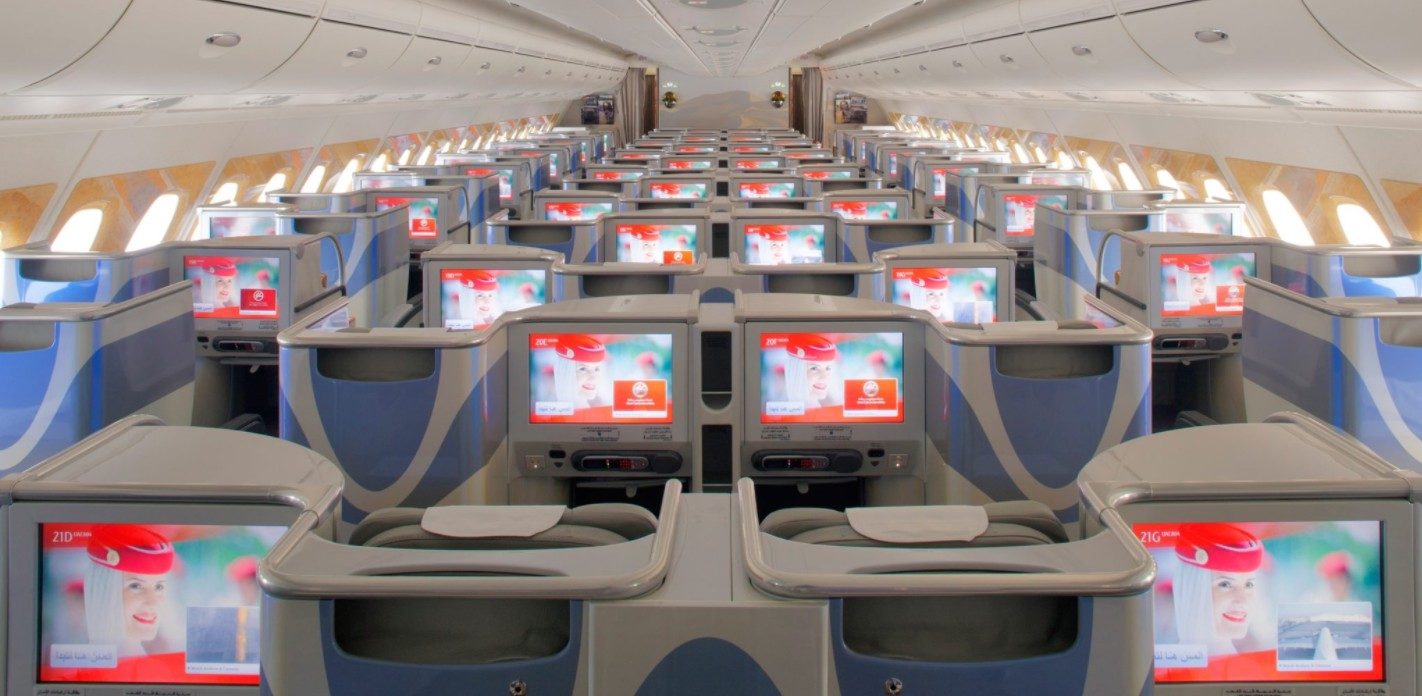 Here is where things get a little different.  The Emirates business class is a true luxury product with access to their On Board lounge (on the A380), a wide table beside you to get some work done, in seat power, ICE entertainment system, Lie Flat beds, a Bulgari amenity kit, etc….
However, the experience is not just while you are on the plane.  You can also book Emirates complimentary Chauffeur-drive service where they will take you to and from the airport in more than 70 cities.  Once you get to the airport you will have access to their business and first class lounge, with a full bar and wide selection of food.
Here is a review of the A380 Emirates business class via The Telegraph
First Class Cabin
For a really over-the-top experience, there is the Emirates first class suite of seating.  Emirate First Class provides all the benefits of business class, such as the chauffeur service and lounge access (both in the terminal and on board the A380) plus and on board Shower Spa, your own private suite and unparalleled gourmet dining experience.
Here is Casey Neistat's take on Emirates First Class….
Emirates On-Board Lounge and Bar
Emirates has a great on-board bar and lounge for passengers flying in first class and business class on their A380 planes.  And in an effort to stay on top of the ultra luxury market, they have recently redesigned the look and feel of the lounge, taking inspiration from a private yacht cabin.  Could flying get any better than this?
On-board bars are treat that the US Based airlines have decided to pass on, but the international carriers are going "all in" to differentiate and add another layer of luxury and exclusivity.  The Middle East Carriers (Qatar, Etihad, and Emirates) are three hands down winner's in this category, but Virgin Atlantic, Virgin Australia and Korean Air are taking a run at them with some pretty cool bars of their own.
Visa and Passport Requirements for Emirates Airlines
Before you book your flight make sure you are up to speed with the latest information regarding visa and passport requirements.
If you have to renew or obtain a new passport, make sure you follow the passport application rules, including how to obtain a proper passport photo.  Sometimes it's the little things that can cause a big headache if you don't follow to rules.