FYI: We may earn a small commission if you make a purchase through a link on our site, at no additional cost to you. Please refer to our
Disclosure
for more details.
This guide provides an overview of flying, saving, and earning miles with Delta Airlines, including a summary of their frequent flyer program, SkyMiles. You'll learn all about Delta Airlines, the deals they offer, and how to get the most out of each flight.
Either read everything sequentially or use the Table of Contents (above) to jump to the section that's most relevant to you.   
Is Delta a Good Airline?
Yes. Delta is a very good airline and is consistently ranked the best North American-based airline in terms of customer service, on-time performance, safety, and quality of aircraft.
Delta does not have as high of quality business and first-class products as many of the international carriers, but for flights in the United States, they are the best.
SkyMiles Frequent Flyer Program
SkyMiles is the name of Delta Airlines' frequent flyer program.  It is a revenue-based program so rather than earning miles based on how far you fly, you earn them based on the price of your ticket and your medallion status.
Every time you fly on Delta as a SkyMiles Member, you'll earn miles: five miles for every dollar you spend on flights. You will also earn miles when you fly with any of Delta's 20+ partner airlines including Virgin Atlantic, Air France, KLM, and Aeromexico.
Sign up and Join the Delta SkyMiles Program here
You can also earn SkyMiles by spending with Delta partners
SkyTeam Alliance
Delta is a founding member of the SkyTeam global alliance.  SkyTeam is a global airline alliance with 20 member airlines working together to offer seamless travel on an extensive global network.  From top hubs around the world, SkyTeam members provide reliable and comfortable journeys to over 1,050 destinations. SkyTeam customers have access to 636 lounges and can earn and redeem Frequent Flyer Miles.
Delta Airlines Promo Codes & Deals
These promotions, discounts, and sale fares include first class, business, and economy class and are valid from major global markets served by Delta including the United States, Europe, Asia, and many more great locations!
Up to 50% Off Last Minute Delta Flights
Delta SkyMiles Promotions and Offers
If you are looking to earn a free flight on Delta Airlines with frequent flyer miles, make sure you check out these SkyMiles Promotions to earn more Delta frequent flyer miles.
Delta Skymiles Dining Program
More SkyMiles
Enroll Here
Delta Small Business Program
Bonus Points
Sign Up Here
Delta Vacations – SkyMile Bonus
More SkyMiles
Details Here
Delta SkyMiles Credit Cards
The quickest way to earn Delta SkyMiles (especially if you are not a road warrior) is with credit card spending and sign-up bonuses.  With Delta, you can earn miles through a variety of credit cards – either with a co-branded Delta SkyMiles card or with one that offers transfer options to Delta such as American Express Membership Rewards or Starwood Preferred Guest (which has a great 5,000-mile bonus feature with transfers).  Here are all the credit cards that can help you earn more Delta SkyMiles.
Delta Co-Branded Credit Cards
Delta Airlines Co-Branded Credit Cards are available as both personal and business cards and allow you to earn SkyMiles on every purchase you make.
Credit Cards that transfer to Delta SkyMiles
Marriott Co-Branded Credit Cards are also an option to transfer to Delta. They transfer at a 3:1 ratio, plus there is a 5,000-mile bonus when you transfer 60,000 points. You can instantaneously transfer from your Marriott account, then over to Delta SkyMiles.
American Express Cards that Transfer to SkyMiles
American Express Membership Rewards Points can be transferred 1:1 to Delta SkyMiles.  Here are the American Express cards that offer the ability to earn membership rewards, including:
Delta Airlines Seating and Cabin Classes
Delta gives you quite a few options to choose from when it comes to the class of service.  On domestic flights, they offer Basic Economy, Main Cabin Economy, Comfort Plus, and First Class.  On Long Haul International Flights they add the options of Premium Select and Delta One.
Main Cabin – Basic Economy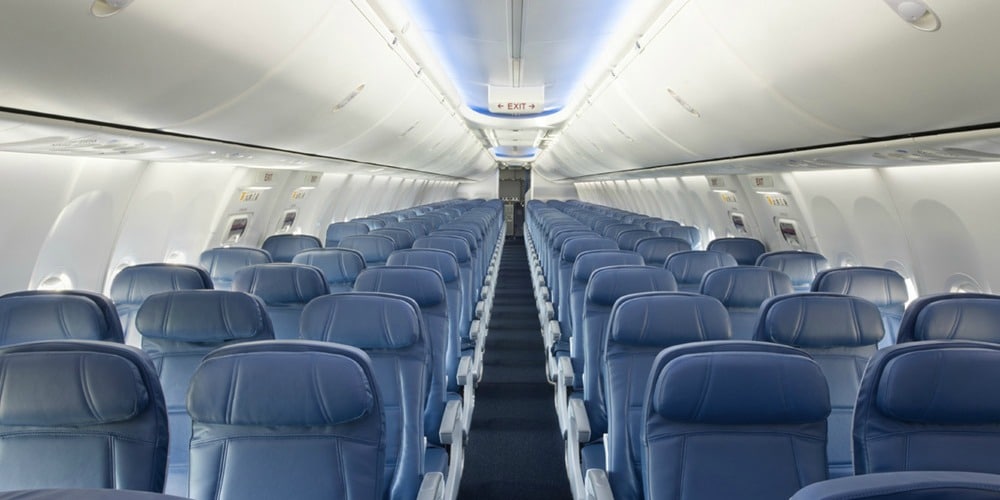 In an effort to compete with the low-cost air carriers, Delta recently came out with a Basic Economy offering.   As a general rule, try to avoid booking Basic Economy unless there is either nothing else left or if there is a very large price difference.  Basic economy is loaded with restrictions and has no flexibility if your plans have to change.
With Basic Economy, you will not receive a seat assignment until after check-in or at the gate. Passengers traveling together, including families, may not be seated together. You will not be eligible for same-day changes or ticket refunds after the Risk-Free Cancellation Period (24 hours from booking). You will board in the last zone and not be eligible for paid or complimentary upgrades or preferred seats, even with Medallion Status.
Main Cabin – Standard Seating
Delta offers an industry-standard economy-class product.  There is wi-fi access (via Gogo), entertainment via seat-back screens featuring Delta Studio on all long-haul flights and some domestic flights, complimentary snacks, and beverages as well as the ability to purchase meals on flights over 900 miles.
Comfort Plus Cabin
In between economy and business, class is Delta's Comfort Plus class of seating.  The seats are a little nicer with up to 4" of extra legroom, you will have dedicated overhead bin space just for your items, Sky Priority boarding, and complimentary beer, wine, and spirits.
First Class Cabin
With Delta First Class seating you will have a seat with up to 8 inches of additional legroom compared to the Main Cabin seat, and up to a 5.4-inch recline. Also, there is a wider, 11-inch seatback screen on many routes to access premium entertainment.
With respect to meal service, there is a complimentary snack on flights less than 900 miles.
On medium-duration flights ranging from 900-1,399 miles, there is a full chef-curated meal service. Breakfast and lunch items are available on flights departing from 5 AM to 1:30 PM, and dinner for departures from 4 PM to 8 PM.
For flights over 1,500 miles, there is a full meal service — featuring a variety of healthy and local options as part of your meal with several meal selections to choose from.
Delta One Class
Delta's highest class of service is called Delta One – available on international and transcontinental flights.  The Delta One seat is a 180-degree flat-bed seat with direct aisle access and Westin Heavenly Bedding, including an oversized duvet and down-alternative pillow.  You will have a Tumi amenity kit and Delta's best culinary experience with premium dining, wine, and spirits.
Delta will be offering a "Suite" arrangement on Delta One class aboard the Airbus A350
If you are looking to upgrade to Delta One you do have some options.  Diamond Medallion Members may use Global Upgrade Certificates to upgrade. On nonstop flights between JFK-LAX, JFK-SFO, DCA-LAX, or BOS-SFO, Diamond and Platinum Medallion Members can also use Regional Upgrade Certificates to upgrade to Delta One. Complimentary Upgrades are not available.
Delta Contact and Customer Service
Delta Air Lines, Inc.
Customer Care
P.O. Box 20980
Department 980
Atlanta, GA 30320-2980
Phone: 1-800-455-2720
Hours:
Mon-Fri: 8:00am-9:00pm ET
Sat-Sun (and U.S. Holidays): Closed
Visa and Passport Requirements
Before you book your flight make sure you are up to speed with the latest information regarding visa and passport requirements.   Here is a link to Delta's Travel Document Guidelines.
If you have to renew or obtain a new passport, make sure you follow the passport application rules, including how to obtain a proper passport photo.  Sometimes it's the little things that can cause a big headache if you don't follow to rules.