FYI: We may earn a small commission if you make a purchase through a link on our site, at no additional cost to you. Please refer to our
Disclosure
for more details.
Frankfurt is home to Germany's largest stock exchange, the German Federal Bank, the European Central Bank, and some of Europe's largest corporations. It is one of the few European cities with a skyline dominated by skyscrapers and modern architecture, yet it also has some parts that give it the feel of "Old World Germany".
As I was planning a business trip to Frankfurt, I couldn't really find any type of guide regarding where to stay or what to do, so I thought I would provide some insight based on my experience in Frankfurt.
Here are my Frankfurt, Germany hotel recommendations as well as some great places to eat and drink while you are there.
Where to Stay in Frankfurt:
The three key things I look for in a hotel are the quality of the hotel itself, the amenities it offers, and its location.  As far as location goes, there are three things you want to be near when finalizing where to stay in Frankfurt:
1. Shopping on Goethestrasse ("Goethe Street" it's the 5thAvenue of Frankfurt),
2. Römerberg (A.K.A. Römer Square – The most beautiful square in Frankfurt, especially during December with the Christmas Market), and
3. Sachsenhausen (One of Frankfurt's most historic streets with timber-framed buildings, restaurants, bars, and nightclubs)
The Best Luxury Hotels in Frankfurt:
1. Steigenberger Frankfurter Hof 
Am Kaiserplatz, 60311
For old European grandeur in a prominent location, you can do no better than the five-star Steigenberger Frankfurter Hof. With more than 130 years of history, this hotel has the best address in the city, located just moments from the financial district and Frankfurt's best shopping and cultural destinations.
The hotel has 261 rooms and 42 suites, decorated in a variety of styles, all of which would be categorized as more traditional and elegant than some of the more modern hotels in the city.
The Steigenberger Frankfurter Hof has four restaurants in total, including Restaurant Français, which has been awarded a Michelin Star.  The others include Oscars, Restaurant Hofgarten, the outdoor summer Terrace, and Restaurant IROHA, a Japanese restaurant.  There is also a cigar bar, Cigarrum, and Autorenbar which offers cocktails and "Royal High Tea".  There is also a Fitness & Wellness center with a gym, sauna,  steam bath, and spa.
The Steigenberger Frankfurter Hof is a member of the  Visa Luxury Collection of Hotels.  Visa Signature cardholders get some very nice benefits, like room upgrades, complimentary breakfast, etc…, so make sure you check out the option of booking a stay at this hotel through Visa for some nice added benefits.  They also have a best available rate guarantee, so the nightly rate should be good.
2. Hotel Villa Kennedy (Rocco Forte)
Kennedyallee 70, 60596
The Hotel Villa Kennedy is a five-star hotel located just off the south bank of the Main River on Kennedyallee that does not look or feel like a city hotel at all. Situated in extensive gardens, with a neo-gothic façade,  the hundred-year-old Villa Speyer has been adapted perfectly into a luxury hotel centered around a beautiful courtyard with mature trees, and alfresco dining.  As far as architecture and serenity go, this was my favorite hotel in Frankfurt.
The location is slightly different from the other hotels profiled here, as it is on the South Side of the Main River, in Sachsenhausen, and just a short walk or cab ride from the other shopping, financial and cultural attractions of Frankfurt.
The Villa Kennedy has 163 rooms, 28 of which are suites, with what they call a "minimalist deluxe" design featuring neutral and gray tones throughout.  The bathrooms are beautifully finished in marble and mosaic, with heated flooring, a bathtub, and a separate walk-in shower.
The hotel also has a Villa Spa with a 15-meter indoor pool, gym, sauna, steam bath and eight treatment rooms offering a range of health and beauty treatments
The Hotel Villa Kennedy is a member of the Leading Hotels of the World, so it actually does have a points-earning feature through the Leaders Club (you can earn a free night at any LHW property after five stays completed in a year)  However, you do have to pay either $100 or $1200 to be a Leaders Club member so I don't really classify it in the same category as the other hotel loyalty programs.
3. Jumeirah Frankfurt
Thurn-und-Taxis-Platz 2
Located in the heart of Frankfurt city center, The Jumeirah Frankfurt Hotel is situated in the financial district, just a short distance from Frankfurt's best shopping including the luxury boutiques of Goethestrasse and myZeil, Germany's most frequented shopping center.
The Jumeirah Frankfurt is a beautiful new addition to Frankfurt's modern skyline.  Featuring 157 guest rooms and 61 suites, the hotel is spread across 25 floors of a striking new building in Frankfurt.  All rooms feature contemporary décor and are considered to be the largest rooms in Frankfurt.
As far as dining and nightlife go, there are two restaurants and a bar.  Max on One features inventive German and Australian cuisine, Le Petit Palais is more casual and offers lighter dishes and desserts.  The Ember lounge is their bar/nightclub and is much more active than most hotel bars.
The Best Frankfurt Hotels that have a Loyalty Program:

1. The Westin Grand Frankfurt 
Konrad-Adenauer-Strasse 7, 60313
The Westin Grand Frankfurt is located right in the heart of the city and within short walking distance of the historic center, shopping district, and financial district. In my opinion, it has the best location of the "point earning" hotels in Frankfurt. The hotel has 371 rooms, including 18 suites, all of which have Westin's trademark Heavenly Beds and Heavenly Showers as well as marble bathrooms.
As far as restaurants and amenities go, the Westin Grand Frankfurt offers two Asian restaurants. Restaurant san san offers Chinese cuisine and Sushimoto offers Japanese cuisine and Sushi. A Breakfast buffet is served at the Restaurant Motions and there is a lobby bar/cafe called Arabella bar & lounge which provides coffee, cake, cocktails, and a business lunch.
The Emotion Spa offers an indoor pool with rooftop views of Old Frankfurt, a Finnish steam room, a sauna, and a spa. The Westin Workout facility is state of the art with treadmills, free weights, and LifeFitness weight equipment. Overall, this is a very nice Westin with a great location.
Points: The Westin Grand Frankfurt is a Marriott category 5 hotel with a free night requiring 35,000 Marriott Rewards per night.
2. Marriott Frankfurt
Hamburger Allee 2
The Marriott Frankfurt is located across from the Frankfurt Convention Center ("Messe Frankfurt"), which is great for trade shows, but not the best location for touring the city. However, it offers some great amenities and services.  I stayed at this hotel for about 3 nights and was very impressed with what it had to offer.  There was a nice little coffee bar and cafe, Espressivo Cafe & Bar, that made great espresso and cappuccino.  On top of that, their muesli, yogurt, and sandwiches were fantastic (think fresh crusty bread with fine prosciutto or salami, not the 3-day-old prepackaged sandwiches you get at most Starbucks that are located in North American Marriott's).  There was also a Champions Sports bar and French Brasserie, Brasserie ici.
As a Marriott Platinum, I stay at a lot of Marriott's and would have to rank the concierge lounge and fitness center at this place right at the top of all Marriott's. The lounge had a fairly substantial buffet for both breakfast and dinner. The fitness center was very large with treadmills, free weights, cardiovascular equipment, and even a juice bar that made protein drinks.
Points: The Marriott Frankfurt is a category 5 hotel with free nights requiring 35,000 Marriott Rewards Points per night (or 30,000 if you can get it as a PointSaver)
3. Frankfurt Hilton
Hochstrasse 4
Located next to the Frankfurt Stock Exchange, The Hilton Frankfurt Hotel is a modern 12-story hotel located in a lush green park.  They offer 342 standard, executive, and deluxe guest rooms, including 14 suites, all of which have a modern, bright and airy feel to them.
The hotel offers 2 restaurants (Gekkos and Pacific Colors) and a café/bar/lounge (Vista Bar and Lounge) as well as an executive lounge and Fitness Center with a steam room and sauna.
Points: The Hilton Frankfurt is a Hilton Honors Reward Category 6 hotel with a free night requiring 60,000 Honors Points per night.
4. Intercontinental Frankfurt
Wilhelm-Leuschner Strasse 43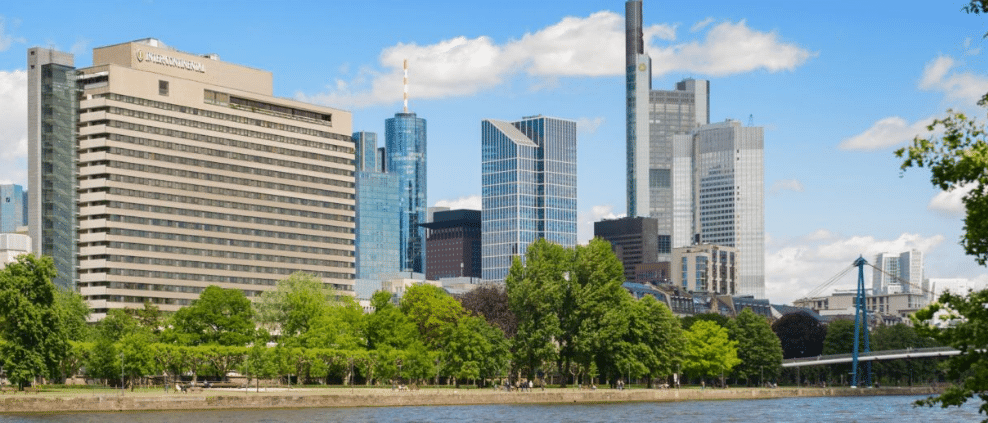 Located on the Main River, the InterContinental Frankfurt is close to the city center and within a short walk of many local sightseeing attractions, including the Römer Square, Frankfurt Cathedral, and St Paul's Church.   One of the best things about the location of this hotel is the ability to walk out of the hotel, cross the street and go for a run (or walk) down the path along the Main River.
This hotel is actually comprised of two separate buildings, across the street from each other, with a total of 770 rooms.  There are two restaurants and a bar – LEONS Italian Restaurant, Signatures Veranda Restaurant, and DAXs Mainhatten Bar, as well as a 24-hour Health and Fitness Center.  I would not consider this one of the better Intercontinental Hotels, but if you typically stay at IHG properties, it would be your best bet.
Points: Intercontinental Hotels participate in the IHG Rewards Club Program.   A Free night at the Intercontinental Frankfurt will require 30,000 IHG Points  (Intercontinental Hotels Range from 30,000 – 40,000 points)
5. Le Meridien ParkHotel
Wiesenhuettenplatz 28-38
Located very close to the Frankfurt Central Train Station ("Hauptbahnhof")  and one of several Marriott Rewards hotels in the City Center, this was one of the more unusual hotel designs I have encountered.  Half the hotel is an Old World Charming City hotel and the other half (a 70's add-on I would guess) is a contemporary business hotel.  This was true not only of the exterior architecture but of the 297 guestrooms as well.  I stayed in one of the rooms from the older section, which was actually very nice with traditional furnishings, just a little small.  The rooms on the contemporary side are much larger and more modern, geared more toward the business traveler.
Overall, I was not too impressed with this hotel – it did not have any of the amenities I would have expected from an "upper-end" Marriott/Starwood hotel.  There was a decent restaurant, LeParc, but the bar, Casablanca, was very dark and dated.  The hotel gym has nice steam, sauna, and treadmills, but was very light on the weights.   I would stay at this hotel as a frequent Marriott member if the Westin Grand Frankfurt is either sold out, has a much higher daily rate, or if I needed to be close to the train station.
Points: The Le Meridien ParkHotel is a Marriott Rewards category 5 hotel with a free night requiring 35,000 Marriott Rewards Points per night.  (This is the same number of points for a night at the Westin Grand Frankfurt, I would recommend the Westin either way, but definitely, if you are using points)
6. Roomers
Gutleutstr 85, 60329
Located very close to the Frankfurt Train Station is Roomers.  This hotel is for those that like the more edgy, trendy, and lively boutique hotels such as those found in properties associated with W Hotels, Morgans Hotel Group, and Thompson Hotels.
What was once an office building has been transformed into a luxury boutique hotel with 116 rooms, 11 suites, and a very lively restaurant and bar scene.  Catering to the "hipster-jet set" crowd, this is the hotel to stay in if you are into nightlife.  I stayed there on a business trip and was not too impressed with the hotel – the design is very dark everywhere and the music was very loud.
Roomers is part of the Design Hotels Group.  It is owned by a hospitality group in Frankfurt that also owns The Pure, another hotel you may want to check out if you like Roomers.
Points: The Roomers Hotel is a Marriott Rewards category 5 hotel with a free night requiring 35,000 Marriott Rewards Points per night.
Where to Eat and Drink in Frankfurt:
Here are just a couple of recommendations for lunch, dinner, and drinks, based on my experience in Frankfurt.
1. Ivory Club – Taunusanlage 15, 60325
Contemporary Colonial Cuisine (i.e. upscale and elegant Indian Cuisine), located in the financial district.  They also have a great selection of spirits, which is rare in Germany.  I was very happy to see my favorite spirit, Bulldog Gin, which I cannot get in my home state of Michigan and needs to be in any restaurant that wants to provide a great martini.
2. Zenzakan – Taunusanlage 15, 60325
Pan-Asian Cuisine (sister restaurant to Ivory Club) – great atmosphere, creative Asian cuisine, located in the financial district.
3. Adolf Wagner's – Schweizer Straße 71
Typical Frankfurt Apfelwein tavern located in Sachsenhausen.  Very lively bench style, communal seating.  Great food, but no beer.  If you are looking for traditional German food and Apple Wine, this is the place to go.
4. Zum Storch am Dom – Saalgasse 5 60311
One of the oldest restaurants in Frankfurt with an excellent German kitchen and great service, located just off Römer Square.
5. Frankfurter Kleinmarkthalle – Hasengasse 7
If you like going to local food markets to get a feel for the local cuisine, this is a place you would love.  It's an indoor market, located just off Römer Square, with over 60 stalls offering the most sought-after delicacies of the region – fresh meats, fish, sausage, cheese, wine, etc…  If you are a foodie, you will want to add this to your itinerary.
6. Wacker's Kaffee – Kornmarkt 9
Wacker's Kaffee is the most popular coffee house in Frankfurt and has to be on the list of any coffee lover.  They serve and sell just about any type of coffee and cake.  There will almost always be a line out the door, but don't let this scare you off, they are probably the most efficient coffee shop I have ever been to, with respect to making espresso, cappuccino and latte's.  It is also located just off Römer Square
Related Articles: