FYI: We may earn a small commission if you make a purchase through a link on our site, at no additional cost to you. Please refer to our
Disclosure
for more details.
The St. Regis Florence
Piazza Ognissanti 1 Firenze 50123 Italy
Tel: (39)(055) 27161
---
Located in the historic center of Florence, along the Arno River, The St Regis Florence is in a perfect location – just a short walk from Florence's finest shopping, museums and the Ponte Vecchio.
The hotel went under a $100 million dollar restoration in 2011, transforming it from what was known as The Grand Hotel (which was part of Starwood's Luxury Collection of Hotels) to what is now the elegant and sophisticated St Regis Florence.
With only 100 rooms in the hotel, the cost of the restoration was a staggering $1 million per room, but after staying here, it is easy to see how that amount of money was spent. I have never seen a hotel that paid more attention to detail than this. No expense was spared in any area of the hotel from the individually designed rooms, to the lobby, the hallways, the restaurant, the walls, the paintings, the bathrooms, etc.
The Location:
St Regis Florence is located in the heart of the city, on a quiet city square called the Piazza Ognissanti, across from the Arno River. It is ideally located with just a short walk to the major sites and attractions like the Uffizi Gallery, Duomo Cathedral, and Florence's world-famous bridge, Ponte Vecchio.
With the St Regis being located on the Arno River, it provides for a beautiful view of the Florence landscape that cannot be found in many other luxury hotels. [Many of the other well-known luxury hotels in Florence (i.e. JK Place, Hotel Savoy, etc..) are located in beautiful city squares, but they are closely surrounded by buildings. While I have not stayed at these hotels, I can't imagine the views from the rooms can compare to what you get at the St Regis]
The Rooms:
The hotel has a total of 100 rooms – 81 guest rooms and 19 suites. Every room and suite is individually named and contains its own unique display of furniture, renaissance paintings, and crystal chandeliers. There are restored 16th-century frescoes, hand-painted ceilings, antiques, hand-crafted furniture, and Florentine and Tuscan paintings in every room.
We stayed in a Premium Deluxe Room, named La Primavera. The room was one of the "Renaissance Style Rooms", which was fairly large by Florence standards. It had a separate wooden closet and dressing area, a beautiful marble bath with a rain shower, and a television built into the glass mirror so you could watch TV while you got ready.
Amenities:
The hotel has a restaurant named Restaurant Etichetta and Cantinetta Wine Cellar, where the Etichetta sommelier can give you a personalized wine tasting and teach you about the wines of Tuscany. There is also a small terrace on the front of the building where you can have a drink or dinner outside, overlooking the Piazza Ognissanti and River Arno.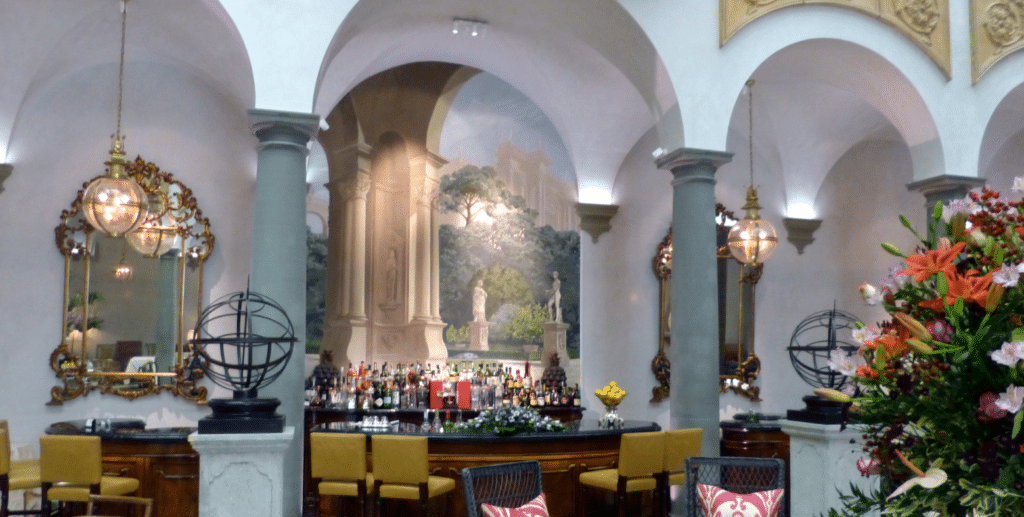 The fitness center was small but had a decent amount of equipment (light weights, treadmill, etc..) and The Iridium Suites Spa is supposed to be very nice, but I did not have time to check it out.
St. Regis Florence Review – Points and Elite Status:
The St Regis Florence is a Marriott category 7 hotel, which requires 60,000 – 70,000 SPG points per night for a room (depending on the season). If you are going to be staying for a little while, there is a fifth-night free option, which will get you a fifth night free when you use points for four nights.
My wife and I stayed at The St Regis Florence in late September, which is their busy season, so I "paid" 70,000 points for a standard room – a 3-night total of 210,000.
Upon arrival, we were upgraded from a "courtyard view" deluxe room to a "riverfront view" deluxe room because of the Gold Elite Status I had from my Starwood American Express Credit Card. The courtyard view rooms are really overlooking an alley, so I would say my Gold Status helped a lot on this stay since the view of the Arno River and Florence was beautiful.
How to Stay Here with Points:
At a range of 60,000 – 70,000 points per night, there are a couple of ways you can stay at this hotel for free. The first is via staying at Marriott/Starwood properties and earning points through stays. If you are going to try to earn free nights this way, make sure to check out the Marriott Rewards Promotion Page.  Here you will find a variety of ways to earn Marriott Rewards points and any promotions that are currently being offered to accelerate your earning power. This method will take some time, but if you are a frequent business traveler, it absolutely can be done.
The fastest way to earn free nights at this hotel is to apply for a credit card with a solid bonus offer such as the Starwood American Express Card (Read a review of this card here…). I have both the Starwood personal card and Starwood business card, so I was able to get double the bonus and double the spending to earn points much faster.
The St. Regis Florence
Piazza Ognissanti 1
Firenze 50123 Italy
Tel: (39)(055) 27161
Book Direct: Marriott
Check Other Rates: Booking.com, Orbitz, Priceline
Read More Reviews: TripAdvisor
Award Category for Using Points: Marriott Category 7
Featured Image Courtesy: St Regis