FYI: We may earn a small commission if you make a purchase through a link on our site, at no additional cost to you. Please refer to our
Disclosure
for more details.
Even though Puerto Rico is 1,000 miles away from the United States in the Caribbean Sea, it's actually a U.S. territory.  For Americans, this is great news.   It means that U.S. citizens and lawful permanent residents don't need a passport to visit Puerto Rico, nor do Puerto Ricans need a passport to come and go from the United States.
This article provides an overview of the travel documents required to go to Puerto Rico as well as a couple of other interesting fact about this beautiful U.S. Territory.
What travel documents are required to enter Puerto Rico from the U.S.?
If you're visiting Puerto Rico from any part of the United States, you won't have to bring a passport, exchange your currency, update your cell phone plan for international service, or go through customs or immigration.
Since Puerto Rico is a United States Territory, U.S. citizens and permanent residents don't need a passport to travel to Puerto Rico. However, the Real ID Act is in effect, so you'll need to make sure your drivers license is up to date with the REAL ID Format.
The easiest way to find out if your license is REAL ID complaint is to check and see if it has a gold star in the top right corner. If it has one, you're all set. If not, you'll need to go to your secretary of state's office and update your ID.
If you don't have a REAL ID driver's license you can use another type of TSA-approved photo identification or your passport as identification.
TSA-Approved Identification for Puerto Rico
Adult passengers 18 and over must show valid identification at the airport checkpoint in order to travel. The following forms of identification are approved by the TSA:
Driver's licenses or other state photo identity cards issued by the Department of Motor Vehicles (or equivalent)Beginning Oct. 1, 2021, if you plan to use your state-issued ID or license to fly within the U.S., make sure it is REAL ID compliant. If you are not sure if your ID complies with REAL ID, check with your state department of motor vehicles.
U.S. passport
U.S. passport card
DHS trusted traveler cards (Global Entry, NEXUS, SENTRI, FAST)
U.S. Department of Defense ID, including IDs issued to dependents
Permanent resident card
Border crossing card
State-issued Enhanced Driver's License
Federally recognized, tribal-issued photo ID
HSPD-12 PIV card
Foreign government-issued passport
Canadian provincial driver's license or Indian and Northern Affairs Canada card
Transportation worker identification credential
U.S. Citizenship and Immigration Services Employment Authorization Card (I-766)
U.S. Merchant Mariner Credential
Veteran Health Identification Card (VHIC)
International documentation requirements for Puerto Rico
International travelers will need to the same level of documentation to enter Puerto Rico as is required to enter the United States.
All travelers entering the United States from all other countries need a passport upon arrival (regardless of their country of citizenship).
Permanent residents and foreign nationals may also need a U.S. visa. You must apply for a visa before you start your trip.
Is Puerto Rico part of the United States?
One of the most common questions people have about Puerto Rico is its relationship with the United States. Puerto Rico is a United States Territory, but it's not a state, like Hawaii or another of the mainland states.
Puerto Ricans lack some of the key rights of mainland Americans. For example, they are able to send delegates to presidential nominating conventions, but they can't cast electoral votes in the general election. They are subject to federal laws, but they do not have voting representation in Congress: While the Puerto Rican delegate to the U.S. House of Representatives can serve on committees and introduce bills, they cannot vote. Meanwhile, residents of Puerto Rico do still contribute to Social Security and Medicare.
These are just a couple of the differences between a U.S. Territory vs. a U.S. State.
Puerto Rico Location – Greater Antilles
Puerto Rico is located in the northeastern Caribbean Sea and is the easternmost island of the Greater Antilles Chain of islands in the West Indies.
The Greater Antilles includes the four large islands of Cuba, Jamaica, Hispaniola, and Puerto Rico.  Hispaniola is divided politically into the Republic of Haiti (west) and the Dominican Republic (east).
The other islands of the West Indies include the Lesser Antilles and the Lucayan Archipelago.
The islands of the Lesser Antilles include the Virgin Islands, Anguilla, Saint Kitts, and Nevis, Antigua and Barbuda, Montserrat, Guadeloupe, Dominica, Martinique, Saint Lucia, Saint Vincent, and the Grenadines, Barbados, and Grenada.
The islands of the Lucayan Archipelago include The Bahamas and Turks and Caicos.
Other Islands that don't require a passport
In addition to Puerto Rico, the U.S. Virgin Islands, including St. Thomas, St. John, and St. Croix are passport-free destinations for U.S. citizens as well since they are also U.S. Territories.
St. Croix, the largest of the islands, has two major towns (Christiansted and Frederiksted), a rainforest, and preserved historic plantation homes.  St. Thomas has Charlotte Amalie which is the most popular cruise port and shopping destination in the Caribbean. And St. John is the smallest of the 3 U.S. Virgin Islands with two-thirds of the island preserved as a tropical national park.
How do I get a Passport?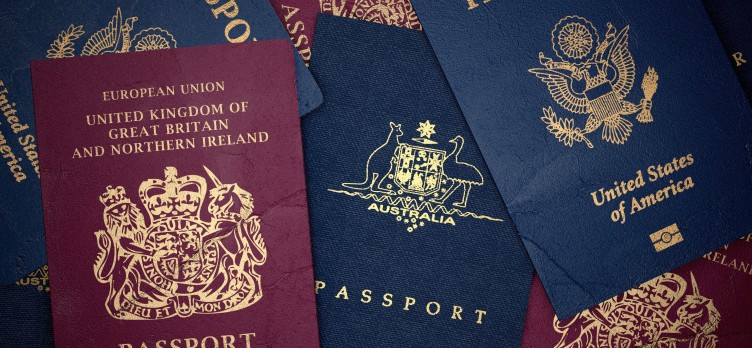 While you won't need it for your trip to Puerto Rico, here are some links to articles with everything you need to know about applying for and renewing a passport.
Additional Passport Information
Here are some other articles that address passport requirements of popular destinations for U.S. Citizens
Frequently Asked Questions
What language is spoken in Puerto Rico?
The official languages of Puerto Rico are Spanish and English.
What time zone is Puerto Rico in?
Puerto Rico is in the Atlantic Standard Time Zone, which is an hour ahead of Eastern Standard Time.
What is the population of Puerto Rico?
The population of Puerto Rico is close to 3.5 million people
What is the drinking age in Puerto Rico?
The drinking age in Puerto Rico is 18, but to enter some bars & clubs you must be 21 or older.
When is hurricane season in Puerto Rico?
Hurricane season is officially in effect from June 1 to November 30.