FYI: We may earn a small commission if you make a purchase through a link on our site, at no additional cost to you. Please refer to our
Disclosure
for more details.
Application Rejected…  Chase Credit Card Denied…  Don't worry and don't take it personally, the Chase Reconsideration Line is here to help.  You just have to know why it happens, who to call and what to say.
And by the time you are finished reading this guide, you will have it all figured out!
Why was my Credit Card Application Declined?
First and foremost, Chase offers the most comprehensive set of travel rewards cards on the market.  With great cards like the Chase Sapphire Reserve, Chase Sapphire Preferred, United Co-Branded Cards, and the Southwest Airlines Card, they are evaluating a ton of applications every day, and sometimes things can get missed or overlooked.
When you apply for a credit card, you are either automatically approved based on the criteria set forth by the bank within the application process, or your application will be sent to the bank underwriting team for review.
Here are the key things the Bank Credit Card Underwriting Department is looking for when approving someone for a new credit card:
Enough Income and Current Employment

Banks want to make sure you can pay off your card each month (or after a couple of months after they have hit you with some big interest charges).  On top of that, each card is different with respect to cardholder income requirements and credit rating so you could easily get approved for one card and rejected for another by the same bank.

Low Debt to Utilization Ratio

Your outstanding credit card balances divided by total available credit – the lower this ratio the better your chances for approval

No recent late payments or history of late payment

No one likes people that don't pay their bills

Long Credit History with no collections or bankruptcy

A long credit history shows you are a low risk

A reasonable amount of credit applications

Each bank has a different view on this.  Chase has the "5/24" and "2/30" rule – more on that later
You can meet all of these requirements and still get denied.  That is why we have the Chase reconsideration line.
What is the Chase Reconsideration Line?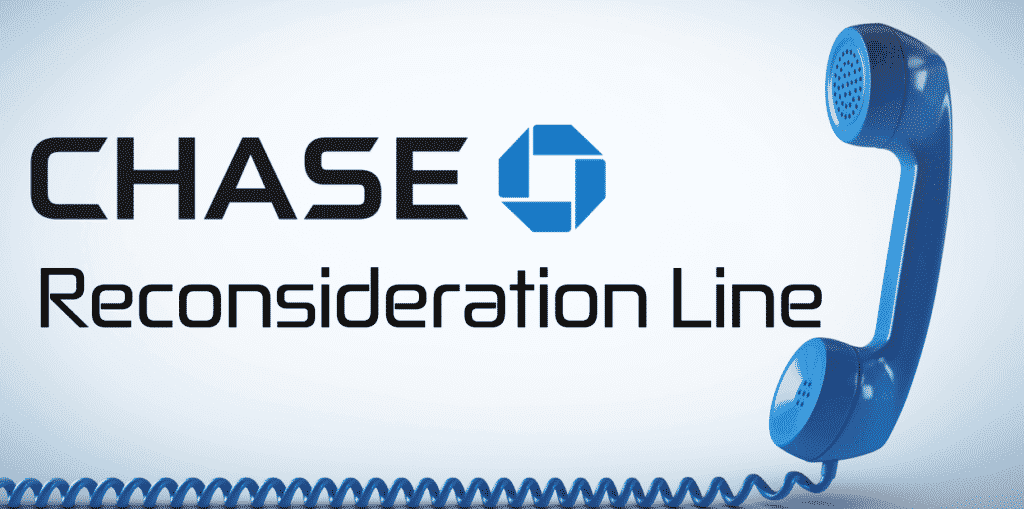 The Chase reconsideration line is the phone number you call to contact a Chase representative if your credit card application
Is either denied or,
It's stuck in the underwriting process with no update provided regarding the status of your application.
Basically this is your chance to get on the phone with a real person, understand what has happened and talk through how you can turn the denial into an approval.  I have had to do this on two separate occasions and it was no problem getting the denial overturned once we talked it through.
This is by no means a guarantee that your denial will get reversed, but you should definitely give it a shot.  There is absolutely nothing to lose!
What's the Chase Reconsideration Phone Number?
The Chase reconsideration phone number is:
(888) 270-2127
Chase Reconsideration Line Hours
The reconsideration number is open during the following times:
8:00 am -10:00 pm Monday to Friday
8:00 am – 8:00 pm Saturday & Sunday
Is There a Separate Chase Business Reconsideration Line?
Yes, there is a separate reconsideration phone number for Business Credit Card applications.  The Chase Business Reconsideration phone number is:
(800) 453-9719
Chase Business Reconsideration Line Hours
The Chase Business Reconsideration line is open during the following times:
1:00 pm – 10:00 pm Monday to Friday
When Should I Call the Chase Reconsideration Line?
The most obvious answer is as soon as you receive notification that your application has been declined.  However, you can also call before you receive that notification to see what the status is and possibly reverse it before waiting to get a rejection letter.
A Chase credit card application should take 3-5 days to get through the underwriting process, so by the 5th business day after you completed the application you can give them a call and ask what the status is.
As a general rule, if you have not heard anything, I would call after the 5th day.  If you wait until you receive formal notification it could take up to 30 days.
That said, before calling the reconsideration line to talk with a representative, there is a Chase Automated Application Status phone number that you can call.  You should call this first.
Chase Automated Application Status Number
The Chase Automated Credit Card Application Phone Number is:
(800) 432-3117
When you call this number it will take you through a couple of prompts then ask for your social security number to located your application.  At this point you will be given an update of where your application stands.
One more thing…
Before you call the reconsideration line, there are two Chase Application Rules you need to be aware of:
The Chase 5/24 Rule
The Chase 2/30 Rule – also called the Chase 30-day rule
What's The Chase 5/24 Rule?
Chase does not put a limit on the total number of Chase issued credit cards you can have, but they do have some tight restrictions on how much total credit they will extend to you and how many credit card applications you can have over a 2 year period.
The 5/24 rule states that if you have opened five or more credit cards with any credit card issuer over the previous 24 months, you will be denied for many (but not all) Chase credit cards with little to no chance for reconsideration.
The following personal credit cards do not appear to be subject to the Chase 5/24 rule:
World of Hyatt Credit Card
IHG Rewards Club Premier Credit Card
British Airways Visa Signature Card
Iberia Visa Signature Card
Aer Lingus Visa Signature Card
Ritz Carlton Rewards Credit Card
Note: This aforementioned list is subject to change at any time, but at the time of writing it is a solid list.
If you have opened five or more credit cards in the last 2 years and you are applied for a Chase card that is not on the above list, such as the Chase Sapphire Preferred Reserve card, don't bother calling the reconsideration line, you will not be approved.  Either get a card from another bank, consider one of the cards on the above list, or just hold off until you are clear of the 5/24 situation.
What's the Chase 2/30 Rule?
The Chase 2/30 rule is more black and white than the 5/24 rule.  The 2/30 rule maintains that you can only have two credit card applications approved by Chase every 30 days.  Violate the Chase 2/30 rule and you will automatically be rejected, with no chance for reconsideration, other than giving it a try again after 30 days.
What to Say When You Call into the Chase Reconsideration Line:
OK, now that you have all of the background, what do you do when you make the actual call?
The most important thing is to start off being polite, friendly and courteous to the Chase representative you are talking with.  Refer to them by name, ask how their day is going, etc…  You would be amazed how many callers are rude and treat these people with disrespect.  Being friendly, happy, and polite will get you started off on the right foot!
At this point, you will need to tell the representative why you are applying for this particular card.  In the case of Chase travel credit cards, this is generally pretty easy.   Here are some examples:
Hyatt Credit Card – "I am not very happy with the new Marriott Bonvoy loyalty program and am planning on staying a Hyatt hotels more frequently.  I like the benefits of the Hyatt credit card and want to earn more points with my Hyatt stays with this credit card."
Chase Sapphire Reserve – "I am a frequent business traveler and really like the 3x bonuses on travel and dining with the Chase Sapphire Reserve card.  I want to use this card to maximize my spending on travel and dining."
United Explorer Card – "I live near a United hub and will be flying with United more often so I want to take advantage of the free checked bags and bonus points when buying united airline tickets."
These are just a couple of examples to give you a feel for what you need to tell the representative.  The key is that you give them an honest, reasonable answer for why you want to use and apply for the card.
Chase Reconsideration Line Tips:
Make sure you don't focus on the sign up bonus, as they may perceive you to be a credit card churner that only wants the sign up bonus and will therefore not be a good long term customer.
Often times, the Chase representative will look at your relationship profile and ask if you want to close any other Chase cards or reduce your credit limit on some open cards to make room for this new card.
What this means is that each customer is given a total credit limit with Chase.  If you have other Chase credit cards and have maxed out your limit, you may need to reduce the line of credit amount on an existing card to move it over to the new card.  This is a very common situation for people that already have credit cards with Chase.
Another thing to point out is the relationship you have with Chase.  If you are a long time customer with a mortgage and checking account, make sure to point this out.  If you are looking to move your banking relationship from another bank to Chase this could be a good thing to point out as well.
With this information you should be able to get the card approved (assuming you are financially suitable for the card).  However, sometimes you will encounter a Chase representative who is either not very flexible or having a bad day and won't work with you.  If this is the case, politely wrap up the call and call back tomorrow with the hopes of getting a more accommodating rep.
Other Credit Card Reconsideration Phone Numbers:
Chase is not the only bank that offers a reconsideration line to call.  Every bank will offer a reconsideration line or some similar method for checking why you were denied and request the application to be "reconsidered".  Here are some of the major banks with travel credit cards and the reconsideration phone numbers they offer:
1.  American Express Reconsideration Phone Number
866-314-0237 – Reconsideration Line
877-399-3083 – New Accounts
Twitter: @AskAmex
2.   Bank Of America Reconsideration Phone Number
866-458-8805 – Reconsideration Line
Twitter: @BofA_Help
3.   Barclaycard Reconsideration Phone Number
1-866-408-4064 – Reconsideration Line
Twitter: @BarclayCard
4.  Capital One Reconsideration Phone Number
(800) 625-7866 – Reconsideration Line
Twitter: @AskCapitalOne
5.  Chase Credit Card Reconsideration Phone Number
1-888-279-2127 -Reconsideration line for personal cards
1-800-453-9719 – Reconsideration line for business cards
Twitter: @ChaseSupport
6.   Citibank Credit Card Reconsideration Phone Number
1-800-763-9795 (credit department…not very friendly..)
It's best to write a letter to:  Citibank Executive Review Department, P.O. Box 6000, Sioux Falls, SD 57117
Twitter: @AskCiti
7.   US Bank Reconsideration Phone Number
800-947-1444 – Reconsideration Line
Twitter: @AskUSBank