FYI: We may earn a small commission if you make a purchase through a link on our site, at no additional cost to you. Please refer to our
Disclosure
for more details.
Belle Mont Farm
The Village Kittitian Hill, St. Kitts & Nevis
Tel: 855-846-3591
---
If you are looking for an "Eco-Luxury, Glamping" experience in the Caribbean, then the Belle Mont Farm is definitely the place for you!  Built on the side of Mount Liamuiga and surrounded by Kittitian Hill's 400 acres of lush rain forests and organic farmland, the Belle Mont Farm is definitely not your typical Caribbean destination.
Belle Mont Farm Resort Location
The Belle Mont Farm is set on a 400-acre hillside on the north coast of St Kitts between Mount Liamuiga and the Caribbean Sea.  It's about a 30-minute drive from Robert L. Bradshaw International Airport (SKB) along some fairly rugged, unmarked roads.
The last left turn you will make on your drive from the airport will put you on a fairly long road up the mountainside where you will find the Belle Mont Farm Great House and cottages spread throughout the tropical forest and organic farmland.  The resort is part of a larger community being developed called Kittitian Hill, which is 1,000 ft above sea level and offers beautiful views of the Caribbean Sea and the neighboring island of St. Eustatius.
The Rooms at Belle Mont Farm
There are no traditional "hotel rooms" here.  Instead, you will find over 30 one-room, free-standing, cottages, a four-bedroom farmhouse, and several two to four-bedroom villas nestled on the hillside.  Each cottage has an open veranda and porch at the entrance and an infinity plunge pool with beautiful views of the Caribbean Sea at the rear.  We stayed in cottage #208.
The cottages are very private and concealed from neighbors by the lush vegetation that surrounds them.  They have folding glass doors that open up onto the pool with panoramic views of the Caribbean.
The morning view looking out from our bed was definitely the best view I have ever had from any hotel I have stayed in.  However, if you are thinking about leaving those sliding doors open all night, you may want to think again.  Remember, you are on the side of a tropical mountain in the Caribbean.  There are frogs, crickets, monkeys, and who knows what else crawling around out there all night long.  Trust me, you will hear them all night, you don't want to see them as well.
The bathrooms are outside and fully exposed to the elements but totally protected from the view of neighboring cottages due to the dense vegetation and additional curtains that can be pulled to close off the entire bathroom.
The showers were great with strong water pressure and a view like I have never experienced before.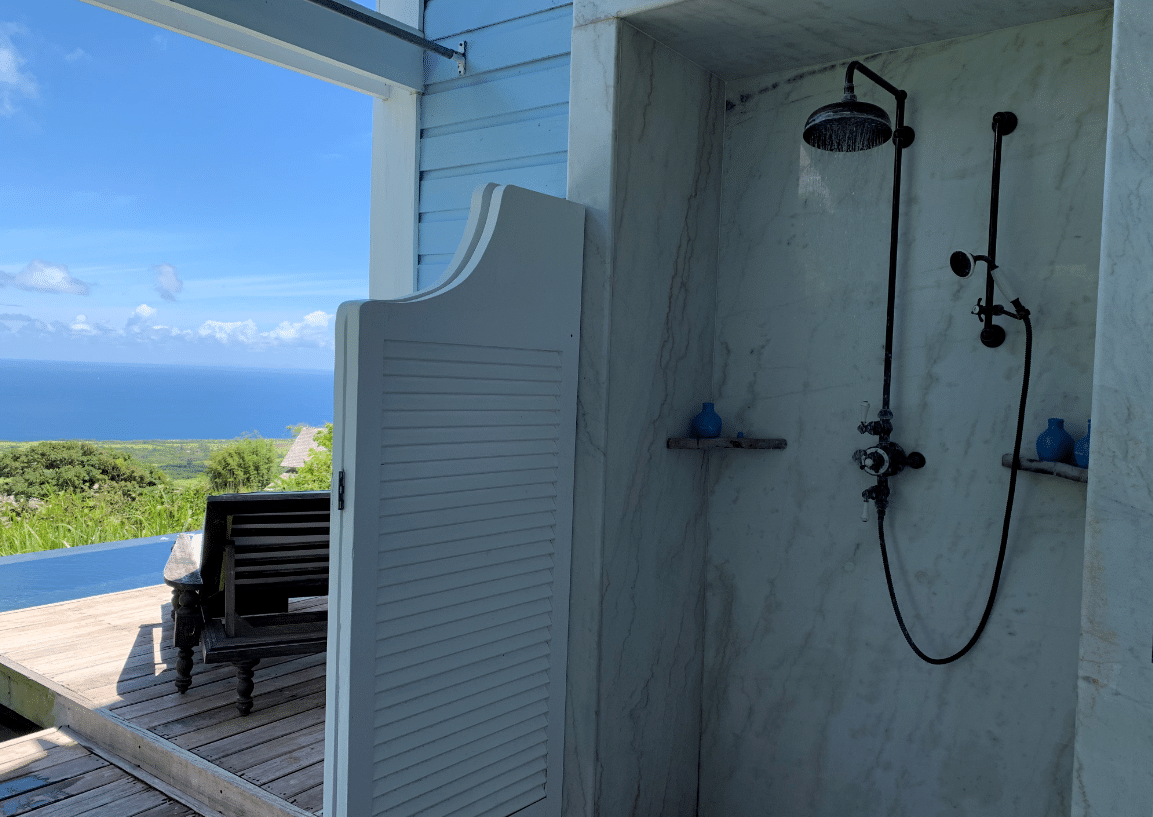 Some people may struggle a bit with the outdoor toilet situation, but it's just part of the package and experience.
Amenities
The hub of the resort is the "Great House" where you will find the restaurant, bar, concierge, pool, and fitness center.
Belle Mont Farm Restaurants and Bars
There are two restaurants and two bars at the Belle Mont Farm.
Within the Great House complex is "The Kitchen" which is the main restaurant.  The Kitchen with two floors of open-air indoor seating and well as outdoor tables overlooking the pool.  Connected to The Kitchen is the "Mill Bar" which has a pretty good collection of craft drinks (and a very friendly bartender).
There is also a swim-up bar and poolside dining.  The food was pretty good, but the views were amazing!  You will be hard-pressed to find a more beautiful place to relax and have lunch.
Arthur's Restaurant St Kitts
The beach side restaurant, Arthur's, is only open for lunch and is about a 10-minute drive from the hotel, located on a black sand beach.   We stopped in for a drink one afternoon but did not have time to eat.  Our cocktails were very good, and the staff was fantastic, but I must admit the location was a bit rough as it was surrounded by a small local residential area.  If you just looked out onto the water it was beautiful, just don't look to your right or left.
Activities and Things to Do at Belle Mont Farm
The hotel has a 9-hole golf course, fitness center, pool, and great walking and hiking trails.  You can even take a 4-hour (very intense) hike up to the top of Mount Liamuiga to see the volcano crater.
In hindsight I am really bummed I did not check out the golf course, it's an 18-hole, par 71 courses designed by Ian Woosnam but only 9 holes are currently open. The course doesn't get much play and this resort is not a golf destination.  I doubt it is in the best shape, but the layout and ocean views look amazing and I have never played an "edible" golf course before.  On top of that, the greens fees are included in your rate, so it is basically free to play.
The other golf courses on St Kitts and Nevis were totally burned out due to the dry weather, but this course was very green and lush due to the altitude and rain from being on a higher mountain elevation.
Despite the presence of these activities, the Belle Mont Farm is really for people that want to just hang out, read, relax and enjoy the view.  There are no other restaurants or things to do on this part of the island.
Points and Elite Status – Can you Book with Points at Belle Mont Farm?
Belle Mont Farm is independently owned and not affiliated with a major hotel group with a loyalty program, like Marriott or Hilton, so there are no elite benefits or opportunities to use traditional points.  However, they are part of the luxury hotel group, Preferred Hotels and Resorts, and participate in the iPrefer program, so there are some opportunities for points if you are a member of that program.
Another option is to book your room with Chase Ultimate Rewards Points through the Chase Travel Portal, which is what we did.   Using the Chase travel portal to book boutique and luxury hotels is one of my favorite ways to use the points I earn from my credit card spending.
If you are going to pay directly with a credit card, rooms start at $299+ per night, depending on the time of year.   We stayed in mid-May so the rates were low and the Island was quiet.  Both rates and activity levels increase quite a bit in peak season.
Conclusion: Would I stay here again?
I definitely would recommend staying here for 1-2 nights.  We stayed for 2 nights and it was a very unique, great experience.  However, as I mentioned before, there is not much to do in this part of the island with essentially no other restaurants in the area.   If you want to stay more than 2 nights you will want to either rent a car and plan on driving to the other side of the island for dinner and additional activities or just enjoy relaxing, reading, hiking, eating at the hotel restaurant, and staying on the resort grounds.
Personally, we would have gone stir-crazy if we stayed longer than 2 nights, so we moved on to the second hotel on our St. Kitts agenda, the Park Hyatt St. Kitts.  The two hotels offer completely different experiences and I am very glad to have stayed at them both.