FYI: We may earn a small commission if you make a purchase through a link on our site, at no additional cost to you. Please refer to our
Disclosure
for more details.
The IHG Loyalty program is called "IHG Rewards Club" and offers three levels of elite status:   Gold, Platinum and Spire.  There are several ways to get elite status with IHG – some are easy, some are not…
Upon enrolling in the IHG Rewards program, you will be at the Club level, which is not elite status, but does give you the ability to earn IHG Rewards Points and free wifi.
You can join the IHG Rewards Club Program by applying here…
IHG Properties:
Intercontinental Hotels Group has over 5,000 hotels in 100 countries across 11 brands.
IHG Luxury Hotels
IHG Boutique Hotels
IHG Full Service Hotels
IHG Select Service Hotels, Extended Stay and Economy Hotels
IHG Rewards Club Levels: Elite Status
IHG is similar to Marriott Rewards, in that you have to be a true road warrior to earn its highest level status from hotel stays.   Spire is the highest level and requires 75 nights logged at IHG properties. 
On top of that, IHG doesn't offer the ability to earn status via "stays", just "nights" or "points", so depending on the type of traveler you are this can make it very tough to achieve.  For example, I tend to stay 1 night per week, so I literally could not earn Spire status even if I stayed at one of their properties every week of the year.  On the other hand, if you are a traveling consultant, on the road all week, every week – you could possibly earn Spire status after 5-6 months.
The following are the IHG Rewards Club elite status requirements:
Club level– Just sign up and you're at the Club Level
Gold level– 10 qualified nights or 10,000 Elite Qualifying Points
Platinum level– 40 qualified nights or 40,000 Elite Qualifying Points
Spire level – 75 qualified nights or 75,000 Elite Qualifying Points
IHG Rewards Club Elite Benefits
The table below shows the various benefits you will receive as you progress through each elite status level with IHG Rewards Club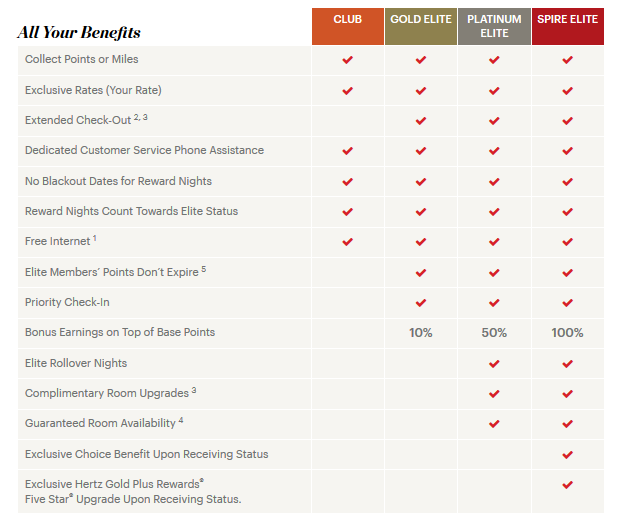 What are IHG Elite Qualifying Points & IHG Elite Qualifying Nights?
IHG Rewards Club Elite Qualifying Points:
IHG Rewards Club points are classified as either Qualifying Points or Non-Qualifying Points.
The following are considered Qualifying Points and count toward Elite status:
All other point earning transactions, including points earned from IHG promotions, Elite status bonuses, activation bonuses or select promotions offered through IHG Rewards Club credit cards, select partner promotions, point vouchers, point purchases, point transfers, and point deposits, will be considered Non-Qualifying Points and will not be counted towards Elite status.
That last paragraph is very important – you used to be able to earn IHG Elite status via point transfers and credit card bonus offers – that loophole has been closed, unfortunately.
IHG Rewards Club Elite Qualifying Nights:
IHG Elite Qualifying nights require that you stay at a property with an elite qualifying rate.  As stated in the IHG Terms and Conditions, a Qualifying Rate is as follows:
IHG Qualifying Rate: a non-discounted rate, standard corporate rate, worldwide sales negotiated rate, national/regional/local government rate and specified leisure rates as confirmed by the IHG reservation system.
Qualifying room rates are applied when you book through IHG central reservation offices, IHG Web sites, travel agents or directly at the hotel.  Most rates booked through most third party web sites,  complimentary hotel stays and any other rates not defined as a Qualifying Room Rate are not eligible for points.
You may get lucky and receive credit for nights booked through an OTA, but if you are trying get earn IHG elite status I would not take a chance – book direct with IHG.
You will receive credit toward elite status when you book free nights using your IHG Rewards Club Points.
Rewards Club Reward Nights consumed by members will be counted as Qualifying Nights towards Elite membership qualifications.
4 ways to earn IHG Rewards Club Elite Status
1. Get IHG Platinum Status with the IHG Rewards Credit Card
As an IHG Rewards Club Credit Card Holder, you will be given IHG Rewards Club Platinum Status for as long as you remain a card holder and have an active IHG Rewards Club Account in good standing.   You also get 60,000 bonus points when you sign up and a free night each year – after the first year the annual fee is $49, but that would easily pay for itself with the free annual night and Platinum status
2. Become an Intercontinental Ambassador
This is interesting – IHG actually has a separate rewards program for Intercontinental Hotels call Intercontinental Ambassador.  This status cannot be earned through stays or points like IHG Rewards, it has to be bought for $200, then a $150 annual renewal fee.
Essentially, IHG's Ambassador program is a paid membership program that offers guaranteed room upgrades at InterContinental Hotels, a complimentary weekend night certificate following a paid weekend night, 5,000 bonus IHG Rewards Club points, Elite status with IHG Rewards Club and several other smaller perks.
 Upon purchase of InterContinental Ambassador, IHG Rewards Club members who are Club or Gold Elite members will receive Gold Ambassador membership status upon enrolment.
All InterContinental Ambassador members can earn Platinum Ambassador or Spire Ambassador or be invited to Royal Ambassador.
Gold Ambassador members will receive Gold Elite benefits; Platinum Ambassador members will receive Platinum Elite benefits; and Spire Ambassador and Royal Ambassador members will receive Spire Elite benefits when staying at the following hotels within the IHG family of brands: Crowne Plaza®, Hotel Indigo®, Holiday Inn®, Holiday Inn Express®, EVEN® Hotels, HUALUXE®, Staybridge Suites®, and Candlewood Suites®.
3. Spend your way to Spire Status
As stated in option #1, you can get Platinum status just by having the IHG Credit Card.   If you want to use the card to get Spire status, you have to be a big spender, but it can be done.  If you spend $75,000 in one year (that's an average of about $6,200 per month) on the IHG Rewards Club Credit Card, you will get IHG Spire status.  While most people do not put that much money on a credit card each month, there are some lucky dogs out there that can charge large business expenses on a credit card and easily get there.  That said, I am not sure I would spend my way to Spire Status, but it you are a big fan of Intercontinental Hotels, you can do it.
 4. Stay at IHG Properties (a lot!)
Road Warriors can earn IHG Rewards Club Status the hard way, by spending a lot of nights at IHG properties
Gold level– 10 qualified nights or 10,000 Elite Qualifying Points
Platinum level– 40 qualified nights or 40,000 Elite Qualifying Points
Spire level – 75 qualified nights or 75,000 Elite Qualifying Points
IHG Promotions that Provide Elite Status
Hotel programs often offer promotions to get Elite Status, check out our IHG Rewards Club Points and Deals page to see if there are any new promotions – here are some of the latest offers
IHG One Rewards Promotion
IHG Rewards Club Status Match
Unfortunately IHG Rewards Club does not offer a status match.  If you want a good status match offer try Hilton.
IHG Hotel Deals and Best Rate Guarantee
If you plan to stay at any IHG hotel in the near future, make sure you check out the discounts and best rate guarantee offers below:
More Great Content for IHG Rewards Fans
If you like what you're reading now, here are some more great articles every IHG Rewards member should check out!