FYI: We may earn a small commission if you make a purchase through a link on our site, at no additional cost to you. Please refer to our
Disclosure
for more details.
Tamarindo is a popular beach town located on the Northern Pacific coast of Costa Rica in the Province of Guanacaste.
Known as a great surfing village, Tamarindo gives you the feel and traditions of Costa Rica, but, due to the number of resorts in the region, it also provides some great options for shopping, activities, dining, and nightlife.
Our visit to Tamarindo was part of a family vacation, so we did things that were geared toward families with younger kids.  Here are just a few fun things to do when staying in or near Tamarindo
Pottery Lessons at Guaitil Pottery Studio:  At the very end of the Tamarindo strip, you will find the Guaitil Pottery Studio where Arbin Espinosa Guevara sells his pottery and offers lessons and workshops on how the Chorotega Indians have made coil built pottery for over 800 years.  There is a 3-day course (three 1-hour classes) that teaches you how to create, paint and fire your own Costa Rican Pottery.  We signed our kids up for this and they loved it!
Here is a video of Arbin showing the kids how to make and form pottery. He was great with the kids!
Learning to surf at Pedro's Surf Shop:   Pedro Cruz is a former Costa Rican National Surfing Champion and one the nicest (and mellowest) guys you will ever meet.  He had my son (11) and daughter (9) up and surfing within 20 minutes.  We signed up for a simple surfing lesson but also received a lesson on Costa Rican hospitality.  Pedro was happy, patient, and engaging.  He even climbed several palm trees, bare-handed, to get us some coconuts to drink from (the coconut water was great!).   We definitely aren't expert surfers, but this was one of the best parts of the trip for me!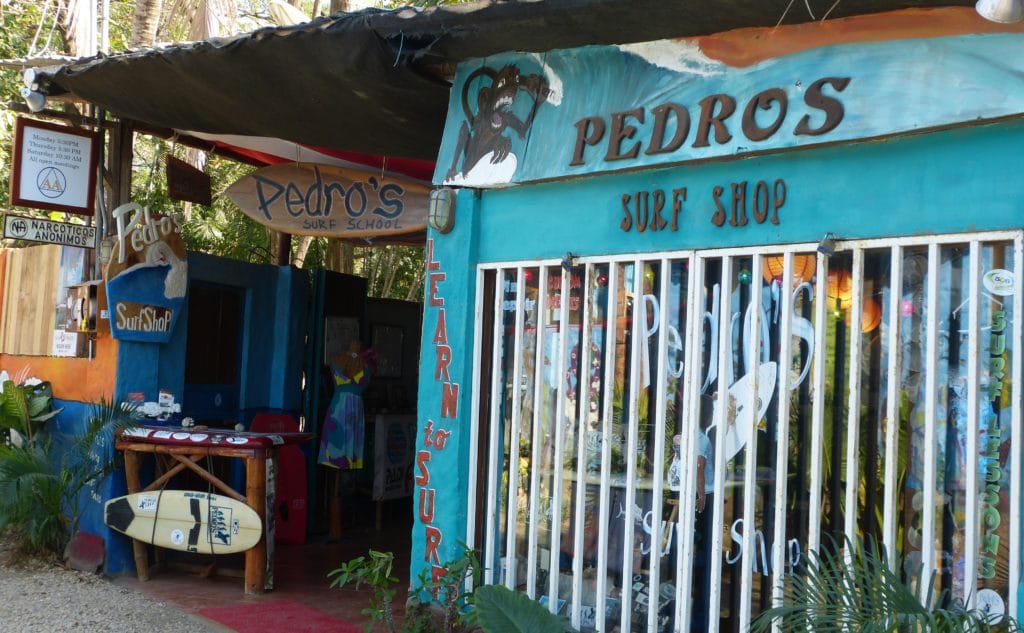 Ziplining at the Panilla Canopy Tour :  The Pinilla Canopy Tour offers an eight-zipline course that is great for families.  There are many canopy tours in the area, but some require a drive of 1-2 hours each way and are geared to a slightly older crowd (i.e. older than 9 and 11 years old).  We went on the Panilla tour because it was 10 minutes from the JW Marriott Guanacaste (our home base for this trip) and was not too extreme.  We had three tour guides, all named Eddie, that were a lot of fun and provided a great experience for us.  If you are looking for extreme ziplining this may be a little light, but it is perfect for families and first-timers!
Las Baulas National Park: If you want to see some wildlife, but don't want to drive 1.5-2 hours to get to Palo Verde National Park, then Las Baulas is a good choice. They offer a boat cruise through the mangroves and estuaries where you can see crocodiles, birds, and Howler Monkies. The park is also home to Leatherback Sea Turtles. On Grande Beach (Playa Grande), female leatherback turtles come ashore to lay their eggs from October to May. We did not make an appointment to see the Turtles, but the boat cruise was nice.