Check out these Alaska Airlines Promo Code Offers & Limited Time Discounts to save when you fly Alaska Air!
These promotions, discounts and sale fares include first class, premium economy & economy class and are valid from 100+ markets served by Alaska including the United States, Mexico and Caribbean locations!
Alaska Airlines Promo Code and Discount Codes
Save 5% on Alaska Airlines
Alaska Airlines Web Fares
Mileage Plan Promotions and Offers
Double Alaska Miles on new Routes
Double Miles!
Register Here!
Expired on: 02/28/2018
If you are looking to earn a free flight on Alaska Airlines with frequent flyer miles, make sure you check out these Mileage Plan Promotions, and Credit Cards that earn Alaska Frequent Flyer Miles or transfer to Alaska Airlines. Promo Codes are great, but Free is better!
How (and where) to Apply an Alaska Airlines Promo Code or Discount Code:
Alaska Airlines makes is very easy to use an Alaska Airlines Promo Code or Discount Code. First click on the American Airlines Promo Code link in the table above. This link will take you to the proper booking page.
To redeem a Alaska Airlines Promo Code or Discount Code, enter the code in the box labeled "Discount Code" on the same page you select your travel cities and dates. When signed into your My Account profile, you can select a saved Discount Code to start your shopping.
Discount Codes can be stored in your My Account profile. For example, if you have The Bank of America Visa Signature Card – your Companion Fare Discount Code is automatically added to the account holder's My Account each year.
Alaska Airlines Mileage Plan Credit Cards
The quickest way to earn Alaska Mileage Plan Miles, especially if you are not a road warrior, is through credit card spending and sign up bonuses. With Alaska, you can earn miles through a variety of credit cards – either with a co-branded Alaska Mileage Plan card or with one that offers transfer options to Alaska Air such as the Marriott credit cards (which have a great 5,000 mile bonus feature with transfers). Here are the best credit cards for earning Alaska Airlines Frequent Flyer Miles.
Alaska Airlines Co-Branded Credit Cards
Marriott Credit Cards that transfer to Alaska Mileage Plan
Marriott has a great program for transferring points earned in the Marriott Bonvoy program to over 30 airlines, one of which is Alaska Airlines. To sweeten the deal, they offer an additional 5,000 mile bonus for every 60,000 Bonvoy points you transfer, so 60,000 Marriott points will equal 25,000 Mileage Plan Miles.
Marriott Co-Branded Credit Cards are available as both a personal and business cards and allow you to earn Bonvoy points points on every purchase you make.
The following cards will allow you to earn Marriott Bonvoy points that can be transferred to Alaska Mileage Plan Miles:
Marriott Bonvoy Boundless Credit Card from Chase
Marriott Bonvoy Bold Credit Card from Chase
Marriott Bonvoy Brilliant American Express Card
Marriott Bonvoy Business American Express Card
About Alaska Airlines
Alaska Airlines is the fifth-largest U.S. airline based on passenger traffic and is one of the most popular U.S. West Coast air carriers. Headquartered in Seattle, Alaska Airlines carries more passengers between the state of Alaska and the Lower 48 than any other airline.
Alaska Airlines, Virgin America and Horizon Air, are owned by Alaska Air Group. In December 2016, Virgin America was acquired by Alaska Airlines to create the West Coast's go-to airline. The two airlines are expected to be granted a single operating certificate by the FAA in 2018.
Alaska Airlines is not a member of any of the three major airline alliances. However, it has codeshare agreements with major airlines such as American Airlines, British Airways, Air France, Emirates and KLM to name a few.
Alaska Airlines Frequent Flyer Program – Mileage Plan
Milage Plan is the name of Alaska Airlines frequent flyer program. As a member of the Mileage Plan program, you'll earn one mile for every mile flown on Alaska and Virgin America, even on the lowest fare.
You can join the Mileage Plan program, by signing up on their website.
You can also earn Alaska Airlines frequent flyer miles by spending with their partners
Alaska Airlines Flight Service Offerings
Alaska Airlines has three seating options including Main Cabin, Premium Class and First Class.
Alaska Airlines Main Cabin Economy Class
Alaska Airlines main cabin seats feature custom leather seats with 31-32″ of legroom – most with their own power outlet – along with Wi-Fi, complimentary snack and soft drinks, Pacific Northwest-inspired meals and cocktails, beer, and wine for purchase.
Alaska Airlines Premium Class
Alaska Airlines Premium Class seats upgrades start at $15 and have 4 inches more legroom than main cabin seats. The seats also come with power outlets and the ability to board early.
Alaska Airlines First Class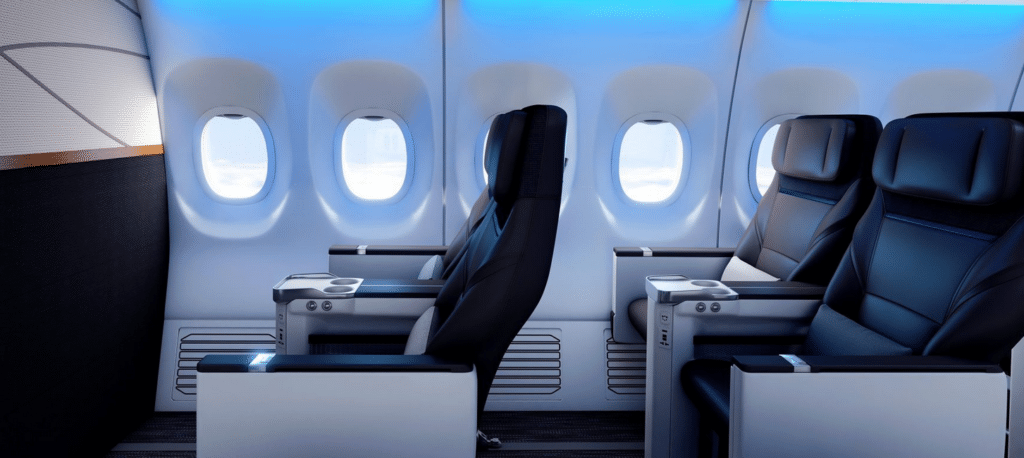 Alaska Airlines First Class seating comes with complimentary meals, snacks, and drinks as well as free movies and TV shows via a streaming entertainment system, Wi-Fi access. On most flights over 3.5 hours, catch up on the latest movies with complimentary inflight entertainment tablets. You can also stay connected to friends, family, and coworkers on the ground with Free Chat™, free inflight messaging service.
Additional First Class Perks includes:
Free Alaska Lounge access with a purchased First Class ticket.
Check two bags for free.
Skip ahead with expedited check-in and security.
Earn 75% more Mileage Plan bonus miles with your First Class seat purchase.
Alaska Airlines Contact and Customer Service
Alaska Airlines
P.O. Box 68900
Seattle, WA 98168
United States
1 (800) 252-7522
Visa and Passport Requirements of Alaska Airlines
Before you book your flight make sure you are up to speed with the latest information regarding visa and passport requirements. Here is a link to Alaska Airlines Travel Document Guidelines.
If you have to renew or obtain a new passport, make sure you follow the passport application rules, including how to obtain a proper passport photo. Sometimes it's the little things that can cause a big headache if you don't follow to rules.