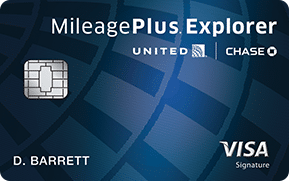 The United MileagePlus Explorer Visa Signature Credit Card from Chase is designed for those who travel on United Airlines and want to increase their MileagePlus earning ability. The Card's reward earning power begins with 30,000 bonus miles after you spend $1,000 in the first 3 months your account is open. – enough for a round-trip reward valid within the United States.
In addition to the reward program, the card offers many of the common benefits and services provided by Chase, such as auto rental insurance, lost luggage protection, and various purchase and warranty related services.
Sign up Bonus, Rewards and Transfer Options
The United MileagePlus Explorer Visa Signature Credit Card by Chase also offers a good (not great) sign up bonus. With this bonus offer you will receive 30,000 bonus miles after you spend $1,000 in the first 3 months your account is open.
Points earned in the first year with the United MileagePlus Explorer Visa Signature Card
Assume you spend $3,000 per month on the Credit Card in the first 12 months.
+ 30,000 Bonus Miles – after you spend $1,000 in the first 3 months your account is open
+ 5,000 Bonus Miles – after you add an authorized user and have them make a purchase
+ 10,000 Bonus Miles – for spending more than $25,000 in a calendar year
+36,000 Miles from Spending – 1:1 ratio of points per dollar charged on the card
= 81,000 Miles earned in the first year. That's enough for 3 free domestic flights.
Additional Benefits of the United MileagePlus Visa Card
The United MileagePlus Explorer Visa Signature Credit Card has benefits exclusive for card members. These benefits include:
1st Bag checked free ($50 value per flight)
Priority Boarding
Two United Club passes every year
The United MileagePlus Visa Signature Card also provides the following Visa Signature benefits:
Baggage Delay Reimbursement: If you experience a baggage delay, you can be reimbursed up to $100 per day, for five days (anything over 18 hours is considered a delay).
Lost Luggage Reimbursement: If your luggage is lost, you will be eligible to receive reimbursement for your checked luggage, carry-on luggage, and its contents for the difference between the "value of the amount claimed" and the Common Carrier's payment, up to $3,000 per trip.
Trip Cancellation / Interruption Insurance: In the event of a trip cancellation or interruption, Chase will pay up to $3,000. The trip cancellation / interruption must be the result of: 1.) Accidental death, injury disease or physical illness of the cardholder or immediate family member or 2.) Default of the common carrier resulting from financial insolvency.
Auto Rental Collision Damage Waiver: The Visa Signature card provides coverage, at no additional cost, for damage due to collision or theft when you charge the entire rental to your covered card and decline the collision damage waiver offered by the rental policy.
Travel Accident Insurance: As a Chase Bankcard holder, you, your spouse (or domestic partner) and unmarried children will automatically be insured up to $500,000.
Extended Warranty Protection: For manufacturer's warranties of 3 years or less, the extended protection feature doubles the eligible warranty for up to 1 additional year.
Purchase Protection: Within the first 90 days of purchase, Purchase Protection will replace, repair or reimburse you for eligible items of personal property purchased up to $500 per claim and $50,000 per cardholder, in the event of theft, vandalism, accidentally discharged water, or certain weather conditions.
 Our Take on the United MileagePlus Explorer Visa Signature Card
If you are based out of a United Airlines hub city (Chicago, Denver, Los Angeles, San Francisco, and Washington D.C.) or are a frequent United Airlines Flier, this is a great card to have. It can help you earn that next free trip much faster, especially when combined with the miles you earn through flying United.
If you don't fly United very often, there are probably other cards that provide a larger benefit, such as the Starwood Preferred Guest Card. However, with no annual fee for the first year anyone can try it for the first 12 months and reevaluate before the annual fee comes due.
For a complete list of all Travel Credit Cards go to our Travel Credit Card Page.   On this page you will find all of the best travel credit cards including the best Travel Reward Cards, Airline Mile Cards, Hotel Point Cards and the latest sign up bonus offers.
Know your Credit Score
Before you apply for any credit card, you should make sure you have an understanding of your credit score and credit history. Most Travel Credit Card Companies require you to have a strong credit score, ideally they will prefer a FICO score of at least 700.
Once you apply for a credit card, the credit card company will perform a credit inquiry. Be aware that credit inquiries will affect your credit score. Each time you apply for a credit card (or any type of loan for that matter), the inquiry will reduce your score anywhere from 2-5 points.
By law, you are allowed to obtain a free copy of your credit report from each of the credit bureaus once a year. The free annual copies of your credit report will give you all of the data that provides the foundation for your credit score, but the Credit Reports don't provide the Credit Score itself. You will need both your Credit Report and Credit Score to get the full view of your credit situation.
Here are four links to get your Free Credit Score: (Note: CreditReport.com and TransUnion will ask for credit card information to participate in a trial offer, but will not charge you until after the 7 day free trial period. After 6 days you can either continue with the service or cancel and keep your credit score for free. The third and Fourth options, CreditSesame and CreditKarma do not require a credit card and truly are Free.)
Here is the link to get your Free Credit Report:
Credit Card
Credit Card Details
United MileagePlus Explorer Card

Earn 30,000 bonus miles after your spend $1,000 in the first 3 months
Earn 5,000 bonus miles after you add the first authorized user and make your first purchase in the first 3 months from account opening.
Check your first bag for free - save up to $100 per roundtrip
Each calendar year, you are eligible to receive one 10,000-mile bonus after you reach $25,000 in purchases on your Card.
Enjoy United Travel Benefits including Priority Boarding and Two United Club Passes
Earn double miles on United ticket purchases, and 1 mile per $1 on all other purchases
Introductory Annual Fee of $0 the first year, then $95

Disclaimer:
Finally, please only apply for any travel credit card if you pay your bills in full each month. Carrying a balance on any travel credit card will eliminate the benefit of the travel rewards due to the higher interest rates associated with these cards.